Netball World Cup 2015: Clout of Africa in balance
Future of netball in Africa is dependent on financial backing - despite recent success, writes Veronica Lee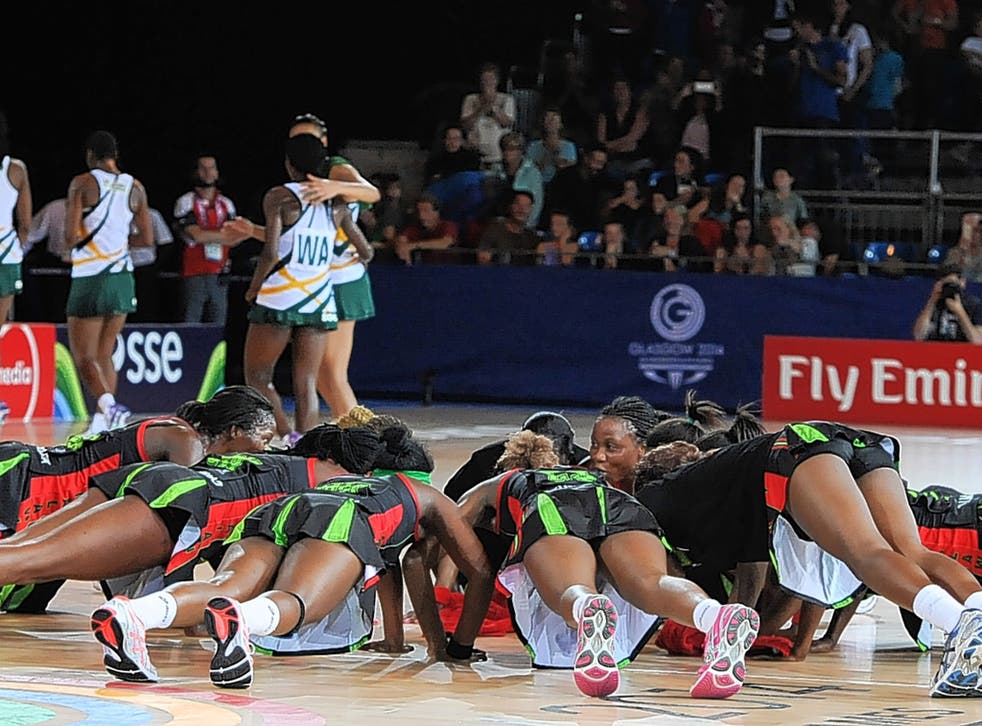 Sports funding remains an issue in this country, but still it's difficult to imagine any GB team offering to wash your car for £10 to fund their next sporting adventure – but that was an idea the Uganda women's netball squad came up with to take part in the Netball World Cup, which starts in Sydney on Friday.
The car-wash carnival never took place after some Ugandan sports officials described it as humiliating. But it shows the yawning funding gap that exists between countries at the top of the sport and the four African teams – Uganda, Malawi, South Africa and Zambia - taking part in the 16-nation tournament.
While African teams have to rely on fundraising drives and minimal government funding, the host nation (ranked No 1 in the world) are semi-professional players, as are those in New Zealand, England and Jamaica (two, three and four respectively). While those players have gyms, nutritionists and fitness trainers at their disposal - and in Australia, millions of dollars in government funding - many African teams perform at the highest level with little support.
But teams lower down the rankings can provide the occasional upset. At the Commonwealth Games in Glasgow last year, Malawi (fifth in the world) came within four points of beating New Zealand, and spanked Scotland and Northern Ireland.
The Malawi Queens, as the team is called, also endeared themselves to fans. Their style of play is distinctive - full of sleights, dink-shots and terrifically fast cross-court play - and in their post-match celebration the team gather in a circle on the court to do synchronised press-ups.
But while Malawi are great fun to watch, they are part of a quiet revolution back home. Netball in Africa is naturally a female sport; indeed in the Malawian language it's called nchembre mbaye – nchembre means mother. As such, it's increasingly being seen as a driver for gender equality and female empowerment, subjects raised by US President Barack Obama on his recent state visit to Kenya.
Part of the mission statement of the sport's governing body, the International Netball Federation (INF), is to contribute to this social change through various initiatives. One, Netball Safaris, is currently being operated in Zambia in conjunction with UK Sport; it enables UK coaches to train and mentor local women, who in turn develop the sport there.
In Malawi, meanwhile, Unicef has teamed up with the Queens to promote education and health through sport. "The Malawi Queens are uniquely placed to inspire and motivate girls and young women," said Liz Twyford, a sports programme specialist at Unicef. "We are working together to promote national campaigns to reduce violence against women and girls and to improve girls' chances of finishing school and delaying marriage.
"Through this ground-breaking partnership girls across Malawi will be supported to grow up healthy, safe and well educated."
Another programme – a joint venture between INF, UK Sport and the British Council – has brought netball to Ethiopia (which has no historical ties with the sport), in order to use its unique role within a still very traditional society. The INF says: "As a predominantly female sport, netball is able to establish clubs and teams where female participation in other sports would be suppressed or overwhelmed by males."
While the sport is still at a basic level in some parts of Africa, in others it is growing commercially. The South Africans (sixth in the world) are called the Spar Proteas, part of a long-term deal with their grocery sponsor, and a few players participating in Sydney have made the breakthrough into the semi-professional game abroad; Uganda's captain, Peace Proscovia, and Phumza Maweni and Maryka Holtzhausen (left), of South Africa, all play for Loughborough Lightning in the English Superleague.
Tebogo Lebotse-Sebego from Botswana represents Africa on the INF board and says that during her tenure she wants to develop sponsorship in Africa, but is disappointed that netball doesn't – yet – attract big-money deals. "I wish we had more support from government and sponsors," she says. "We are knocking on as many doors as we can."
She blames poor organisation and local investment for what she believes is African teams' international underachievement - but that will change in the future, she says. "With the sport now better organised and more functional I bet we will see more African countries in the top 10."
But while no African side – not even Malawi on a roll – are expected to be crowned world champions on 16 August, when a team has overcome real hardship to compete at the top it does tend to stiffen their mettle. As Uganda's team manager Jocelyn Ucanda, the woman behind the abandoned car-wash idea, says of the She Cranes: "The team has high expectations of reaching as far as the medal stage of the World Cup. We cannot wait to realise our dream."
The Netball World Cup will be shown on Sky Sports 3 from Friday, staring with England v Scotland at 5.40am
Register for free to continue reading
Registration is a free and easy way to support our truly independent journalism
By registering, you will also enjoy limited access to Premium articles, exclusive newsletters, commenting, and virtual events with our leading journalists
Already have an account? sign in
Register for free to continue reading
Registration is a free and easy way to support our truly independent journalism
By registering, you will also enjoy limited access to Premium articles, exclusive newsletters, commenting, and virtual events with our leading journalists
Already have an account? sign in
Join our new commenting forum
Join thought-provoking conversations, follow other Independent readers and see their replies