Tom Daley: YouTube video reveals he is in a relationship with a man
Diver admits his life has been a 'rollercoaster' in recent years but says he couldn't be happier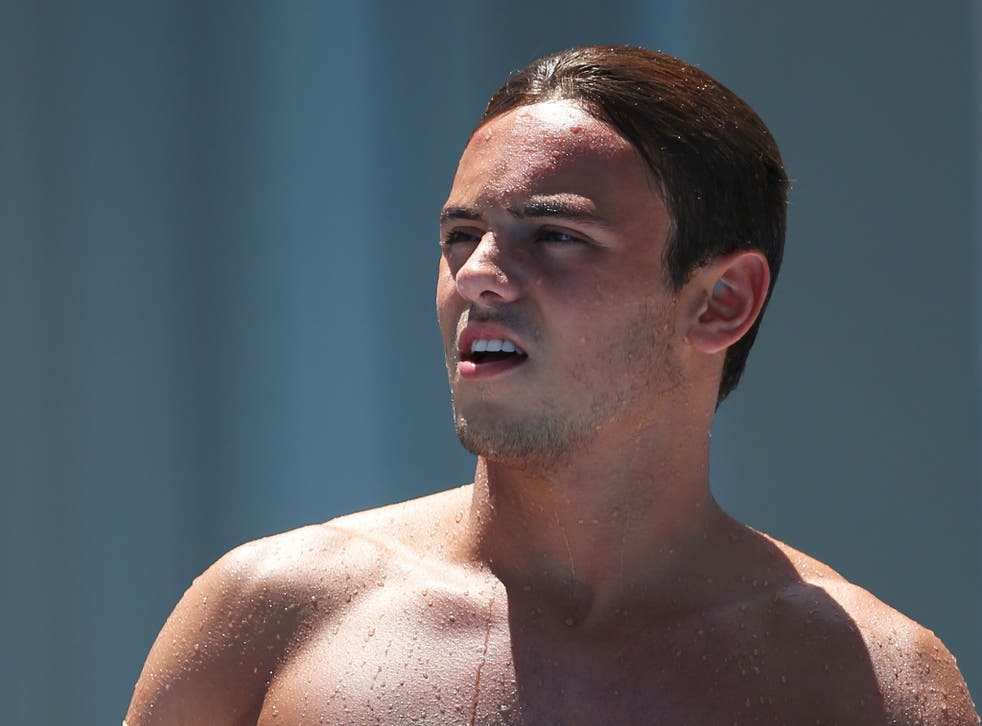 Tom Daley has been called a role model for gay British sporting stars who feel unable to disclose their sexuality after the diving star revealed that he "couldn't be happier" since he began a relationship with a man.
The Olympic medallist, 19, posted a video on YouTube in which he said his life had "changed massively" since the relationship began earlier this year.
Speaking for five minutes in the video, which Daley Tweeted to his 2.4 million followers, the athlete admitted that the relationship had taken him "by surprise a little bit… My whole world just changed, right there and then."
Daley, who won bronze in the men's 10m platform event at London 2012 and presents ITV's celebrity diving show, Splash!, is one of the few British sports stars to have revealed that they are gay or bisexual, at the height of their careers.
He joins Carl Hester, who won Olympic gold in 2012 with the GB dressage team, Nicola Adams, the gold medal-winning boxer, who has said she is bisexual and Steven Davies, the Surrey and England cricketer.
Daley, who gained legions of young female fans since bursting on to the sports scene, representing Great Britain at the 2008 Beijing Olympics aged just 14, said posting the video had "not been an easy decision to make".
Admitting that there were "mixed opinions" from some family members when he disclosed the relationship to them, Daley said he wanted to put an end to "rumours and speculation" and asked his fans to continue to support him.
Daley immediately received widespread support from across the sporting world. Gary Lineker, the Match of the Day presenter, tweeted that he was "Delighted that Tom Daley is happy in his new relationship. Well done for sharing it. Good luck to them both."
However John Amaechi, the British-born basketball player, who was the first NBA star to reveal that he was gay, said Daley had taken a "calculated risk" that discussing his private life would enhance his popularity and sporting performance.
"The energy it takes to hide any relationships and use gender-neutral pronouns when talking about your partner…he's decided that's so detrimental going forward so it's worth just speaking out now," Amaechi, now a psychologist, told Radio 4's The World At One.
Athletes like Daley "can't afford to have a fraction of a percentage of your energy" wasted on disguising their private life, said Amaechi, who accused sport administrators of creating a hostile climate for gay athletes.
"Sport is a Dickensian environment, run by a homogenous group of elderly men who have trouble with women in the boardroom and black people if they are not on the field," Amaechi said. "They are going to have trouble with gay people anyway."
Lord Browne of Madingley, the former BP chief executive, who resigned after he was outed and is researching the lack of openly gay sportsmen and women, said: "Sport is very slow moving in its recognition of gay and lesbian rights and sexuality. This must have been a very difficult thing to do against that backdrop."
He added: "It's very difficult when there are no role models you can compare yourself to. I hope Tom Daley's example will say to people that it's good to do this."
Matthew Todd, editor of Attitude, the gay lifestyle magazine, whose readers recently voted Daley "World's Sexiest Man", said: "It can take a long time to realise you are gay and to come to terms with it. The great thing is Tom has said that he has never been happier than in his relationship with a man.
"People will respect him for his honesty. But as he says it's really not a big deal these days. Most young people now would say 'oh, that's interesting' and then move on."
Mr Todd hoped Daley's disclosure might encourage other gay sportsmen and women to announce their sexuality. "It would have been great for me as a teenager to have had someone like Tom saying that he is happy being in a relationship with a man."
In his video message, Daley said: "I've never really had a serious relationship to talk about. Now I kind of feel ready to talk about my relationships.
"Come spring this year, my life changed massively when I met someone and it made me feel so happy, so safe and everything just feels great. And that someone is a guy."
"It was always in the back of my head that something like that could happen, but it wasn't until spring this year that something just clicked," he said.
Daley added: "Of course I still fancy girls. But I mean, right now I'm dating a guy and I couldn't be happier. It makes me feel safe and just really does feel right."
Daley, whose father Rob Daley died in May 2011 following a battle with brain cancer, added: "People will think 'What will your dad say?' or 'What would your dad have said?'. He always said to me 'As long as you're happy, I'm happy', and right now I couldn't be happier."
Daley is currently performing a round of interviews to promote the next series of Splash! and will appear on The Jonathan Ross Show on ITV this weekend.
He wanted to make his sexuality declaration before leaving for a US training camp, he said, and because he was left "angry and frustrated" by a recent interview about his private life. "I may have been vague in some of the answers but I've always been honest," he said.
Since Daley grew up in the public eye, he commands an unusual amount of affection for a British athlete, Matthew Todd said. "It's hard for people to be homophobic about someone whose story the nation is very proud of. We've followed him, from his father's death to the Olympics and he is something of a national treasure."
Stonewall, the gay rights charity, called Daley's video "moving and inspiring". The body said he was "a role model for thousands of other young people."
Daley concluded his video, saying that having got the matter "off his chest", he was focused on winning a gold medal at the 2016 Olympics in Rio de Janeiro.
Katie Walsh, captain of the 2012 Bronze medal-winning Team GB Olympic hockey team and team member Helen Richardson, celebrated their civil partnership this year.
Previously ice skater John Curry and Gareth Thomas, the former British and Irish Lions and Wales rugby captain, have declared their homosexuality.
SPORTS STARS WHO CAME OUT
Gareth Thomas
Former Wales and Lions captain broke rugby taboo by revealing he was gay in 2009 Daily Mail interview, saying: "I don't want to be known as a gay rugby player. I am a rugby player first and foremost. I am a man." Stonewall's Hero of the Year went on to play rugby league with Crusaders before retiring.
Jason Collins
Former Washington Wizards NBA star has been unable to find a team since coming out as gay in April 2013 in a Sports Illustrated cover story he wrote himself. The first active male professional athlete in North American sport to announce himself as homosexual, Collins received praise from Barack Obama.
Stephen Davies
First openly gay international cricketer said coming out in 2011 newspaper interview was "tougher than facing (Aussie fast bowler) Brett Lee". Davies' won full support of his Ashes teammates, who already knew but Surrey wicket-keeper batsman has not featured in full England side since.
Robbie Rogers
US former Leeds United and Stevenage footballer, 25, announced that he was gay in May 2013, shortly after he left the Elland Road club. Rogers "retired" after writing on his blog: "I'm a soccer player, I'm Christian, and I'm gay." Has since signed with Major League Soccer franchise Los Angeles Galaxy.
John Curry
Olympic figure-skating champion was "outed" by German newspaper before 1976 World Championships but the story prompted only limited reaction among UK media and did not harm his popularity. Spoke openly about his sexuality before death from AIDS-related heart attack in 1994.
Join our new commenting forum
Join thought-provoking conversations, follow other Independent readers and see their replies