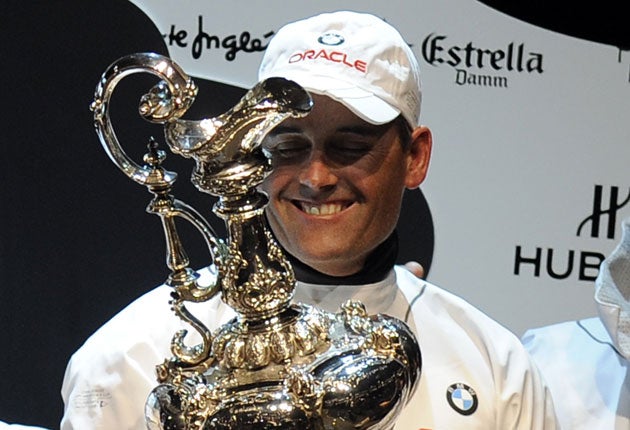 While we don't expect Britain to top the medal table at the Olympic Games, winter or summer, you'd have thought we'd have a good chance at the Couch Potato Olympics, a contest devised by thedailybeast.com to find the slobbiest nations around. They evaluated 24 countries using four criteria – calorie intake per day; television viewing; aversion to playing sports; and internet usage – but Britain only managed fifth overall, though we did pick up silver in the sports aversion category. Winners by a street were North America, with the US first (two golds, two bronzes) and Canada second (one gold). Plucky little Belgium, buoyed by their diet of mussels and mayo-slathered chips, pipped Turkey for third. Beers all round; Belgian, of course.
6
Months of suspension the Kiwi former world lawn bowls champion Gary Lawson has to serve after alleged match-fixing. No word yet whether he was grassed up.
Trouble in store of the week
You're visiting London to play Fulham FC (proprietor: Mohamed al-Fayed), so you do what any self-respecting footballer would – go shopping at Harrods. Or not, if you play for Shakhtar Donetsk of Ukraine. The self-styled "world's most famous department store" (proprietor: Mohamed al-Fayed) turned their squad away as "too big and suspicious". But there's probably always a welcome from his fellow-countryman for Mido and his money. The Egyptian striker is scratching along on £1,000 a week at West Ham, but no need to feel sorry for him; when asked recently: "What would you do if you weren't a footballer?" he replied: "Probably nothing. My family are very rich."
Good week for
Russell Coutts, the New Zealand sailor won the America's Cup for the third time when skippering BMW Oracle... Elena Baltacha, British tennis player won the Dow Corning Classic to reach her best world ranking of 70... and Craig Kieswetter, smashed 81 from 66 balls to help England Lions beat the senior side in a Twenty20 game.
Bad week for
Floyd Landis, the disgraced winner of the 2006 Tour de France faces arrest after allegedly hacking into the French anti-doping agency's system... Terry Newton, the Wakefield hooker banned for two years after failing a drugs test for human growth hormone... and Patrick Vieira, the Manchester City midfielder suspended for three games after kicking out at Stoke's Glenn Whelan.
Ball players of the week
World records are tumbling. First to Scotland, where Paul Cooper, a 39-year-old amateur footballer, was last week banned for two years after receiving six red cards – in one game. After being sent off following a second yellow card for dissent, the Hawick United player continued the discussion with the referee rather longer than was wise, hence the other five reds. In another kind of football, a middle-aged American called Kirby Roy is claiming a groin-kick world record after being booted in the balls (at his request) with 1,100lb of force by a mixed martial arts fighter. Suggestions that Patrick Vieira was Roy's first choice to deliver the blow are as yet unconfirmed.
Join our commenting forum
Join thought-provoking conversations, follow other Independent readers and see their replies