Snooker: History boy Shaun Murphy is pining for his past
Victory in 2005 took a 22-year-old from humble roots into a life of fast cars but he wants to recapture the landmark moment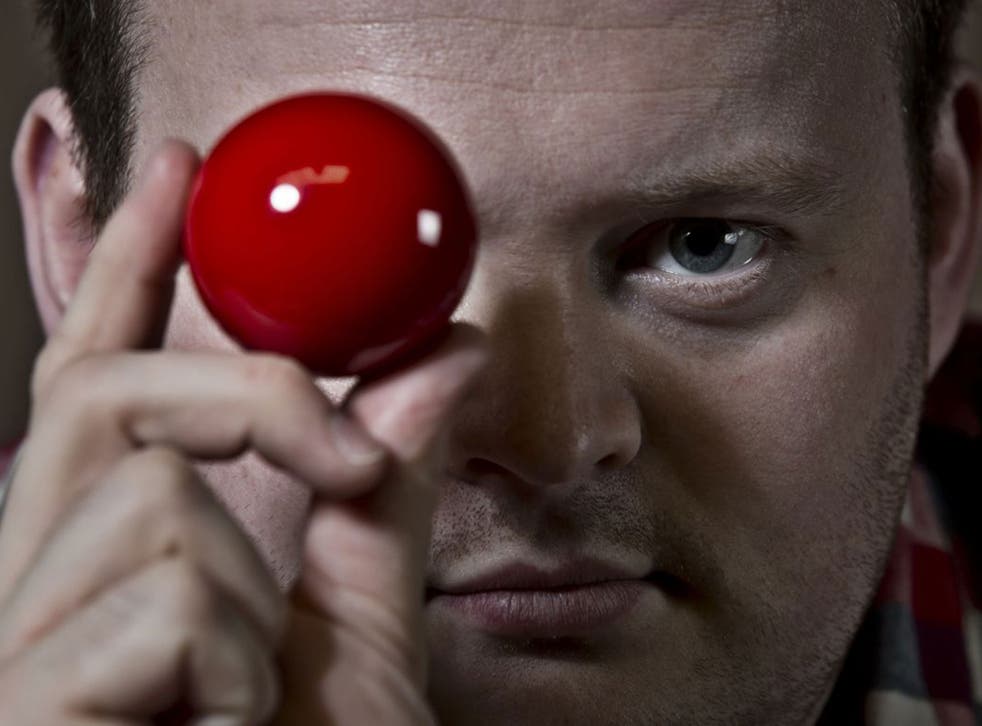 Once the World Snooker Championship is over, the Crucible will get back to its day job, staging Alan Bennett's play, The History Boys.
Eight years ago, Shaun Murphy became a history boy through the event. Only one man, Terry Griffiths in 1979, had won the World Championship after having to pre-qualify for the tournament and nobody has done so since. It was Murphy's first major trophy of any kind. He was 22.
"It did not feel real when I won it," he said. "I had a friend staying and we sat up until the early hours watching Sky News flicker across the screens with the words: 'Shaun Murphy wins the World Championship.'
"A couple of nights later I dreamt I had won the world title and woke up without realising it had happened. I went downstairs to get a drink in the dead of night and nearly tripped over the trophy. I thought: 'Bloody hell, it's in my lounge.'
"The next few weeks made me realise how many people actually watch the BBC. It is very powerful and it turned me from being completely anonymous to being stopped in Sainsbury's and being asked: 'What are you doing here?' The only possible reply was: 'I need to eat.'
"For someone from a little village in the middle of nowhere it was weird. It was my first major final and I was world champion [right]. It would be nice to win it again and experience it for what it was."
In 2009 he came close, losing to John Higgins in the final. Here, at the Urmston Conservative Club, in the Manchester suburbs, a cue action that his boyhood hero, Steve Davis, reckons the most technically correct in the game is honed for an assault on this year's title. The margins of error in snooker are so slight and the dangers of mental disintegration so obvious that you wonder how anyone steels themselves to win a first major.
"We have all been there," said Murphy. "I remember my first appearance at the Masters. I came up against Stephen Hendry, who was like God at the time. It was first to six and, as the referee re-racked the balls, I glimpsed the scoreboard. It said: Stephen Hendry MBE 1, Shaun Murphy, who nobody had heard of, 4.
"Hendry had his head in his hands and I thought: 'This isn't right.' I won 17 points after that and lost 6-4. Stephen didn't even play particularly well. I simply blew it. I had to go on Radio 5 and the reporter informed me I had 'bottled it'. I wanted to rip his throat out. I've only just started listening to the station again.
"When I won the world title, it was only when I beat John Higgins, who had knocked me out of the British Open 6-0 inside an hour, that the thoughts began creeping in. It's the quarter-finals that are crucial because then you think: 'There are only eight players left – maybe'."
Shaun Murphy was very young when he first started thinking "maybe". He was mostly brought up by his father, who was a professional golfer living in Irthlingborough, a small town in Northamptonshire once the home of the now defunct Rushden & Diamonds football club and Dr Martens shoes.
"Dad played snooker and did all the things that men in the 1980s did. I could quite easily have gone into golf, although when I asked for help he refused to give it to me because we were so competitive. He didn't want me to have any kind of advantage.
"I was eight years old and I'd asked for a computer for Christmas. My parents were going through a very difficult time and they couldn't afford a Commodore 64 so they bought me a little snooker table from ToysRus. All kids at some stage in their lives are given one of those and I wore mine out within six months."
By the time he was 13 he had left school, with the approval of his parents, and was playing snooker full-time. Just before his 16th birthday Murphy turned professional. "I studied English and maths at home. We had a tutor come to the house. Monday morning was schoolwork, Monday evenings was homework and the rest of the week was snooker practice, seven hours a day, with tournaments at the weekend.
"Would I have been world champion without doing that? Definitely not. I think there comes a time in all sportsmen's lives when they have to choose between academia or their career but, looking back, it seems an incredible risk."
Around the time he stepped out into the professional game, the teenage Murphy discovered Christianity. "I was in my mid-teens and going through some troubling times with my parents divorcing," he said. "I was underachieving and on holiday I came across a family who were the nicest people you could meet.
"I went to stay with them, they took me to their local church and the one thing I did notice was how happy they all were. I thought I could really do with something like that in my life.
"It was a hindrance to begin with because I shouted about it from the rooftops. I went home and told my dad he was going to hell. That was a mistake. Now, I just try to get on with it on a private basis."
He will not be the only one at the Crucible who has turned to religion. Ronnie O'Sullivan, whose return will add spice to this year's tournament, dabbled with Christianity and Buddhism when his life came apart in a sea of alcohol and other substances, even accompanying Sheffield's one-time boxing world champion Naseem Hamed to a mosque.
Murphy was nine when he first went to the Crucible which, to a Steve Davis-obsessed lad, looked like a palace. When he returned as a professional, it seemed small, cramped almost. However, Sheffield remains the centre of world snooker, although its frontiers are fast expanding to the east.
Since Barry Hearn became chairman of World Snooker three years ago, total prize-money has risen from £3.5m to £8m but at a cost. Five of next season's ranking events will be in China, with another in India.
Since tournaments are not obliged to provide flights or hotels, Mark Allen, the world No 6 from Antrim who has clashed many times with Hearn, argued it would force those on the fringes of the circuit out of the sport. Allen estimated it would cost up to £15,000 to stay on the tour.
"There are many worse things in life than travelling to the Far East to play snooker," said Murphy. "A lot of players have made too much of the tough trials of being a snooker player. A friend of mine is a brickie and, if he can get some work – and that's a big if – it will be hard and he will come home knackered. But he will never turn work down and it makes me very uneasy when sportsmen on high incomes complain of being tired or of having to pay their own expenses."
The vastness of China can be intimidating. You can drive for what seems like hours on inner-city motorways past block after block of neon and discover you are still in some part of Beijing or Guangzhou. To the boy from Irthlingborough it has an attraction. "I can't remember if it was Beijing or Shanghai but I was told there were more snooker tables there than in the whole of the United Kingdom.
"The scale of the country is unfathomable. I took my girlfriend recently because it was time she saw China and I was interested in what she made of it. I enjoy the travelling because in the little village where I grew up nobody got to go on big planes."
Not many got to drive Aston Martins either, which is Murphy's car of choice. When he won the world title, he celebrated by buying a Mercedes. Now he has shifted up a gear. "Cars are my one indulgence," he said. "The Aston Martin represents all the things I am proud of – the British heritage, the style and the fact that when I get in it I feel like James Bond."
Join our new commenting forum
Join thought-provoking conversations, follow other Independent readers and see their replies