Snooker: Ronnie O'Sullivan warns of players burning out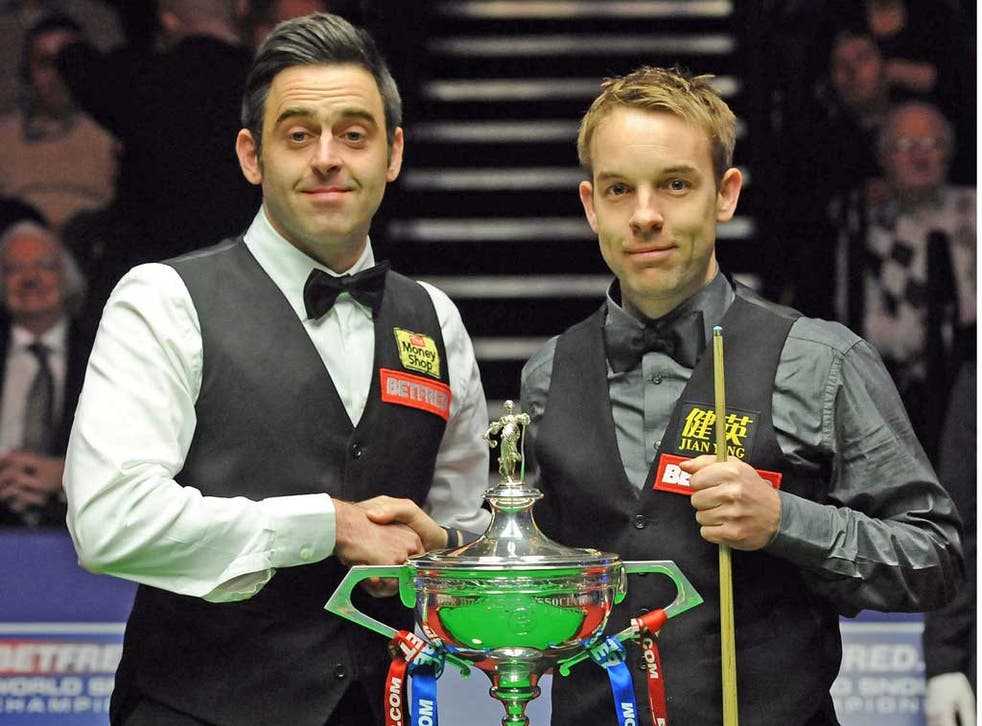 Ronnie O'Sullivan has called for snooker's top players to rally together to prevent burnout. The "Rocket" went in search of a fourth world title yesterday when he kicked off his World Championship final against Ali Carter in Sheffield. However, O'Sullivan has threatened to quit because of the daunting domestic schedule.
Snooker is now a global brand and the World Snooker chairman, Barry Hearn, has more than doubled the number of tournaments around the world. Last week Stephen Hendry, the seven-time world champion, shocked snooker when he retired. The Scot cited playing in too many tournaments as one of the main reasons why he decided to pack away his cue after 27 years.
"You sense there's always the pressure of World Snooker squeezing you at every opportunity," said O'Sullivan. "For the good of the players it would be good if a lot of us could get together and say we're not happy with certain things and that we'd like a fairer system. Everyone wants to do well and Barry's entitled to make good out of snooker, but I also think the players should be considered. I don't think the players have been taken into consideration.
"World Snooker do push it a little bit too far sometimes and treat players with a little bit of disrespect really, as if they're not important. They are important, though."
O'Sullivan has missed tournaments this season and, as a result, has fallen to No 13 in the world rankings. The 36-year-old says it is becoming increasingly difficult to balance playing at the top level and spending time with his two children. At one stage this season O'Sullivan claimed he nearly crashed his car because he was "knackered". He also collapsed in a hotel room.
"They [World Snooker] want to keep pushing me and pushing me, but when you're ill you need support," O'Sullivan said. "I have two beautiful kids who I want to see – and that's all that matters. They can ban me, fine me, do what they like, but I don't care anymore.
"I love Barry, he's been good to me over the years and we've got a great relationship and always will do. He's been quite open and admitted he's blackmailed the players."
Hearn said in November he had given some events ranking status "to actually force the players into playing". He added: "Ronnie is quite right that it is a form of blackmail, and I put my hands up and plead guilty."
Yesterday O'Sullivan said: "I can't do that schedule and I'm a hard worker."
The Ulsterman Mark Allen has also criticised Hearn's regime and a number of players have voiced concerns.
Hearn said: "Burnout! Don't make me laugh. Tell the geezers working down the mines about burnout."
However, the six-time world champion Steve Davis said: "In a very short space of time things have changed in the calendar and therefore very quickly players are having to re-think their strategy. It might be the springboard to more players retiring. That's why it may be the same as the golfing world where you've got to be totally single-minded and have no responsibilities."
On the table yesterday, O'Sullivan took a 5-3 lead after the first session against Carter. It was not vintage O'Sullivan but he was close to his best.
Breaks of 56 and 117 saw him lead but Carter pinched a scrappy third frame and levelled with an 84. Carter missed a routine red and O'Sullivan scraped the fifth frame with 52. O'Sullivan missed a red to a middle pocket in the next and Carter pounced to square, but his opponent made a majestic 94 clearance to move a frame clear. O'Sullivan finished with a flawless 135.
Join our new commenting forum
Join thought-provoking conversations, follow other Independent readers and see their replies