Steve Bunce on Boxing: I was there at the start for Audley Harrison. I don't want to be there at the end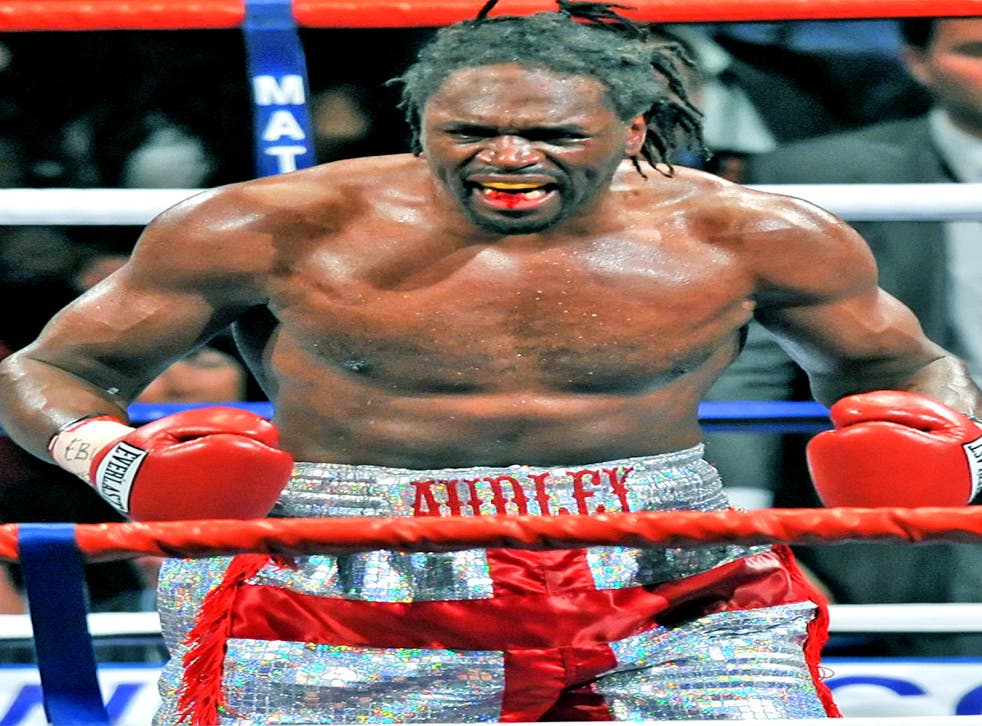 Audley Harrison is due back in Britain from his Los Angeles exile in the next week to start charm campaign number three or four or five in anticipation of his genuine "last chance" fight against Iraqi Ali Adams on 26 May.
Adams is a nice guy and is possibly the best heavyweight from that region, assuming that Hassan "The Iranian Assassin" Chitsaz, who is 54, has finally called it a day and relinquished his Latino heavyweight title.
Chitsaz, like Adams, is a refugee from terror and arrived in his chosen country with a fighting dream. Chitsaz once told me: "I came to American with nothing but my fists and my heart." Adams has told me the same story, only his journey ended in Hammersmith and not the Mexican border.
Harrison, meanwhile, is convinced that he can still make an impact on the British and then the world scene. "If I can't beat Adams then I don't deserve to continue boxing," he said, which is similar to the statement he uttered before losing to the Belfast cabbie Martin Rogan in 2008. There is no denying that Harrison remains a popular figure in Britain, winning millions of new fans during his sortie under the lights on Strictly Come Dancing.
However, his shortcomings now in the ring make each of his recent appearances as a prizefighter depressing viewing for anybody who was a fan; I was a fan and I hate watching fighters trying to find what can never be replaced. Harrison's heyday and the peak of his boxing career was winning the Sydney gold medal 12 years ago. It was a victory against tremendous odds and only achieved after a series of brilliant wins in the ring.
In the following and understandable rush to line his pockets, Big Aud forgot a few basics from the boxing business and his downfall was both spectacular to record and unpleasant to witness. Harrison, you see, really did have the chance to dominate a sport that was searching for a new hero by the time he was maturing as a professional.
Lennox Lewis was gone, Mike Tyson too old, the Klitschko brothers looked vulnerable at the time and Harrison's sweet southpaw pedigree was enough to have his face on the cover of The Ring magazine. He was the future, which seems bizarre to write now but in 2003 it looked like fact.
The Klitschko brothers have matured into the seemingly invincible fighters that they are now but back then they were not considered great boxers. There was also the false hope that a new American heavyweight would be found – that man remains at large – and it was into this abyss that Harrison strolled. The gold medal was still glittering.
"It's not been an easy road to where I am now," said Harrison, who is a much nicer man now than he was during his arrogant pomp. He is, actually, a gentleman now.
Adams is also a nice guy and is understandably treating this fight like a championship contest. He has won 13 of his 17 fights, but is better than the raw stats suggest having been thrown in a few times when he first arrived in Britain.
The Harrison fight with Adams has all the ingredients to make it essential viewing but sadly there are no plans for it to be televised at the moment. Tickets for the fight at the Brentwood International Centre are still available and if – like me – you like being somewhere when something great ends, or begins, it could well be worth the forty quid punt.
I saw a young A. Harrison (Northolt) win the London Novice super-heavyweight title at the Irish Centre in Camden Town 20 years ago. That was the start; a part of me wants to avoid being in Brentwood on the 26th.
Register for free to continue reading
Registration is a free and easy way to support our truly independent journalism
By registering, you will also enjoy limited access to Premium articles, exclusive newsletters, commenting, and virtual events with our leading journalists
Already have an account? sign in
Register for free to continue reading
Registration is a free and easy way to support our truly independent journalism
By registering, you will also enjoy limited access to Premium articles, exclusive newsletters, commenting, and virtual events with our leading journalists
Already have an account? sign in
Join our new commenting forum
Join thought-provoking conversations, follow other Independent readers and see their replies