The Last Word: Problems of surviving the end game
In the week Adlington and Carragher quit, Gazza offers a stark reminder of how it can go wrong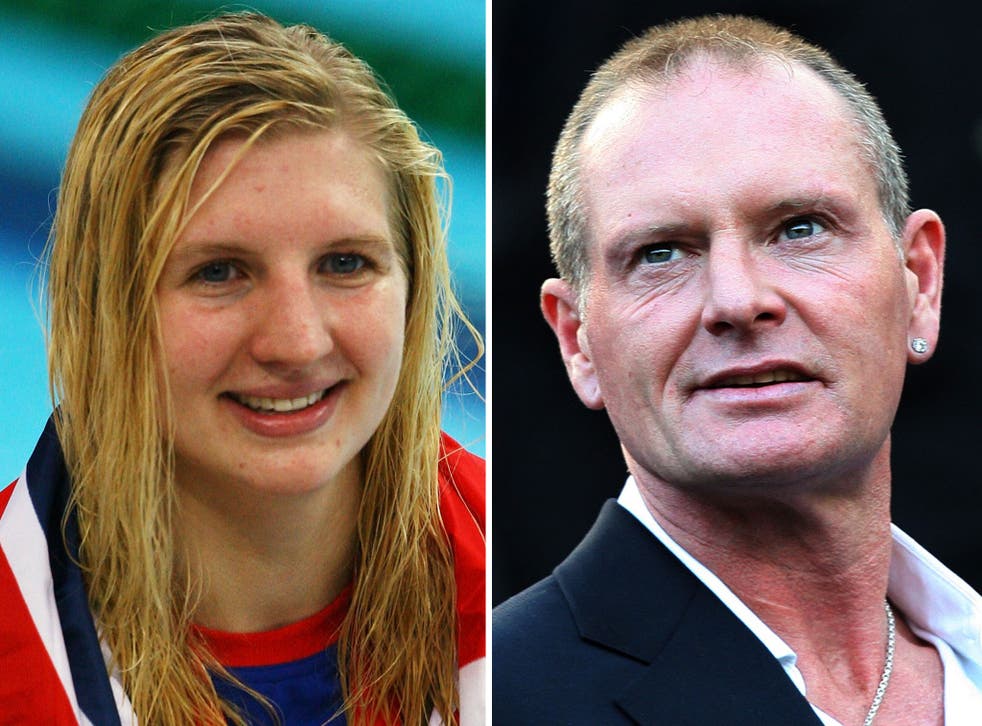 The cryogenic chamber was set at -150F. A familiar bare-chested figure, wearing two pairs of white gloves, polyester shorts, skin-tight medical socks, clogs and a headband, was doing press-ups and squat thrusts in the centre of the room.
No one at the health club in Home Counties Hertfordshire thought to ask why he put himself through the ordeal three times each week, just as no one sought to question his daily ritual of running on the treadmill with 12kg weights in each hand.
When he heard two professional footballers had broken his 10-minute endurance record in the chamber, he returned, and stayed there for 13 minutes. Nearly 17 years after his final fight, a three-round knockout by Mike Tyson at the MGM Grand in Las Vegas, Frank Bruno remains a competitor.
He is 51 now, and seeks to fill his days with reminders of the physical purging which once defined him. Retirement from boxing, blighted by severe mental-health issues, has been a glimpse into the heart of darkness.
The black dog of depression savages athletes in decline or in their dotage. The list of victims – Ricky Hatton, Marcus Trescothick, Tony Adams, Neil Lennon, Vicky Pendleton, Freddie Flintoff, Kelly Holmes and Ronnie O'Sullivan, to name a random group – will grow exponentially.
Jamie Carragher is one of the lucky ones, a warrior king carried out on his shield and into a television studio. Rebecca Adlington, at 23, may be terrifyingly young to enter athletic afterlife, but she has enough cachet in a small sport like swimming to use her Olympic medals as a down-payment on normality.
All athletes are unable to escape who they were. Most are unable to reinvent themselves so they can become who they want to be. Their problems transcend sport and nationalities, but compassion fatigue is setting in. How many of us looked away from the grim, grainy photograph of Paul Gascoigne stealing a last sip at the poisoned chalice of a pint in an airport bar? The generosity of those who got him into the Meadows rehabilitation centre in Phoenix, Arizona is admirable, but his plight is overfamiliar.
If football really cared about the welfare of its former players it would impose a fractional levy on its TV income and divert it into a holistic programme of post-retirement support. Giving back 0.5 per cent of that revenue would realise in excess of £25 million. A similar imposition on parasitic bookmakers would also be principled and profitable.
The PFA, the players' union, produce self-help guides and direct troubled members to 14 organisations, including Anxiety UK, the Depression Alliance and the National Problem Gambling Clinic. It is a start, but ultimately as insubstantial as a Pray for Gazza hashtag.
Footballers' divorce rates in the five years following retirement are thought to be in excess of 60 per cent. There are justifiable fears that the current generation of Premier League players will take an unwitting lead from similarly rewarded athletes in the United States.
An estimated 60 per cent of NBA players, whose average annual wage is $5.85m (£3.7m), are broke within five years of retiring. A recent study suggested 78 per cent of NFL players are bankrupt or under severe financial pressure because of unemployment or divorce within two years of leaving the sport.
Their predicament arouses little sympathy in a world in which ordinary families are stretched to breaking point. I sense we are beginning to resent the notion of athletes as unchallengeable heroes.
A niche version of The Four Horsemen of the Apocalypse arrived on sport's doorstep this week: they represented doping, match-fixing, corruption and social disease.
Strangely enough, nothing haunted me as much as that image of Frank Bruno, seeking the endorphin high of exercise without a purpose.
Fergie's outburst means no way Jose
Sir Alex Ferguson is gloriously, productively unhappy. His ire has been roused by impertinent TV schedulers, disrespectful FA apparatchiks and incompetent match officials.
Stuart Pearce, England's Under-21 manager, has been singled out for special treatment for his ignorance of medical confidentiality.
All this may turn out to be rather bad news for Jose Mourinho. The Special One's ambitions to succeed the Splenetic One at Old Trafford are looking distinctly threadbare.
Mourinho will relish the intensity of the spotlight trained on Real Madrid's Champions' League tie against Manchester United. But elimination will leave him uniquely vulnerable.
Barcelona have disappeared over the horizon with the Spanish La Liga title. He is at war with the media and his players. Even Cristiano Ronaldo, a loyalist, has been alienated.
Real's president, Florentino Perez, is steeling himself to dismiss Mourinho, even if it costs millions in compensation. Such turbulence has never worried him. His acolytes suggest Paris St-Germain and Manchester City are attractive options.
Yet if those are impractical, and Mourinho returns to Chelsea, it will be regarded as the definition of desperation. Fergie will have put another pretender in his place.
Life in Brian
England have cause to fear Brian O'Driscoll's unfinished business with the Lions. Spear-tackled out of the 2005 New Zealand tour, he bears the scars of subsequent defeat in South Africa. A stellar performance today should seal a place as captain this summer.
Register for free to continue reading
Registration is a free and easy way to support our truly independent journalism
By registering, you will also enjoy limited access to Premium articles, exclusive newsletters, commenting, and virtual events with our leading journalists
Already have an account? sign in
Register for free to continue reading
Registration is a free and easy way to support our truly independent journalism
By registering, you will also enjoy limited access to Premium articles, exclusive newsletters, commenting, and virtual events with our leading journalists
Already have an account? sign in
Join our new commenting forum
Join thought-provoking conversations, follow other Independent readers and see their replies