The Independent's journalism is supported by our readers. When you purchase through links on our site, we may earn commission.
Tour de France: Bradley Wiggins delivers virtuoso display to create devastating advantage
Briton claims his first Tour stage win to move nearly two minutes ahead of closest rival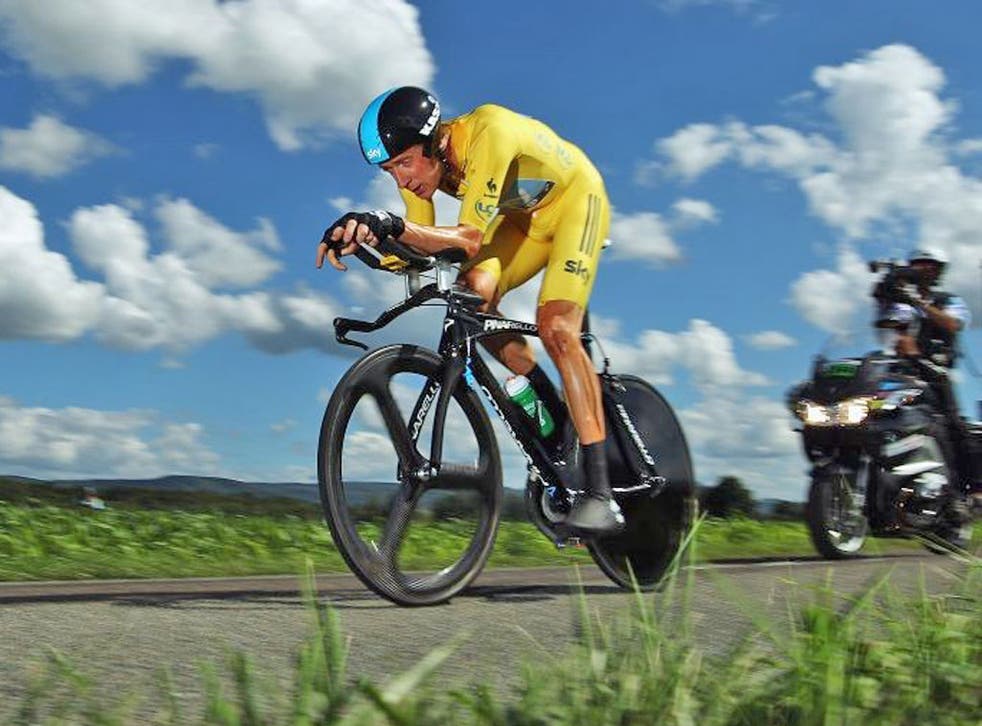 Team Sky delivered their second heavy blow to the rest of the field in three days yesterday as Bradley Wiggins stretched his lead with his first ever Tour stage win while Chris Froome, a deeply impressive second yesterday behind his team-mate, moved on to the provisional overall podium in third.
Thanks to Wiggins' faultless time-trial performance, the Londoner has increased his lead from a narrow 10-second gap over his closest pursuer, last year's Tour winner Cadel Evans, to nearly two minutes on his arch-rival, putting the 32-year-old in a position where the lead is now his to defend: all the way, perhaps, from here in Besançon to Paris.
In one sense, this was predictable: Wiggins has won every time trial he has taken part in this season – from the tiny Tour of the Algarve in February through the Paris-Nice race and the Tour of Romandie to the Tour's crucial warm-up race, the Critérium du Dauphiné in June.
But the Tour de France is a different game altogether, and after Sky proved they were the strongest team in the mountains on Saturday's first major summit finish, yesterday Wiggins rose to his individual challenge majestically to claim Britain's first time-trial win in the Tour since David Millar in 2003.
Roaring down the starting ramp and dressed in yellow from top to toe, Wiggins' aerodynamic position looked perfect – his back near-horizontal, his arms parallel and drooping slightly over the bars. He sliced through the apex of each corner and forged down the straights with his legs hammering out a merciless pace.
The damage was done almost from the get-go, and after 15 kilometres of yesterday's 41km rugged course in eastern France, when the press room TV stated Wiggins had created a provisional overall advantage of 40 sec on Evans, as ever when the Tour seems to turn a pivotal corner towards overall victory or defeat, the silence was so intense you could have heard a pin drop.
And so the near-silence and Wiggins' triumphant ride continued, with the Briton's name at the top of the screen on every best intermediate time – after 16.5km and again after 31.5km – and almost equally remarkably, immediately under Wiggins', that of his team-mate Froome.
As Wiggins said later, he had learned from his error on the Tour of Spain last year, the last time he had taken part in a long time trial in a three-week stage race. Rather than go too hard, too early – and then run out of fuel – every pedalstroke was measured, every acceleration controlled, every turn taken with the minimum of wasted energy. It was, in its way, as much a virtuoso performance as anything the Tour's greatest time-trial stars – such as Jacques Anquetil or Miguel Indurain – could have turned in.
In keeping with Wiggins' clinically controlled performance, there was no joyful pumping of the air as he crossed the line, just a steady gaze forward to make sure – presumably – he did not crash into any photographers. The broad grin and thumbs-up on the podium, though, gave away how special yesterday was for Wiggins – and as a triple Olympic gold medallist, multiple world track champion and former leader both of the Tours of Italy and Spain, there have been plenty of those in the past.
"Time-trialling is my forte, but this is something very special," Wiggins said. "I just feel extreme satisfaction, after all that training and a lot of sacrifices that I've made, and seeing how everybody else feels in the team on top of it, it's just fantastic. I've done a lot of work to get here, we've been over every tiny detail – just as we have done in the past on the track – and that's what has made the difference."
The euphoria– and the sensation that the Tour is already won – will be tough to resist, but as Wiggins pointed out, Paris is still nearly two weeks away. The Alps and the Pyrenees are yet to come. The show, in many senses, has only just begun. "It's another day down and it could be a whole different ball game after the rest day [today]. There's a long way to go, this race is far from over, I'm only human, and you can have a bad day," Wiggins warned.
"Today, though, was my day" – and one for British sport to savour, come what may.
Armstrong to fight 'vendetta'
A federal judge handed Lance Armstrong a quick setback yesterday as the seven-time Tour de France winner went to court to save his reputation.
Armstrong filed a lawsuit aimed at preventing the US Anti-Doping Agency from moving ahead with charges that he used performance-enhancing drugs throughout much of his career.
But within hours, a US District Court judge dismissed the suit, saying it seemed more intended to whip up public opinion in Armstrong's favour than focus on the legal argument. He will, however, let Armstrong refile.
Register for free to continue reading
Registration is a free and easy way to support our truly independent journalism
By registering, you will also enjoy limited access to Premium articles, exclusive newsletters, commenting, and virtual events with our leading journalists
Already have an account? sign in
Register for free to continue reading
Registration is a free and easy way to support our truly independent journalism
By registering, you will also enjoy limited access to Premium articles, exclusive newsletters, commenting, and virtual events with our leading journalists
Already have an account? sign in
Join our new commenting forum
Join thought-provoking conversations, follow other Independent readers and see their replies