Tour de France: Chris Froome zooms from riding with lions to pride of pack
Kenyan-born rider is the other great Briton on tour who has gone up a gear with Wiggins
Alasdair Fotheringham
Friday 13 July 2012 11:45 Comments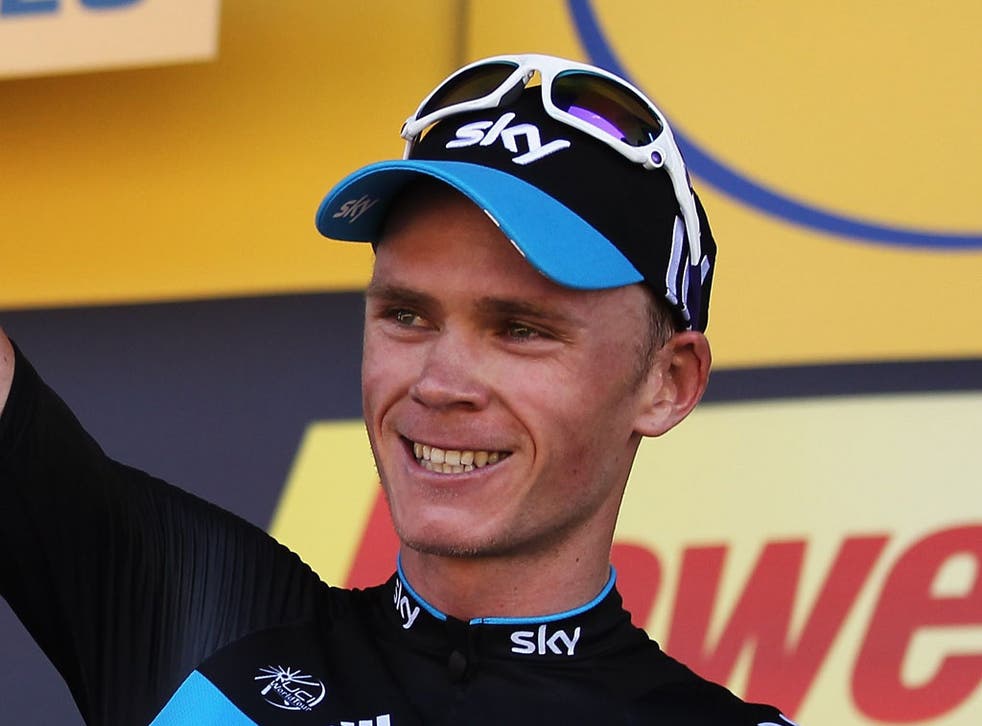 Chris Froome's efforts to protect the race leader, Bradley Wiggins, and simultaneously move a place higher on the Tour de France podium – from third to second – paid off in spades yesterday as he guided the Londoner towards the summit of La Toussuire. And even if Pierre Rolland remained ahead to claim the day's victory, Froome remains the only Sky rider to have taken a mountain-top victory in a major Tour as the winner on the Planches des Belles Filles last Saturday and on the Peña Cabarga in Spain last year.
But if Froome is climbing high in the Tour for the first time, the 28-year-old Kenyan-born rider is a comparative newcomer to cycling's hierarchy. His rise to fame only started in 2011, when he finished as runner-up in the Tour of Spain. He is virtually an enigma in comparison to team-mates like Wiggins and Mark Cavendish.
If Wiggins' love of music and guitars is well-known, and Cavendish's past as a bank clerk and amateur ballroom dancer is almost as frequently dragged up as his 21 Tour stage wins, then Froome's unintentional claim to fame is almost certainly his unlikely career path and his beginnings as a bike rider.
Born in Nairobi, after his grand parents, from Tetbury, emigrated to Kenya to run a farm, Froome cut his teeth as a teenager riding with David Kinjah, the founder of Safari Simbaz – a huge project to help young Kenyan cyclists – in the highlands north of the capital. If the cute Tour de France toy lions – given to stage winners – are familiar to Froome these days, back then he would come across the rather larger, man-eating variety while out on his training rides.
"At weekends, my mother would take me down to the Great Rift Valley road, which is very bush," Froome recounted to the cycling magazine Velo News last year, after his second place for Sky in the Tour of Spain. "Yes, you're riding with animals. Even last November, I went to a mountain-bike Tour and we went past elephants, lions... it's just normal there."
After moving to South Africa at the age of 14, for a spell at St Johns in Johannesburg, the country's poshest private school, Froome studied for an economics degree. He pulled out when he received an offer to race professionally in Europe.
This is far tougher than it sounds. As Froome has often explained, for African riders the geographical distances, the very different style of racing and visa issues when it comes to spending long periods in the EU make it extremely difficult to break into Euro-centred professional cycling. In 2011, there were only five African-born riders in all 68 professional and semi-professional teams.
Froome's earliest experiences as a pro were not all ideal. In 2007, in his first world championship, he had barely ridden down the start ramp of the time-trial course before he crashed into the barriers. In his first full year with the South African outfit Barloworld, and despite his lack of experience, he was flung into the Tour. He came through creditably with 84th place overall.
After taking British nationality and signing for Sky in 2010, Froome suffered another problem – he contracted bilharzia, a parasitical waterborne infection which, as he put it last year, "feeds off red blood cells, which is not ideal for an athlete".
Sky were not impressed by the inconsistency that the bilharzia produced and before the Tour of Spain last year, Froome was out of a contract for 2012. But his second place – still Sky's best performance in a Grand Tour –changed all that. Sky re-signed him a few days later.
"He's a young lad with a breakthrough performance and the thing is to make that not only repeatable but predictable," Sky's Dave Brailsford said last autumn, to the British magazine Cycle Sport. "When he does really well he empties the tank and Tim Kerrison [Sky's sports scientist] has always said that his numbers are really good. It's just about trying to translate that into performance."
This year, as Wiggins' regular training partner on the Mount Teide volcano in the Canary Islands, Froome has shifted up a gear. But although his Tour participation and potential podium finish for Sky is a huge landmark in his career, ultimately – as he told me last year – his long-term dream, probably after retirement, is to work with an African team and spearhead a breakthrough for cycling on that continent.
"I know the UCI have some programmes in place, but are those programmes really working?" he said last autumn. "I haven't seen more Africans in the peloton yet.
"If you look at ethnicity, it's not that mixed up yet. If cycling is to really to take off, you'd need a Tiger Woods to be an example to young Africans and Asians that it is still possible. I would love to work on a project like that."
Froome is already the first African-born pro to set foot on a Grand Tour podium, in the Vuelta. Now he has every chance of doing the same in the Tour de France. As far as inspirations go, that can hardly be faulted.
Register for free to continue reading
Registration is a free and easy way to support our truly independent journalism
By registering, you will also enjoy limited access to Premium articles, exclusive newsletters, commenting, and virtual events with our leading journalists
Already have an account? sign in
Join our new commenting forum
Join thought-provoking conversations, follow other Independent readers and see their replies