Tour de France: Mark Cavendish enters history as best-ever Tour sprinter
Alasdair Fotheringham
Monday 23 July 2012 11:36 Comments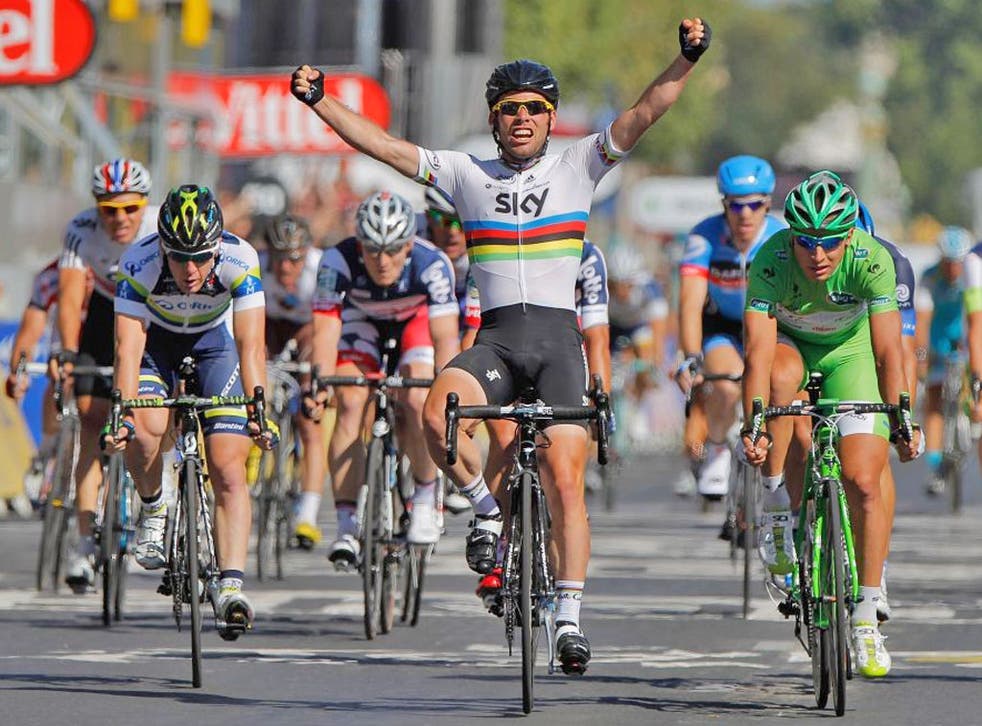 If Bradley Wiggins yesterday made his first ever visit to a Tour de France winner's podium in Paris, his team-mate Mark Cavendish was on far more familiar territory as he racked up his fourth straight victory on the Champs Elysées – a victory that numerically confirms him as the Tour's greatest-ever sprinter.
Unbeaten in Paris ever since he first blasted across the Tour's final finishing line in 2009 under the guidance of HTC wingman Mark Renshaw – the two were so far ahead by the finish that Renshaw claimed second, his arms flung as high in the air as Cavendish –this victory was equally impressive.
After some solid assistance from Bradley Wiggins in person in the final kilometres as he cranked up the pace to keep the head of the pack under control, with Norwegian national champion Edvald Boasson Hagen then guiding him into position for his final acceleration, Cavendish sailed away from the pack with 400 metres to go.
Only his former HTC team-mate Matt Goss of Australia came remotely close to the Manx Missile as he blasted towards the line with a vast grin on his face, but the Tasmanian, too, was forced to throw in the towel and ease back as the Sky rider's prolonged drive for the finish netted Cavendish his third stage win of the 2012 Tour.
Cavendish's 85th career victory on the road and 23rd stage in the Tour now makes him the fourth-most prolific stage winner in the race's history, ahead of Lance Armstrong and – arguably more importantly – 1950s sprinter André Darrigade, the legendary French fastman.
"I was already voted the 'Best Sprinter of the Tour' by [semi-official newspaper] L'Equipe, but now I've won more stages than Darrigade, on numbers at least, I can be secure of that award," Cavendish said later. "And I'll be back next year to try and make it five on the Champs Elysées."
Another record to topple was the number of British stage wins in one Tour – already set by Cavendish alone with six in 2009. Yesterday was Britain's seventh, one in three of those on offer in the entire Tour. Indicating collective strength in depth in all areas, two of those have been in time trials (both Wiggins), three in sprints (all Cavendish), one in a mountain-top finish (Froome), and one in a break (David Millar). As if that was not enough reason for celebration, Cavendish is also the first reigning World Champion ever to win on the Champs Elysées.
"It was always the plan to work for Mark like that on the Champs and that was a magnificent win," said Wiggins, who crossed the line punching the air to celebrate Britain's simultaneous victory in the stage and in the Tour overall.
As for the Olympics and how this latest win will – yet again – confirm his status as top favourite, Cavendish said: "I've had good form since the Giro, everything is on target."
If Cavendish is now gunning for London next Saturday, his victory in the Tour's final stage brought down the curtain in perfect style for what has been Britain's breakthrough Tour.
"Maybe there would've been more opportunities for sprints [in another team]," Cavendish said, "but we've won six stages here [for Sky], we've raised the profile of British cycling and it's a huge honour to be a part of it."
Register for free to continue reading
Registration is a free and easy way to support our truly independent journalism
By registering, you will also enjoy limited access to Premium articles, exclusive newsletters, commenting, and virtual events with our leading journalists
Already have an account? sign in
Join our new commenting forum
Join thought-provoking conversations, follow other Independent readers and see their replies