Tracey Neville: The netball coach who is just as busy as her brothers, Gary and Phil
The former player on how she is finding time to coach both Manchester Thunder in the Superleague and England in this year's World Cup, why Gary will definitely become a manager one day and that Phil still cannot make a cup of tea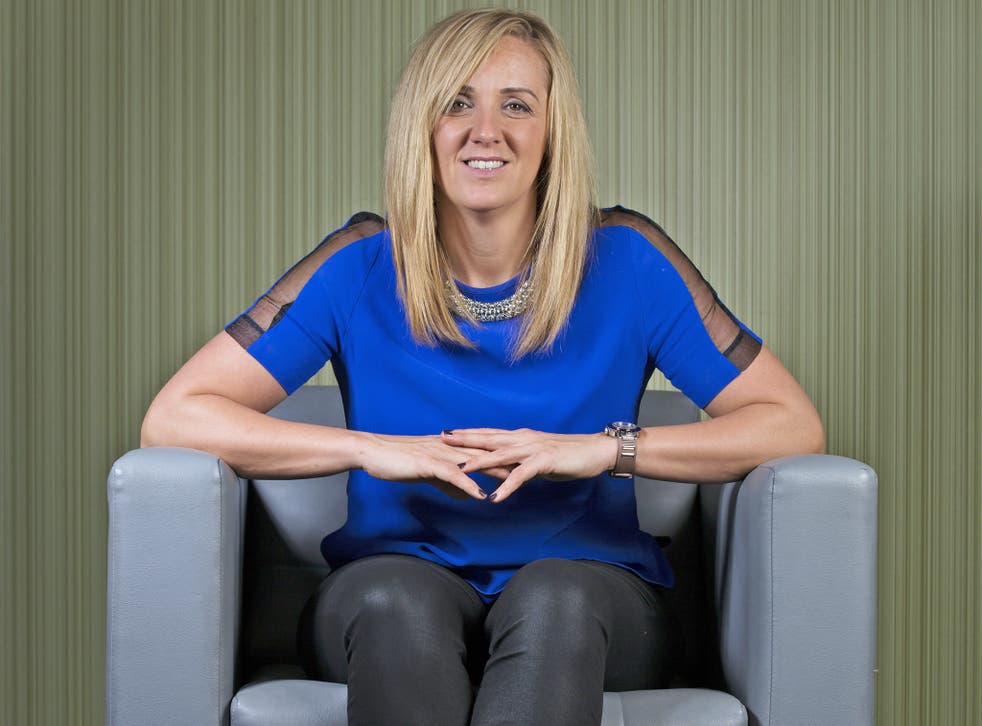 "Did I think twice about taking the job of England head coach?" says Tracey Neville. "No. It was 'do I fancy it?' Yeeesssss!"
The fact she was already in charge of England's leading netball team, Manchester Thunder, did not seem to be a problem. At Manchester United her brothers, Gary and Phil, were known, for not entirely flattering reasons, as Busy One and Busy Two. Gary is combining the role of an analyst for Sky with coaching England to the European Championship. Since retiring as captain of Everton, Phil has been a constant fixture on both radio and television. As a family, work is something the Nevilles have never shirked.
"England were offering me an interim role to take the team to the World Cup in Australia in August," says Neville as she sips a decaf latte while we chat in the cafe of the National Cycling Centre in Manchester. "It would last for no more than four or five months. It was do-able. I would like to make it full-time but that depends on others. I do think I'll do a good job, though."
The bar English Netball, who fired Anna Mayes as head coach last month, has set Neville does not seem unreasonable. England are ranked third in the world and Neville's brief is to reach the final in Sydney.
And yet England almost never perform well when it matters. In the Commonwealth Games last summer in Glasgow, which probably did for Mayes, they were beaten in the semi-finals by New Zealand and lost the bronze-medal match to Jamaica.
The first netball World Cup was staged in 1963 in the suitably genteel surroundings of Eastbourne. It has been won every four years by either Australia or New Zealand, though Trinidad tied for first in 1979. England once finished second, but that was 40 years ago.
England has double the population of Australia and New Zealand combined. It cannot possibly have fewer people playing netball. "On paper, this is probably the best England team we have ever had," says Neville. "But we have not performed in major tournaments and that is not just true of netball, it is the same for a lot of English sports.
"A lot of kids drop out for financial reasons. I used to earn £742 a month from netball when I was a player, a figure I'll always remember. It was funded by UK Sport so it all had to be accounted for. I had to demonstrate it was being used to pay petrol, gym membership and training costs, so it didn't amount to much. You had tours that sometimes lasted five weeks when you were unable to earn, so that put a strain on the finances."
Tracey Neville played 81 times for England, mainly as goal attack. It is one of netball's glamour positions, one of the two players out of seven who can score. "So you could have the best five on the court but if the other two can't shoot, then you are wasting your time," she says.
"The pressure is huge. There was a stage in my life when I lost a lot of confidence because, if you are not scoring, you become a liability to the team. As a coach you have to know how to protect them."
As someone whose brothers played more than 900 times for Manchester United – not to mention the England caps – she has spent a fair amount of hours around Sir Alex Ferguson. Has she ever been tempted to pick up the phone?
"I haven't called him but I watched him manage almost all my life," she adds. "I do work on the same basis when it comes to trusting in youth. Young players bring fire and life to your squad.
"We have won our last two matches by three and one points and they have come in the last minute of the game which is how United used to play. People say you don't want Manchester Thunder within two goals of you going into the last quarter."
It seems a surprise that Tracey, rather than Gary, is the first Neville into management, although she doubts he will remain in a Sky Sports studio forever.
"I know that one day we will be sat having a Chinese meal together and he'll just say: 'I'm going into management' as he's picking up his spare rib," she says. "I'll say: 'Why didn't you tell me?' and he'll say: 'I'm telling you now'. That's how he is.
"I always thought he would have made it as a cricketer [in fact, Phil was the better player] because Gary is such a deep thinker about sport. I did a degree in maths so my approach to tactics is quite structured."
Tracey started her coaching career at the bottom, with Team Northumbria, based in Newcastle. When she joined them they had not won a match.
"Netball was my career," she says. "At first it was all about just raising enough money to live. I was pretty injury-free until I was 27 and then I had five knee operations. For any athlete, the moment you realise you might be finished is one of the scariest you will ever encounter.
"I was 30 when my international career finished and I'd had so little experience outside the sport that I'd be going for the same jobs as a 21-year-old. I got a job with Leeds Metropolitan University and that gave me a life outside netball for three years. I coached their Under-19s and then I went to Newcastle."
She turned Northumbria around. Then came the invitation to take over at Manchester Thunder. They won the Superleague title last season and are unbeaten in this. The top four go into a play-off, and on 18 April Neville will oversee their semi-final at the 21,000-capacity Manchester Arena.
The season climaxes on 25 April and three days later Neville takes charge of England. There have already been more meetings and motorway miles than she cares to remember. After this interview there will be another meeting and more coffee... which, strangely, has proved something of a problem for the Neville family since Phil invited a journalist into his kitchen. When the man from the Daily Mail asked for an instant coffee, Phil admitted he had no idea how to make one. He phoned his wife for instructions.
"Oh God, that went viral," says his sister. "He got so much flak from the family for that. Phil hasn't got much of an idea how to make a cup of tea either. If you ever ask him for a hot drink he'd always say: 'No, I've had one, thanks'."
Such basics are obviously not beyond Tracey. Having been a student at two universities – Bristol and Chester – and studied nutrition at one of them, she knows her way around the kitchen. "I love cooking, the sort of comfort food that you're not really supposed to eat if you're an athlete – cakes and pies. If I did tea it was always homemade. I love the black pudding from Bury Market, the horseshoe-shaped ones that are very lean."
Between now and the World Cup final on 16 August, there will be no time for baking, planning a break or anything else. "My holiday was going to be the World Cup," she laughs. "I booked the tickets before Christmas to see them play as a fan.
"I've just sold my house for a little bit more than I'd expected and I've used some of that to buy tickets so Mum and Dad can come and watch. But as to what I'll do after, I don't know. I can't see a future beyond the World Cup."
Register for free to continue reading
Registration is a free and easy way to support our truly independent journalism
By registering, you will also enjoy limited access to Premium articles, exclusive newsletters, commenting, and virtual events with our leading journalists
Already have an account? sign in
Join our new commenting forum
Join thought-provoking conversations, follow other Independent readers and see their replies