Ultra-running: Robbie Britton covers Nike swoosh on the podium in protest about sponsoring of drugs cheat Justin Gatlin
Britton finished third in the 24-hour world championships
Matt Butler
Sunday 12 April 2015 19:17 Comments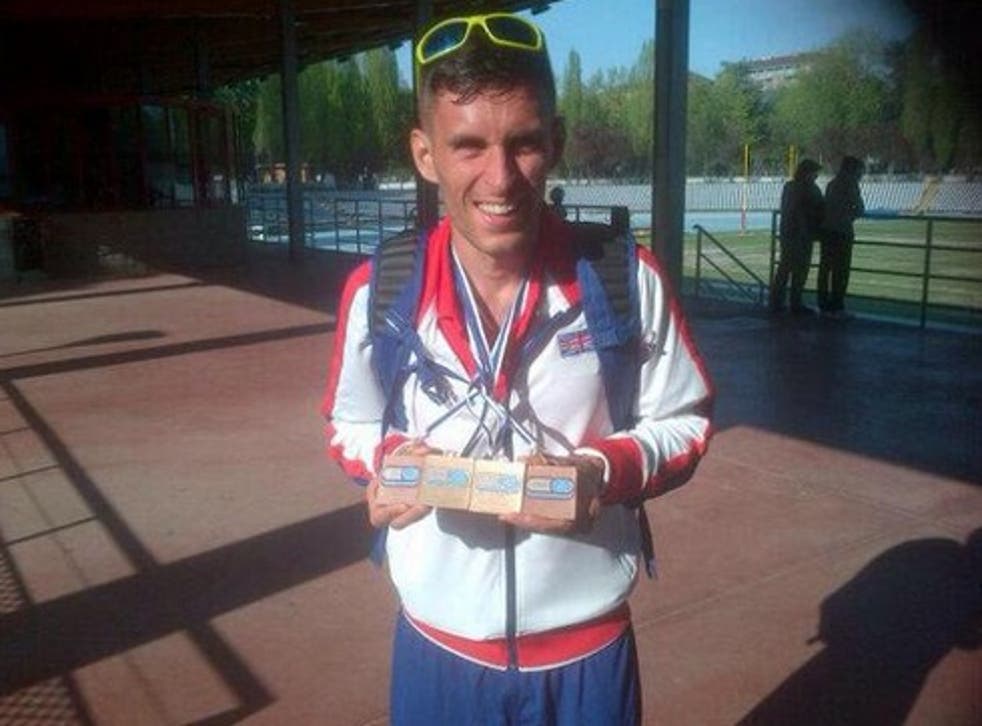 Robbie Britton led a gold medal-winning Britain men's team at the 24-hour world championships in Turin on Sunday with a third-place finish after covering over 261 kilometres on a two-kilometre course.
And true to his word, when he mounted the podium to collect his bronze medal he managed to cover the team's sponsor Nike, in protest at the global athletics giant's sponsoring of the drug-cheating sprinter Justin Gatlin.
He told the Independent before the race that he would duct tape over the distinctive swoosh, should he make the podium – and although he was told he couldn't do that, he managed to pin his collar down to cover the logo and fold his shorts in a way to make it invisible.
"It was such an awesome day," Britton said. "A team podium place was my realistic aim, maybe a European team bronze. Top 10 and 250-plus kilometres was my aim. Never in my wildest dreams did I think I would get an individual medal."
Two of Britton's Great Britain team-mates finished in the top 11: Pat Robbins came seventh and Steve Holyoak came 11th, for the Great Britain team to claim the collective gold ahead of Australia and Germany.
Britton, 28, also won European bronze at the event – the world and continental competitions were run concurrently – while the Great Britain team claimed the gold. Germany's Florian Reus won the men's race covering 263.899km in the allotted 24 hours.
Britain's women's team won bronze in the European championship and finished fourth in the world championship standings.
Britton's stance against Nike ("It is not just that they are sponsoring a drug cheat, it is that he is unrepentant", he told the Independent) drew attention from some big names in athletics. Kelly Sotherton, the former heptathlete, retweeted the original story, while many other athletics and endurance-running enthusiasts voiced their approval.
Register for free to continue reading
Registration is a free and easy way to support our truly independent journalism
By registering, you will also enjoy limited access to Premium articles, exclusive newsletters, commenting, and virtual events with our leading journalists
Already have an account? sign in
Join our new commenting forum
Join thought-provoking conversations, follow other Independent readers and see their replies