'What do we believe?': Lance Armstrong 'confessional' poses more questions than answers
Oprah Winfrey interview was just another attempt to control the narrative, the last desperate grab of a control freak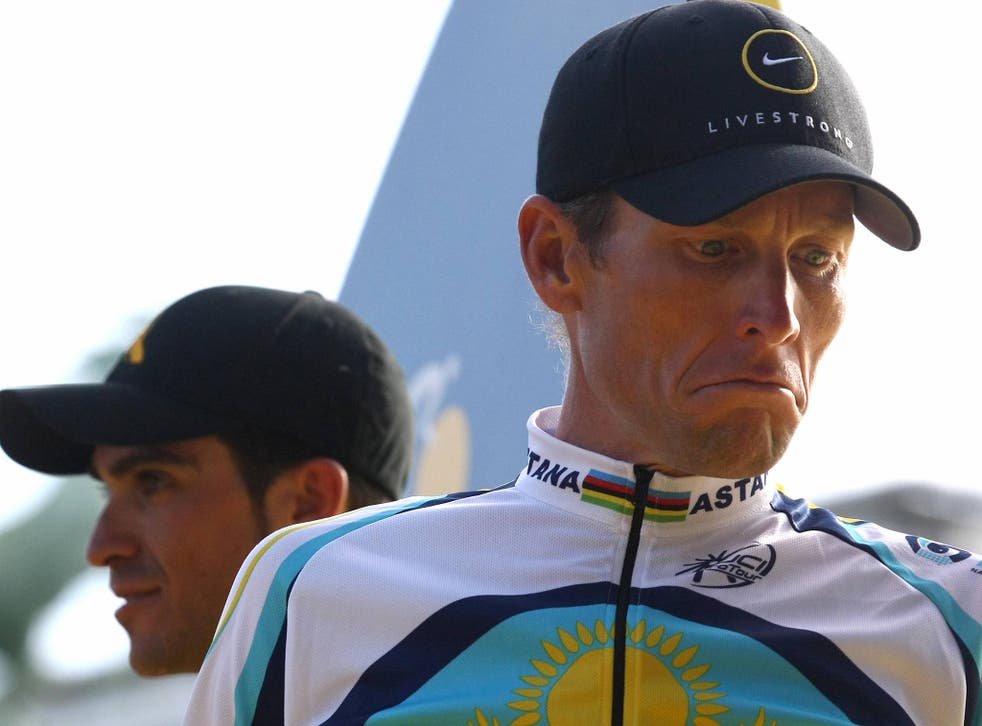 How do you know when a liar isn't lying? It is Brian Cookson, the president of British Cycling, who has produced the most apposite summary to the first part of Lance Armstrong's supposed confessional to Oprah Winfrey when he stated simply: "What do we believe?"
Cookson was addressing the subject of Armstrong's supposed positive test on the 2001 Tour of Switzerland. The comprehensive and damning US Anti Doping Agency (Usada) report - that stands as the point of reference for this entire story regardless of what Armstrong, and others, may say - detailed payments to cycling's governing body, the UCI, and raised the prospect of a cover up. It is potentially the most damaging part of the entire case, suggesting a link to the governing body, that it might have been complicit.
When asked about it, Armstrong denied it all. There was no cover up, the donation of over $100,000 to the UCI was just that and had nothing to do with any pay-off , he said.
"He says he didn't bribe anybody at UCI over the Tour de Suisse test," said Cookson. "He said there was no interference with the Swiss lab. On other hand, he has admitted to being a liar, cheat and a doper."
The UCI are the happiest party today. They believe their reputation remains untarnished but they stand alone on that - the words of a liar do not absolve them. Pat McQuaid, the UCI president, called it an "important step forward on the long road to repairing the damage that has been caused to cycling and to restoring confidence in the sport."
This was no road to redemption, rather we are on the road to nowhere, whether it be the UCI's shambolic attempt to hold an inquiry into the case or last night's interview. This was discovering nothing on the Discovery Channel, the broadcaster for the first part of the interview in the UK. There is little suggestion either that there is much more to discover tonight when the second part is broadcast; trailers flagged his "children", his "mother" - this smacks of the sofa side of the interview, the soft furnishing. He will also talk about the loss of his sponsors and the only obvious outcome of last night is likely to be a financial one for Armstrong.
His minimal mea culpa - for that is what it was at best and he still refused to admit doping in his comeback Tours in 2009 and 2010 despite evidence to the contrary - may well prove a costly one for him, but then the cost was likely to have been borne even if he had not recorded the two-hour long interview. The lawyers behind one of the largest demands for financial recompense, a $12m claim on behalf of SCA Promotions for the return of bonuses paid for his Tour de France wins, insisted before the interview that their case was watertight - they had the Usada report and all the sworn testimony and wealth of evidence that contained. What Armstrong said this week was not going to make any difference to their determination to get their money back.
As Armstrong sat there, occasionally looking uncomfortable, occasionally smirking like a bully caught red handed in the school yard, occasionally hiding his mouth behind his hand as he collected his thoughts, he offered answers that barely dipped his big toe into the torrent of allegations, claims and wretched practices that surround his time in the sport. I did it but it was the culture, he said. He didn't push others into it but he was a bully - my upbringing had made me a fighter, he reasoned at one point, and that means I will never let things go.
Watching it all - and learning nothing new - it was difficult to fathom Armstrong's motives. Why did he do it? He was facing a slew of financial claims anyway - and there will almost certainly now be more to follow.
"From a legal perspective, his issues are becoming more difficult, not less," Matt Orwig, a former federal prosecutor now with the law firm Jones Day, told the Reuters newsagency. "I don't see that he solved any problems. I think he opened the door on others."
The most serious is the so-called whistleblower lawsuit submitted by Floyd Landis, his former team-mate. That case surrounds US Postal funds - in effect government money - used to sponsor Armstrong's team. The claim surrounds $30m worth of payments and under US law the US Justice Department can chose to join the case. Yesterday was the deadline for a decision on whether it would - if it does then the likelihood of the case being successful increases. It is believed to have sought an extension but Armstrong admitting that he doped during that time can only increase the likelihood of government involvement.
There is one simple explanation, and one that held weight in some informed circles, advanced ahead of his confession - this obsessive athlete wants to compete again. Armstrong has switched to triathlon, but his life ban covers all sports that sign up to the World Anti-Doping Agency's code. If he were to confess there are means for that ban to be reduced to perhaps four years. But what he has said comes no-where close to earning even a consideration of a reduction. According to John Fahey, head of Wada, he rejected a recent invitation from Usada to talk to them and confess properly.
"Usada invited him to come clean and advised he would have to give evidence under oath and provide substantial assistance and, if he indicated the nature of the evidence - and he would have to name times, dates, people - there may be a consideration of reducing his life sentence to a term of years," said Fahey. "But he never came back, he went to Oprah instead and that indicates how sincere he really was. He wanted to control the way his story was told."
That is the only explanation. Armstrong said during the interview "I tried to control the narrative" as he sought to explain his actions in aggressively dealing with anyone who stood in his way. This is what this was - another attempt to control the narrative, the last desperate grab of a control freak. Only this time the world - as opposed to a lonely, and brave, few - is finally wise to him.
Register for free to continue reading
Registration is a free and easy way to support our truly independent journalism
By registering, you will also enjoy limited access to Premium articles, exclusive newsletters, commenting, and virtual events with our leading journalists
Already have an account? sign in
Register for free to continue reading
Registration is a free and easy way to support our truly independent journalism
By registering, you will also enjoy limited access to Premium articles, exclusive newsletters, commenting, and virtual events with our leading journalists
Already have an account? sign in
Join our new commenting forum
Join thought-provoking conversations, follow other Independent readers and see their replies