Why bridge should be officially recognised as a sport
Playing bridge takes skill, stamina and even physical fitness, says professional player Heather Dhondy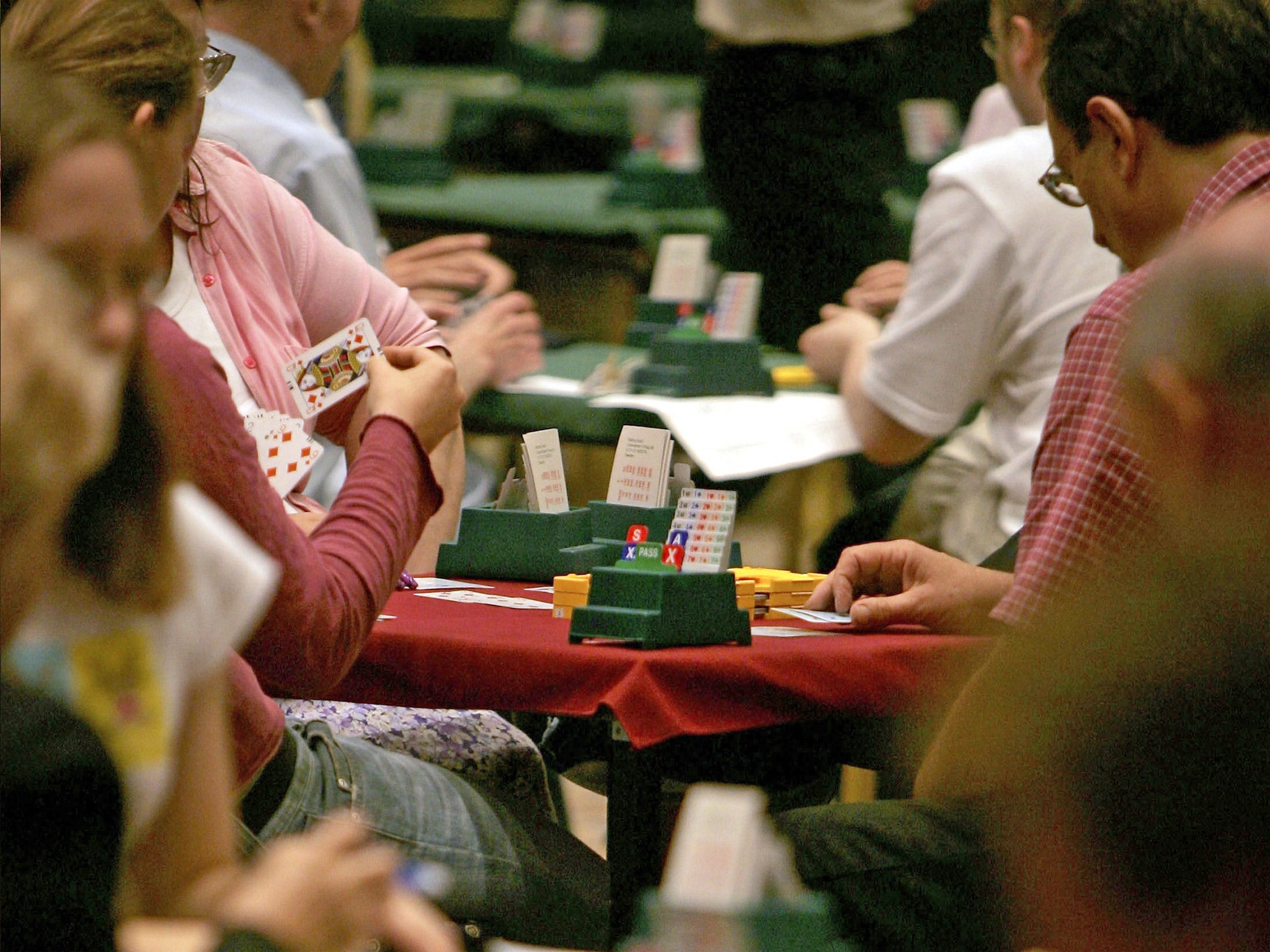 It is the semi-final of the World Bridge Championships and, after a gruelling nine hours of intense concentration for the 12th day in a row, I am greeted by the news that I may not wind down over some food and drink with my team, but must instead report to the World Anti- Doping Agency offices for a random drugs test. This is a humiliating and degrading process and my discomfort means that it all takes a very long time. Why are card players subjected to such unpleasantries? The answer is that the International Olympic Committee (IOC) has recognised the World Bridge Federation as a sport organisation, and as such, bridge is subject to the same regulatory environment as any other Olympic sport.
In 2002, I was fortunate enough to be on the Great Britain team that went to the Winter Olympics to demonstrate bridge, which meant that the IOC were considering accepting bridge into the Winter Olympics in future years.
Alas, this did not materialise (well not so far, anyway), but the fact that it was seriously considered is encouraging to those who love the sport and play at the top level.
"Mind sports" is a new term for sporting activities, such as bridge, that are largely mental tests. This encompasses chess and Go, among others. SportAccord, the union for both Olympic and non-Olympic international sports federations, recognises mindsports as an important part of the sporting world and indeed organises and promotes regular mind sports competitions, including its own championship.
The fact that bridge is recognised at world level as a sport does not mean that individual countries recognise it in the same way. In fact, some do and some don't, which seems a confusing and unsatisfactory state of affairs. In this country, being classed as a sport means access to Lotto funding, as well as tax advantages. However, bridge has never been classed as a sport by the tax authorities in England (although, interestingly, it is by the Charity Commissioners) unlike, for example, in Poland or Italy.
This week, the English Bridge Union lost its legal challenge against HM Revenue & Customs for bridge to be considered a sport. Had the tax chamber of the first-tier tribunal ruled in favour of the EBU, its 30,000 members would no longer be required to pay VAT on their competition entry fees.
Bridge is a game of mental skill, extreme powers of concentration and stamina, but should it be classed as a sport? In common with widely recognised sports, bridge is competitive and a test of keeping one's nerve under intense pressure. Important also is the fact that the element of gambling and luck or chance is largely removed by duplicating deals, which means both sides play the same hands at different tables and it is up to you to outdo those at the other tables with the same set of cards. Top players with international ambitions will spend many hours a week training and practising.
Where the difficulty arises in classifying bridge as a sport is the perceived lack of physical exertion. I say "perceived" because bridge at international level is an extreme test of concentration, stamina and mental deduction. A player will typically be expected to maintain this level of concentration for up to nine hours a day for a fortnight. In order to be able to achieve this, a certain amount of physical fitness is a prerequisite. Everyone on my team keeps themselves physically fit. I play regular tennis, swim and walk. The days of competitive bridge players sitting in a smoke-filled room with a whisky by their side are gone, if ever they existed. Every player is an athlete and takes their physical condition seriously.
Heather Dhondy has been a member of the national women's bridge team for the past 19 years, winning three world and five European gold medals. She is ranked 12th in the world
Join our commenting forum
Join thought-provoking conversations, follow other Independent readers and see their replies