Catalans stun Warrington in Challenge Cup final to make history as first non-British title winners
Catalans Dragons 20-14 Warrington Wolves: The French club came agonisingly close to relegation last year but have now claimed their first major title thanks to a gritty display at Wembley
Jonathan Liew
Wembley
Saturday 25 August 2018 16:15 Comments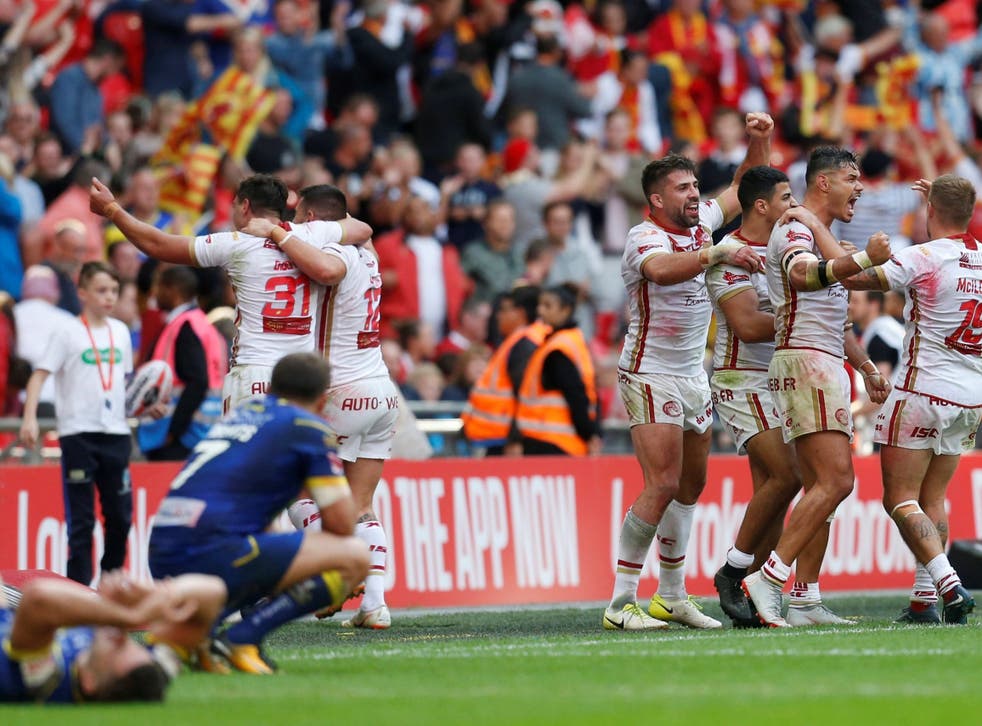 The Blood and Gold finally have some silver. After 80 minutes of guts and grit and almost unimaginable tension, the release: the victorious Catalans Dragons players charging towards their little pocket of fans at Wembley Stadium's northern end, the few who could afford to make the trip. This was the 117th Challenge Cup final, and until now all 116 of them had been won by an English team. Until now. From Perpignan in the south-west of France: a new name on the oldest trophy in the game, and a result whose reverberations will be felt throughout the entire sport.
Underdogs on the day, underdogs in many ways throughout their entire existence. "Rugby a treize", as it is known in France has known stagnation and penury. It was outlawed by the Vichy government during the Second World War, its playing fields handed over to rugby union, an entire sport forced to build itself up back again with bare hands. Since joining Super League in 2006, the Catalans themselves have found themselves on the fringes of the elite, flirting with disaster as often as challenging for honours. Now - and fittingly, in their 13th year - they have finally arrived.
The true ramifications of this victory, and what it will mean not just for this little blue-collar corner of France but the growth of the game as a whole, will not be known for quite some time. But this felt momentous, a yawning maw of an opportunity in a sport that has always had one eye on the main chance. The irony was that it wasn't a truly great game. Rugby league's biggest UK television audience of the year and a crowd of just over 50,000 were treated to a game as defined by errors as it was by artistry, but whose breathtaking finale simply gripped you and refused to let go until the final hooter.
It wasn't a great advert for rugby league. It was just great rugby league.
Why did Catalans win? Simply put, because they did the basics right. The secret to winning these big games is always a rich casserole of factors, and besides a little sprinkle of guile, a generous slug of good-quality kicking, this was a triumph built above all on a firm base of ground speed, completed sets and desperate, balls-on-the-line defence. As their lead dwindled in the second half, as Warrington laid siege and the cracks began to appear in the edifice, they ran and tackled themselves into ground and withstood, just about.
For Warrington, when the time comes to debrief this painful afternoon, they will surely look at the failure of too many of their big-name players to stand up and be counted. The half-back pair of Kevin Brown and Tyrone Roberts failed to gel. Incomplete sets were strewn all over the field. But above all, it was Catalans' start to the game, a start almost as stunning and sparkling as their pillage of St Helens in the semi-final at Bolton, that defined the tone of the game. Catalans started like a train - a French train, mind, one of the rapid ones - opening the scoring within two minutes, and not just chasing Warrington down, but harrying them, hunting them, haunting them.
There was a moment about 10 minutes in when Michael McIlorum steamed out of the line and charged at his opposite number Daryl Clark, who had made the grave error of pondering just a millisecond too long on the ball. McIlorum didn't just pick Clark's pockets: he emptied his bank account, took over his Netflix subscription and raided his fridge. And if it was just a single skirmish in an 80-minute war, it seemed, symbolically, to sum up the game as well as any other.
That early score came courtesy of Lewis Tierney, touching down after Stefan Ratchford had spilled a high kick with the clock showing just a minute and 47 seconds. Some statement. Ben Drinkwater slotted over a cheap penalty to make it 8-0, and even when Warrington launched their first real attack after 15 minutes - Tom Lineham seeing his try disallowed for obstruction - Warrington bore the tentative sheepishness of guys who had turned up late for work.
The Wolves finally opened their account just before the half-hour, Ben Murdoch-Masila pouncing as Fouad Yaha faltered under the high ball. But Catalans hit back just before half-time, Ben Garcia nudging the ball down after a clever dummy. The Catalans went in at half-time 14-6 up, having completed all 19 of their sets during the first half. Warrington had completed just 13 out of 19, and been outplayed in virtually every department.
Still, though, the gap was only eight points, and as in rowing, basketball and tournament golf, you felt the third quarter would be decisive. Six minutes into the second half, a genius 40/20 from Tony Gigot - who would later become France's first ever winner of the Lance Todd trophy - set up a move that Brayden Wiliame would convert. Drinkwater's immaculate conversion put Catalans three scores ahead.
But the third quarter wasn't over yet. A clever reverse kick from Brown forced a fumble from Drinkwater, George King surging over unchallenged to make it 20-12. The game was beginning to get scruffy, and had Warrington been able to take their chances the story of this game may ultimately have had a happier ending for them. Ben Westwood knocking on within sight of the line was perhaps their best opportunity, but during a finale of the utmost tension, they ran into a Catalans front five throwing their tired hands, tired minds and tired bodies into one final effort.
High up in the stands, coach Steve McNamara gripped his two-way like an executive stress ball. He had lost here as a fan with Hull, as a player with Bradford and most heartbreakingly of all as a coach with England in the 2013 World Cup semi-final. And you wonder whether that game was going through his mind as Roberts took the two to reduce the deficit to 20-14 with 11 minutes left.
But it wasn't to be. With the immaculate poise of a side who had been doing this for decades, Catalans were able to nurse their way through the last few minutes: taking the thumping hits, hurling themselves into tackles they had no right to make. There will be plenty of stiff joints and bruised bodies on Sunday morning, and maybe even a sore head or two. But what's a little pain, when you've just secured immortality?
Register for free to continue reading
Registration is a free and easy way to support our truly independent journalism
By registering, you will also enjoy limited access to Premium articles, exclusive newsletters, commenting, and virtual events with our leading journalists
Already have an account? sign in
Join our new commenting forum
Join thought-provoking conversations, follow other Independent readers and see their replies