Chris Hill hoping Warrington Wolves avoid another black eye come the Super League Grand Final
Warrington Wolves have not been champions since 1955 and in those 63 years of hurt they've finished runners-up six times
Jonathan Liew
Wednesday 10 October 2018 18:31 Comments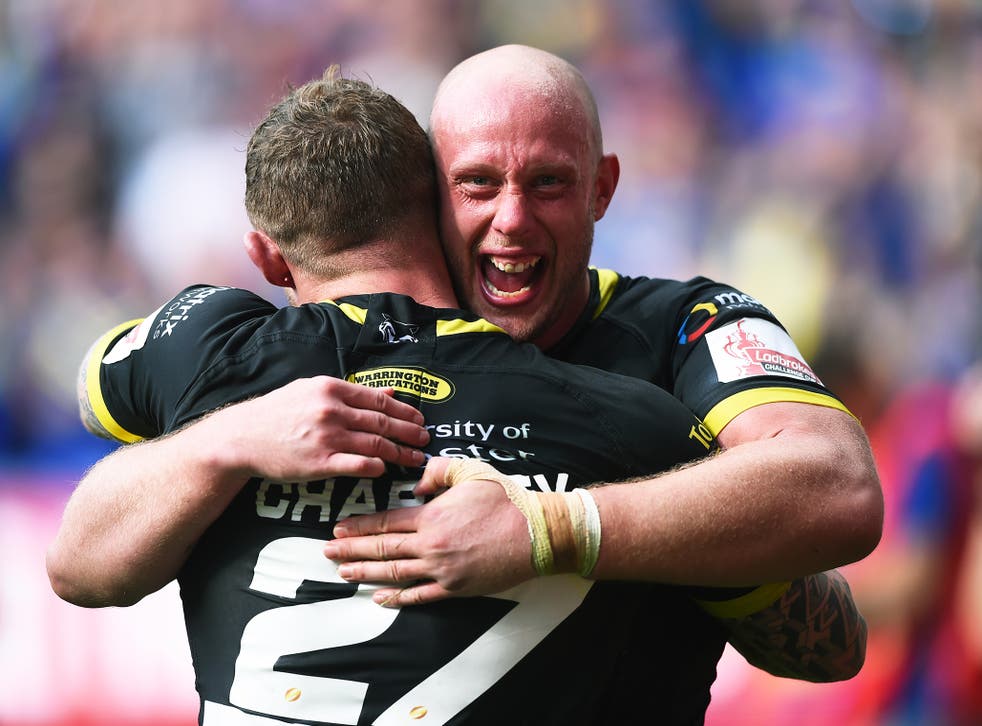 Grand Final week is upon us, and even for a grizzled veteran of the biggest game in the English club calendar, there's still nothing quite like it. It's been a long old season, the body is battered, and the makings of a particularly nasty-looking black eye are beginning to appear just above Chris Hill's left cheekbone. And yet, a few days out from zero hour at Old Trafford, he's savouring every moment. "This is why you get up at six o'clock on a freezing December morning to run up hills," the Warrington Wolves captain observes. "This is what it's all for."
Eight months. Thirty games. A brutal play-off semi-final against league leaders St Helens. Now, 80 minutes against the Wigan Warriors are all that remain between Warrington and Super League glory. And yet when you know pain like Warrington know pain, you learn to take nothing for granted. They've not been champions since 1955, and in those 63 years of hurt they've finished runners-up six times.
Hill has been there for three of them. He's lost the 2012 final against Leeds, the 2013 and 2016 finals against Wigan, two Challenge Cup finals (including this year's final against Catalans Dragons) and last year's World Cup final with England. Better than virtually anyone, he knows that the last step is often the hardest.
"It does hurt," he admits. "But you've got to be in it to win it. And we've probably got a bit more hunger to turn that tide around. We've got to break that hoodoo. If we do what we do for 80 minutes, as you saw last week, we're more than confident we'll come away with the win."
History, naturally, is against them. In the two decades of the Grand Final, the trophy has been passed around just four teams: Leeds, Wigan, Bradford and St Helens. Does Hill have any theories as to why - despite twice topping the league table and three times getting to Old Trafford - the Wire have failed to make the step up?
"You've got to take your chances," he says. "You don't get many in finals. I don't think we've been clinical enough in previous years. We've not taken our chances, taken the game by the scruff of the neck. This year we've concentrated a lot on defence, which says a lot. It'll be wet Saturday night. I think we're due a bit of rain. So keeping hold of the ball's massive."
Under new coach Steve Price, Warrington have added steel to their natural flamboyant style. As prop forward and Price's enforcer in the pack, Hill has been central to that strategy. More than that, though, he's the sort of player every dressing room needs: a stalwart, a natural leader, someone who knows and understands the values of the club. Players come and players go, but in a community where rugby league runs in the blood, Hill is the umbilical link between Warrington's past, its future and its present.
He's been there for six years now, is contracted for at least another two more, and even married into the club: he met his wife Kathryn when she was doing the catering at the Halliwell Jones Stadium. And what most drives him, you feel, is his desire to give something back to the club, and its people.
"We're proud of our area," he says. "We're the main focus point within the community, and the fans are so passionate about the club. They've travelled up and down the country watching us, supported us through thick and thin. They've been at the old ground through the bad times. We want to give them something to shout about, and so far we've not managed to give them that."
Two or three times a week, once training is over, Hill will swap his rugby kit for overalls. When he's not playing for the Wolves, you see, he runs a plumbing business which takes up most of the rest of his time. "I do all the emailing and quotes," he says. "I go out nights, two or three times a week until 8pm or 9pm, measuring bathrooms, quoting them up, speaking to suppliers, booking jobs in."
It's part sideline, part hobby. Rugby league pays him a perfectly acceptable salary, but from early in his career Hill was conscious of what came afterwards, and so spent three years putting himself through night school. "It was tough," he remembers. "But we're doing really well now. We're booked up to February next year."
Naturally, he gets recognised fairly often. "It's a bit strange, sometimes, when you rock up in your plumbing gear," he says. "You'll measure the bathroom up, and on the way back down, they'll ask you: 'Are you…?' But it's enjoyable. Something that takes my mind off it. I think a few of the lads want something doing. Dec [Declan Patton], I think. Mike Cooper does. They'll all be expecting mates' rates."
Come Saturday evening, though, he'll be fully focused on the day job. The Wolves will be second favourites against Wigan, for reasons of heritage if nothing else, but the stunning 18-13 win over league leaders St Helens in last Thursday's semi-final will have whetted the appetite. "It was probably our best performance of the year," Hill admits. "But we've got to move it up another notch this week. Last week means nothing if we don't go on and win it."
After all, these are the matches you live for. This is why you play the game. And so when Warrington walk out at Old Trafford in their primrose and blue, nothing else will matter: the form book, the history, the rivalry, the pedigree, all out of the window. And that black eye? "Oh, that's nothing," scoffs Hill. "A regular occurrence. I think it was the missus at the weekend."
Register for free to continue reading
Registration is a free and easy way to support our truly independent journalism
By registering, you will also enjoy limited access to Premium articles, exclusive newsletters, commenting, and virtual events with our leading journalists
Already have an account? sign in
Join our new commenting forum
Join thought-provoking conversations, follow other Independent readers and see their replies