RFL hoping Eddie Hearn can help raise rugby league profile
Hearn expressed an interest in the sport during a meeting with RFL interim boss Ralph Rimmer and marketing chief Mark Foster
Ian Laybourn
Tuesday 27 February 2018 15:46 Comments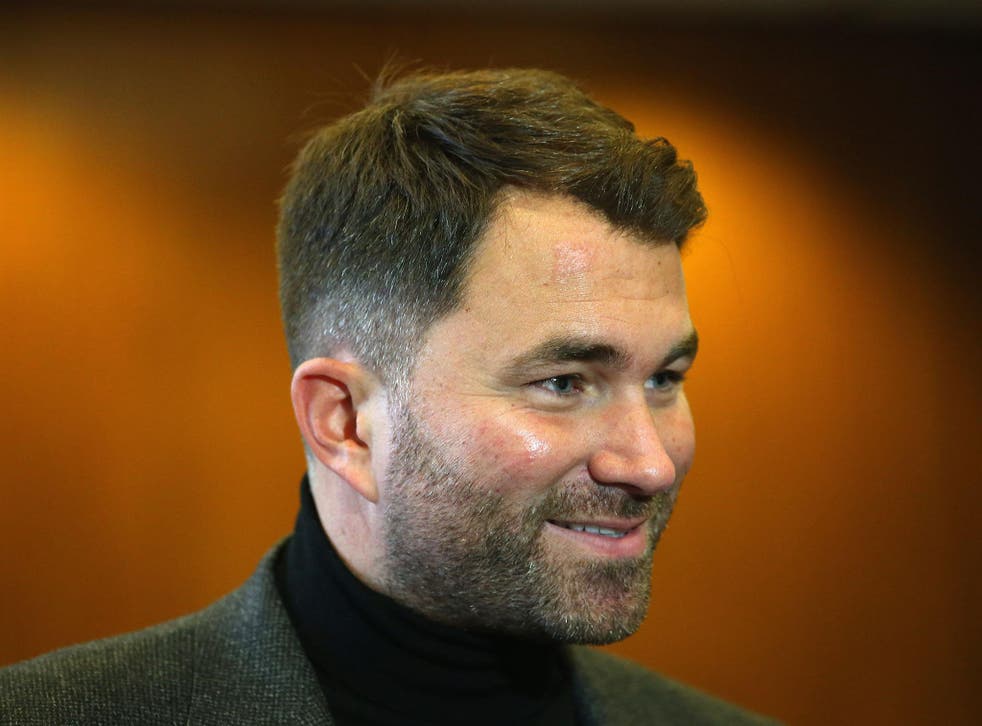 The Rugby Football League is to take up an offer from Eddie Hearn to help raise the profile of the sport.
There is no suggestion that the boss of Matchroom Sport will seek to emulate the achievement of his father Barry in transforming the fortunes of snooker and darts but he expressed an interest in rugby league during a meeting with RFL interim boss Ralph Rimmer and marketing chief Mark Foster.
The two-hour get-together at the Waldorf Hotel in London followed calls for the Hearns to help fill the void created by the departure of chief executive Nigel Wood and Super League executive Roger Draper in January.
"Whatever we are accused of, we don't stand still," Rimmer said. "I saw an opportunity.
"I just dropped him a line asking him if he fancied getting together for a talk and he did. He was excellent.
"We talked about things we can do with the sport, he gave me some tips and I suspect those talks will continue.
"This was a preliminary conversation and it was just a very helpful and supportive one. That's where we are at this moment in time, there were no promises made.
"It was very interesting and co-operative and he's offered to do a bit for us in an exploratory fashion, such as social media, avenues like that."
Hearn raised the prospect of some involvement in rugby league in response to calls for him to take over the sport, claiming the game is "on its knees", and Rimmer says he was impressed by his knowledge of the sport.
"They know a bit about it and from their time with Leyton Orient they understand the dynamics of governing body and clubs," Rimmer added.
"With darts and snooker, they could literally go in and buy the sport but he knows that isn't possible with a sport like ours.
"But nevertheless, he gave us one or two helpful tips and we will probably continue talking. It was very worthwhile and I'm very grateful for the way he went about it. It was very informative.
"We speak to people all the time, agencies, anyone who can help us with our thinking and Eddie is certainly somebody who will be able to do that. He proved himself to be of value."
Meanwhile, Rimmer he expects to face stiff competition for the role of permanent chief executive for which he is a candidate.
"I know there is plenty of interest," he said. "We're in the big five governing bodies so it's not a surprise that there would be a fairly big field for that because it's a fantastic job."
PA
Register for free to continue reading
Registration is a free and easy way to support our truly independent journalism
By registering, you will also enjoy limited access to Premium articles, exclusive newsletters, commenting, and virtual events with our leading journalists
Already have an account? sign in
Join our new commenting forum
Join thought-provoking conversations, follow other Independent readers and see their replies