Hull 22 Hull KR 16 match report: Video referee says sorry for Hull's late winner
Hull KR coach furious as Green's 'offside' try settles Humberside dispute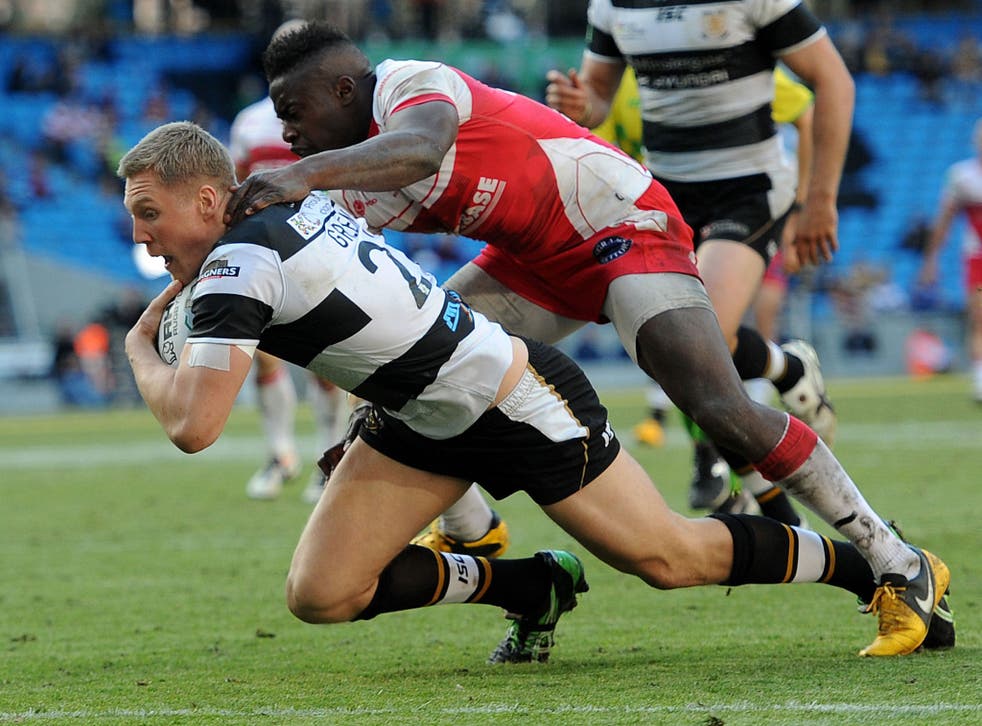 A controversial late try gave Hull a dramatic victory against Hull KR and the Magic Weekend got the game it cried out for at the code's annual showcase.
The video referee Steve Ganson was said to have apologised for making an incorrect call after Hull's Chris Green came from a clearly offside position to touch down for the winning try with two and a half minutes remaining.
The furious Rovers' coach, Craig Sandercock, had demanded that Ganson admit his error after his decision robbed Rovers of the spoils at the Etihad. "The bloke was five metres offside," he said. "It's a tragedy. I'll be very disappointed if he doesn't come out and apologise publicly to our supporters. It was blatant. Everyone saw it."
Jon Sharp, the head of the match officials, said: "We have reviewed the decision and it is clear that Steve made the wrong call. Steve has been in contact with Hull KR and offered his apologies."
Ganson, who was put in charge of referees' coaching last month but acting as video referee in this match, also allowed a contentious Hull try three minutes earlier.
"We only played for 10 minutes," admitted the Hull coach, Peter Gentle. With the help of those decisions, however, 10 minutes was enough to wipe out a 16-6 deficit.
In an intense contest between these bitter rivals, every small advantage had to be earned. A 40/20 kick from Daniel Holdsworth and a spin and plunge for the line by Richard Whiting – adding to his two crucial tries at Warrington last weekend – got Hull off to the perfect start in the late afternoon sunlight. Rovers' reply was spectacular, Craig Hall picking up a loose pass as Hull threatened and racing away on a counter-attack that was finished off by Greg Eden.
They were two tries that typified the way that these two old rivals were tearing into each other. It was only fierce defence by both sides that prevented any further points – until another dazzling piece of work by Hall in the 27th minute. Positioned under Michael Dobson's kick to the wing, he leapt and took the ball one-handed behind his body and controlled it to touch down. It was a remarkable feat of finishing and gave the Robins a narrow half-time lead they just about deserved.
The early chances in the second half went to Hull, with Tom Briscoe failing to squeeze in at the corner and Kirk Yeaman knocking-on with the line open and then being held up in-goal. Josh Hodgson's lost ball and an offside penalty cranked up the pressure, but Rovers held firm. Not only that, but they edged further ahead with Dobson's kick after Mark O'Meley's high tackle on Con Mika. Soon after that, the Robins got the try that seemed to have tilted the game their way, courtesy of Eden's long, looping pass to Alex Brown.
But with seven minutes left Tom Lineham's try, on the end of sweeping backline move, and Holdsworth's conversion off the post, opened up all sorts of possibilities. Yeaman got over – just – to square the scores and this time Holdsworth was wide.
That did not matter when Danny Houghton launched a high kick born of desperation and Green, coming from a suspiciously offside position, took advantage of the bounce to break East Hull hearts.
Hull McDonnell; Lineham, Crooks, Yeaman, Briscoe; R Horne, Holdsworth; O'Meley, Houghton, Green, Ellis, Whiting, Pitts. Substitutes used Lynch, Heremaia, Johnson, Watts.
Hull KR Eden; Brown, Salter, Hall, George; Burns, Dobson; Paea, Hodgson, Walker, G Horne, Lovegrove, Mika. Substitutes used Tuimavave, Netherton, Withers, Cox.
Referee B Thaler.
Register for free to continue reading
Registration is a free and easy way to support our truly independent journalism
By registering, you will also enjoy limited access to Premium articles, exclusive newsletters, commenting, and virtual events with our leading journalists
Already have an account? sign in
Register for free to continue reading
Registration is a free and easy way to support our truly independent journalism
By registering, you will also enjoy limited access to Premium articles, exclusive newsletters, commenting, and virtual events with our leading journalists
Already have an account? sign in
Join our new commenting forum
Join thought-provoking conversations, follow other Independent readers and see their replies