Keegan Hirst: 'Rugby league was fantastic to me when I came out as gay, football is now the last bastion'
Interview: In 2015 Hirst became the first professional English rugby league player to come out as gay and he is now preparing to star in the Super League for Wakefield Trinity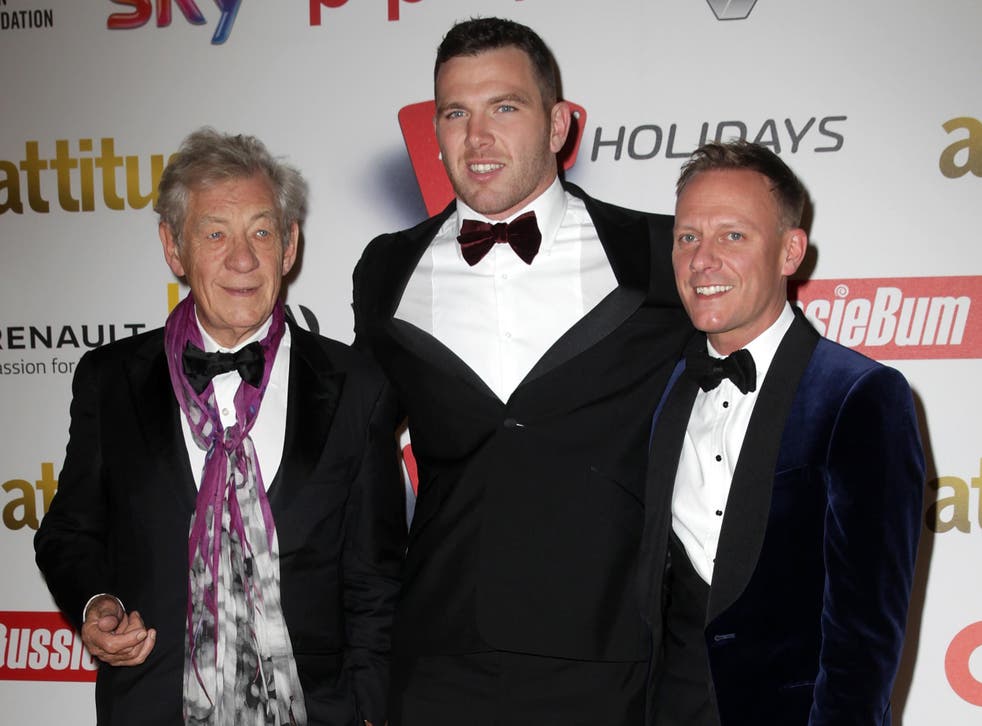 "I'm a rugby player before I'm anything else," Keegan Hirst insists with his thick West Yorkshire accent.
But of course to many people, Hirst is so much more than just a rugby player. In 2015, then aged 27, he became the first professional English rugby league player to come out as gay.
He has since been the subject of more scrutiny and media attention than is often given to his sport's biggest players - let alone those, like Hirst, who have been plying their trade in the second tier.
It looks set to ramp up once again however. In a few weeks, once recovered from an ankle injury, Hirst hopes to make his Super League debut after stepping up to the sport's top tier in pre-season.
The shock of blond hair he's currently sporting - owing to a "forfeit at rugby" - suggests he has been quickly welcomed in to the Wakefield Trinity dressing room following a move from his hometown club Batley Bulldogs.
But that's nothing new. While Hirst received widespread praise and admiration from the LGBT community when he came out - including from celebrities like Elton John and Ian McKellen - the attitude of those inside his sport has been, in his own words, "fantastic".
"It's another little community," the 6-foot-3-inch prop tells the Independent.
"Obviously, you would say poles apart from the LGBT world but in a similar vein they have all supported me and I've had nothing but kind words from players, from coaches, from club chairmen, supporters, home and away.
"We've a quite small fanbase compared to rugby union and football. But what it lacks in numbers, it makes up in pride and passion. They were fantastic… rugby league on the whole was fantastic with me."
There's a misconception about rugby league, Hirst believes, owing to it being "northern based" and predominantly working class.
"I think people think we're a bit old-fashioned. That hyper-masculine stereotype is a bit of a misconception," Hirst, who is fronting a campaign for Powwownow called 'I-Conquered', adds.
"These lads live in 2017. It's not the eighties where everyone lives in a working man's club. It's not that kind of world in rugby or outside of it.
"People talk - it's not that stereotypical 'don't speak, just get your head down, be the tough man'. It's not that anymore."
Had he been 20 years older, however, Hirst admits life may have been very different.
"Things have changed a lot. The world is a more enlightened, diverse place. I'm lucky that I could do it and do it without…," his voice trails off.
Hirst points to the example of Justin Fashanu - the first professional footballer to come out as gay - in the eighties. According to Fashanu's own words, his career suffered "severe damage" after he came out and he failed to sign another professional contract after making the revelation. His life eventually ended in tragic circumstances, with suicide in 1998.
"I'm lucky when you look at the reaction he got. I've had nothing but support and I guess it's a sign of the times," Hirst adds.
But while rugby league has moved on from its darker days, football still seems stuck in the past.
The reaction of FA chairman Greg Clarke to a report on homophobia in the national sport last October continues to rankle Hirst.
Following the finding that 8 per cent of British football fans would stop supporting their club if one of their players was gay, Clarke said he "wouldn't recommend" a player came out "at the moment".
Outspoken at the time - calling the administrator "negative and old-fashioned" - Hirst now describes Clarke's comments as "daft".
"It's not for him to be saying whether a footballer should or shouldn't come out and it kind of makes you wonder what is going on behind the scenes when the head of the FA is saying that."
While coming out is a "very individual thing" and should not be "forced", Hirst believes football needs to create an environment where players feel comfortable and able to be open.
"It definitely needs to have zero tolerance. That's the only way you can eradicate things like racism and homophobia."
The only obvious case of homophobia Hirst suffered was handled with that zero tolerance. A Batley fan who sent Hirst - and Coronation Street actor Antony Cotton - abuse on Twitter was banned from the club's stadium indefinitely, and issued a very thorough dressing down on its website.
That approach is something Hirst believes needs to be enforced in football.
"I think if [football takes] that zero tolerance approach with homophobia you would soon find it wouldn't be in the grounds and it would be a safer place for people to come out."
Hirst, who describes football as "the last bastion", believes a professional in the sport coming out could change society forever.
"Football being so mainstream, the viewers it has, the supporters it has… It's the country's biggest sport, the world's biggest sport.
"Once you get a player in a top flight league like the Premier League or one of the big European leagues then I do think that it'll start to change perceptions of being gay and playing sport.
"They don't have to be two things that are independent of each other."
Hirst will be setting that example for Wakefield in a few weeks time.
Register for free to continue reading
Registration is a free and easy way to support our truly independent journalism
By registering, you will also enjoy limited access to Premium articles, exclusive newsletters, commenting, and virtual events with our leading journalists
Already have an account? sign in
Register for free to continue reading
Registration is a free and easy way to support our truly independent journalism
By registering, you will also enjoy limited access to Premium articles, exclusive newsletters, commenting, and virtual events with our leading journalists
Already have an account? sign in
Join our new commenting forum
Join thought-provoking conversations, follow other Independent readers and see their replies