Kevin Sinfield named first ever director of rugby at Leeds Rhinos to replace Brian McDermott
Rhinos great returns after McDermott was axed earlier in the week with Leds down in ninth
Ian Laybourn
Friday 06 July 2018 15:41 Comments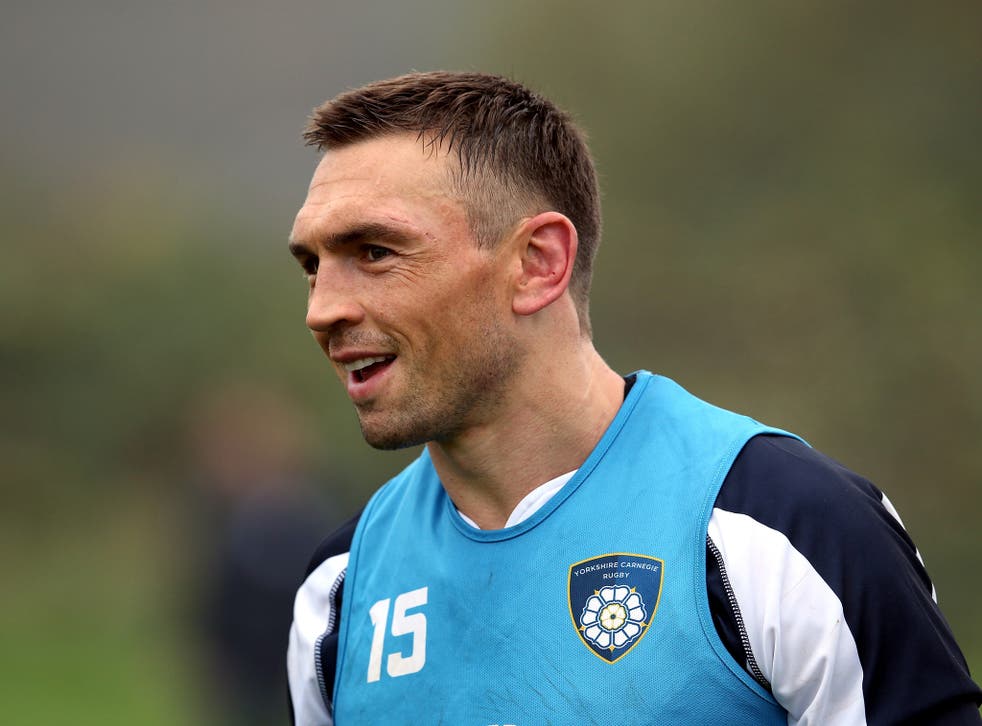 Former Leeds captain Kevin Sinfield is confident he can quickly turn around the fortunes of the ailing Super League champions on his shock return to the club.
Sinfield, the most successful captain in the club's history who bowed out after their 2015 Grand Final triumph, has been appointed as their first-ever director of rugby, filling the vacancy created by the sacking of Brian McDermott, alongside another former player, James Lowes.
The pair take charge of a side that dropped into the bottom four of Super League on Thursday night and have four matches to avoid a place in the Super 8s Qualifiers, starting with a Grand Final rematch with Castleford on Sunday, but Sinfield is undaunted by the challenge.
"I don't think you get too many opportunities to join the biggest club in the game," he said. "I'm delighted to be back. The role is everything I wanted it to be, it's a dream job.
"I could have looked at this job for the next 30 years and wished I was there or I can do something about it.
"I'm passionate about the club, I love the place, I don't think I would have accepted the role if I didn't truly believe it was the right thing. I'm pretty confident, pretty quickly, we can turn things around.
"I know the expectation here, I have lived and breathed it since I was 13 and I understand exactly what it's about."
Sinfield, who led the club to seven Grand Finals, two Challenge Cups, three World Club Challenges and three League Leaders' Shields in his 12 years as captain, was back in his track suit overseeing training on Friday afternoon but says most of the coaching will be done by Lowes, a former head coach of Bradford and Warrington.
"I've a little bit of experience coaching Saddleworth Under-13s for the last 18 months and I've been doing a bit of water carrying as well, so I think if you can coach kids of that age you can do anything," Sinfield said.
"Yes I will be on the field but I have every confidence in Jimmy Lowes. I worked with him previously at the Rhinos and I've worked under him as part of the England set-up.
"I know what he brings and he will do a fantastic job. He will lead the majority of the seasons. I will be out there overseeing the coaching but I will not necessarily be all that hands on."
Sinfield will take on several of the roles carried out over the last 22 years by chief executive Gary Hetherington, who says the time spent as the Rugby Football League's director of rugby will stand him in good stead.
"As part of our natural evolution I will be handing over quite a number of my responsibilities to Kevin over a period of time," he said.
"I'm here to give him as much support as possible so that he can absorb some of those duties and responsibilities and eventually he takes over them all.
"The fact that he's been away for three years, doing other big jobs and gaining other experiences, means he is in much better shape coming back than he would have been if he had simply continued because his previous experience had been purely as a player.
"I went through a whole range of possibilities both from people at home and abroad and there was no shortage of interest.
"But it became apparent in my mind that Kevin and Jimmy Lowes gave us the best possible chance of being successful this season but also providing a framework for the future."
Sinfield will stay on in his role with the RFL for the rest of his contract which runs out at the end of the year but will cut his days from two a week to one.
His appointment has no fixed term but Hetherington says the rest of the coaching positions will be reviewed at the end of the season.
PA
Register for free to continue reading
Registration is a free and easy way to support our truly independent journalism
By registering, you will also enjoy limited access to Premium articles, exclusive newsletters, commenting, and virtual events with our leading journalists
Already have an account? sign in
Join our new commenting forum
Join thought-provoking conversations, follow other Independent readers and see their replies