Red Star Belgrade's Challenge Cup debut marks rugby league's latest step into the unknown
A sport founded on the spirit of rebellion has been forced to proselytise to survive, writes Jonathan Liew. New frontiers have always been part of its essence
Friday 25 January 2019 16:20 Comments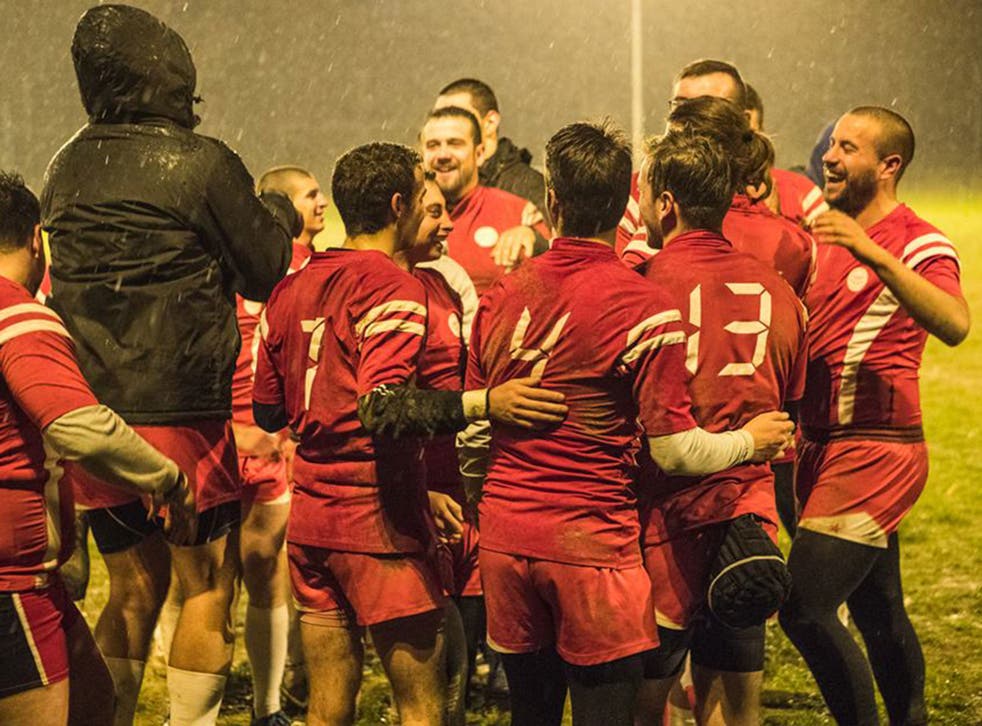 In Millom, a small town on the edge of the Lake District, the grass is being trimmed and the television gantries being erected in anticipation of some very special guests. They've been playing rugby league here since the 1870s, and now in the fourth tier of the English pyramid, have been more accustomed to playing in front of crowds of a few hundred than an international audience. But on Sunday, Coronation Field will play host to a fascinating collision between rugby league's traditional heartland and its new frontier, as Millom – population 6,000 – face an unlikely upstart called Red Star Belgrade.
Yes, that Red Star Belgrade. The Red Star of Dejan Savicevic and Robert Prosinecki and Sinisa Mihajlovic. The Red Star that won football's European Cup in 1991 and boast one of the most fabled fanbases in sport. Not that too many of them will be making the trip to Cumbria for the Challenge Cup first round, mind: the club's rugby league arm is a largely peripheral concern for now. But with a fair wind and a little vision, they may just offer a glimpse of where the sport may be heading.
Rugby has always had a slightly tighter grip on continental Europe than many would guess. Yet for much of its history, league has been the junior partner, often suffering from its juxtaposition with rugby union, and its entrenched connections with the sporting establishment. Such a fate befell Serbian rugby league in 1964, when it was banned by the Tito regime and forced to assimilate with union. It was re-established in 2001 with a smattering of clubs, but only in recent years – thanks in large part to an engineering consultant from Perth called Colin Kleyweg – has it begun a stirring renaissance.
After getting involved with the local rugby league scene while travelling to Serbia on business, and sponsoring a few local competitions, Kleyweg was in the mood for a more substantial undertaking. So he decided to invest in the Red Star team, and over the last few years has managed to assemble a largely home-grown squad that have swept all before them in the Serbian Super League. And if it tickles you to learn that there is such a thing as the Serbian Super League, then you may be even more surprised to learn that there are no fewer than 12 teams in it, and is regarded as the premier competition in the region.
You can watch some of it on YouTube, and the available evidence suggests a game lagging a little way behind the English professional game in terms of ball skill, tactics, defensive technique; indeed, all aspects except one: the hits are as disorientingly brutal as they are anywhere else. Perhaps, on some level, rugby league taps into something in the Serbian psyche. Or as the Red Star coach Brett Davidson puts it: "Serbia is a place for tough, strong people, whether female or male. They were made for this game. Big, strong, a little bit crazy, and that's all it takes. They have endless potential."
Nor is the Red Star squad dependent, as you might expect, on Australian diaspora players. Of the 22-man squad they are taking to Millom, 19 are Serbian, one Australian and two American. The talent has been sourced from far and close: from neighbouring countries like Bosnia and Kosovo, even from the Red Star basketball team, with the club taking on a couple of dropouts who had become just a little beefy for the court. And in many ways, the story of Red Star is simply a parable for the story of rugby league as a whole: a sport that for all its charges of parochialism has always had a missionary zeal in its blood, has always looked beyond its own borders, has always sought to spread the gospel far and wide, and often to unlikely places.
It's only four months ago, after all, that Toronto Wolfpack were just 80 minutes from being promoted to Super League, in only their second season of existence. And for now rugby league's expansionist instincts seem to be trained most concertedly on that part of the world. The big nut, of course, is America, where various abortive attempts have been made over the years. It's more than six decades since a wrestling promoter called Mike Dimitro assembled the first American rugby league team, none of whom had ever played the sport before, and took them on a tour of Australia: an episode recalled in impressive detail in Gavin Willacy's book No Helmets Required.
But despite the qualified success of England's game against New Zealand in Denver last summer, which attracted a crowd of almost 20,000, the United States has proved largely resistant to league's charms. Their hosting of the 2025 World Cup has been thrown into doubt over funding issues, and even with the most optimistic outlook it's hard to see rugby league making much of an impact in a country already spoiled for choice when it comes for sports where large men run into each other.
In Europe, meanwhile, the picture is rosier. French rugby league continues to make strides, with Catalans Dragons winning the Challenge Cup last summer and the rapidly-improving Toulouse at their heels. In May, Catalans will face Wigan in the first ever Super League game to be played at the Camp Nou in Barcelona. And inspired by the success of Catalans, league has begun to take a foothold in Spain, where the national side are in with a genuine chance of qualifying for the 2021 World Cup in this country.
That is the same year in which Red Star hope to make their entrance into the English rugby league pyramid, most probably in the third-tier League One, or whatever it's called by the time the RFL have finished messing around with the structure. Albania, Greece and Turkey are all seeing the first green shoots of growth. The last World Cup illustrated the rise of more established nations like Fiji, Papua New Guinea and Lebanon. Not bad for a sport whose appeal, some will tell you, extends no further than the M62 corridor.
But then, new frontiers have always been part of rugby league's essence. A sport founded on the spirit of rebellion has been forced to proselytise to survive: a cause propagated not by the hard power of empire or the soft power of economics or mass media, but through imagination and foresight and a little pioneering spirit. A Serbian rugby league team in the first round of the Challenge Cup? Well, whyever not? Back at Millom, meanwhile, they're busy stocking the bar and clearing a space for the BBC production trucks: the latest milepost in a sport that, now as ever, can't help but spread its wings.
Register for free to continue reading
Registration is a free and easy way to support our truly independent journalism
By registering, you will also enjoy limited access to Premium articles, exclusive newsletters, commenting, and virtual events with our leading journalists
Already have an account? sign in
Join our new commenting forum
Join thought-provoking conversations, follow other Independent readers and see their replies