England reach semi-finals of the Rugby League World Cup after scrappy 36-6 victory over Papua New Guinea
England 36 Papua New Guinea 6: Jermaine McGillvary scored twice along with Kallum Watkins but head coach Wayne Bennett admitted there's still more progress to be made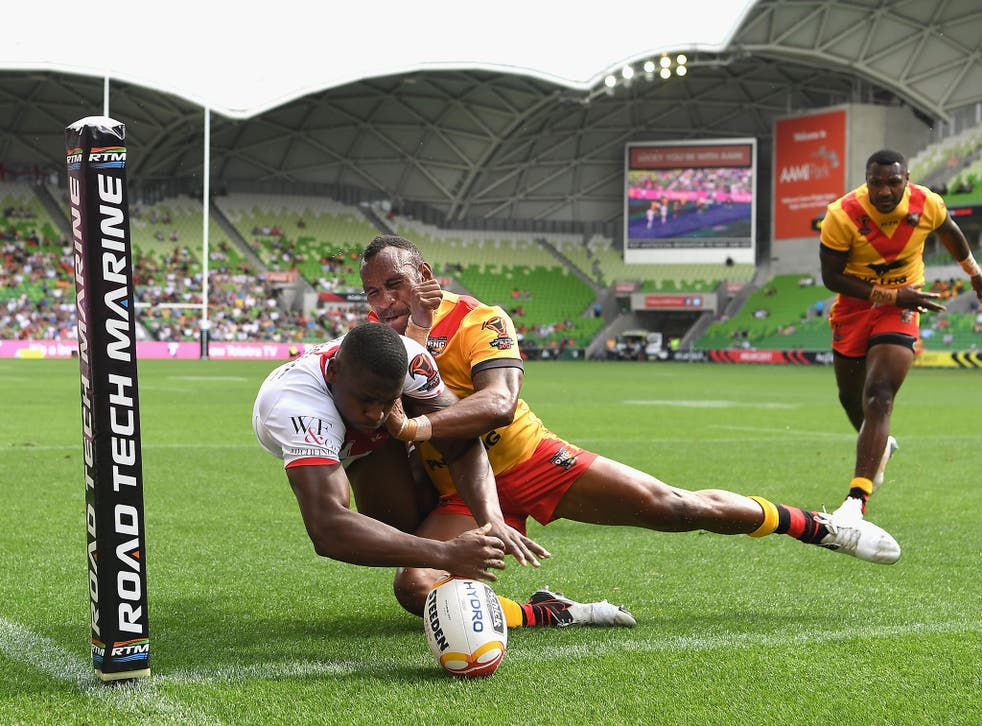 England have booked passage to the 2017 Rugby League World Cup semi-finals to face Tonga after powering past Papua New Guinea 36-6 in Melbourne.
England have never lost to the Kumuls, with Great Britain suffering just one defeat to the Pacific nation in its history, and it kept that perfect record alive in the Victorian capital in a brutal encounter.
Braces to Jermaine McGillvary and Kallum Watkins, along with tries to Alex Walmsley, Ben Currie and Ryan Hall, was enough to see them through to the final four and avoid a colossal upset.
England coach Wayne Bennett described his team's performance as the "good, the bad and the ugly".
"There was some really good defence and some nice build-up with some of their plays, the bad was the lack of discipline with the footy and it was ugly to watch."
Bennett hailed the display of winger McGillvary who is becoming of the stars of the World Cup.
"Everybody said I should put him in the team for the Four Nations last year and him and Ryan Hall were very good," he said.
"He's just got confident with the players, he's been wonderful, growing in confidence and belief and starting to realise how good he can be. He's playing against world-class players."
The game came alive just two minutes in when England opened the Papua New Guinea defence up easily with a brilliant Sean O'Loughlin offload to Luke Gale. But Gale didn't pass with two men open to the left of him, and Kumuls full-back David Mead was forced off with a head knock after colliding with the English half-back.
It was a costly blow with Mead unable to return. England survived a scare two minutes later when Kato Ottio out-jumped Gareth Widdop for the ball, but knocked on with the line open and a try went begging.
The frantic opening continued as Hall almost touched down at the other end of the field, but his pass inside was intercepted. An expansive England, keen to offload, was breaking the line regularly but the scrambling Papua New Guineans just managed to keep them out.
But England persisted and its endeavor was rewarded when they spun the ball to the right, finding space for the outstanding McGillvary to touch down for his fifth try of this World Cup. Widdop couldn't add the extras so the score remained 4-0.
In the 18th minute McGillvary grabbed his second thanks to a brilliant flick pass from Watkins. Again Widdop's conversion was awry so England stayed just 8-0 in front.
Seven minutes later tempers boiled over after a prone Kevin Brown was hit hard by Watson Boas. Remarkably no card, or even a penalty, was given by English referee James Child who waved play on. Brown was replaced at half-time with a concussion and is now in huge doubt to be fit for the semi-final.
The Kumuls' inability to hold on to the ball was becoming a problem and England made them pay. In the 32nd minute prop Walmsey used brute strength to power past three defenders to score. Widdop made no mistake this time to make it 14-0.
Despite some energetic Papua New Guinea ball-running, and at times brutal defence, England kept them at bay. Right before the break Ottio crossed in the left corner but pushed Widdop over in the chase for the ball and the try was denied. Bennett's men were in control but not completely safe at half-time.
Throughout this tournament England's second half displays, except for in the opener against Australia, have been below par. And on a warm Melbourne afternoon it was largely a similar story.
With James Roby brought on off the bench and Josh Hodgson moved to stand-off, with Brown replaced, England lost some structure. James Graham got over the line just two minutes in but it was rightly chalked off for a forward pass.
Basic errors began to mount as England wasted several scoring chances. Still in the 55th minute Currie crossed after a brilliantly timed grubber kick from Widdop.
The full-back's second successful conversion took the lead to 20-0 and initially allayed fears of a Kumuls comeback. But three minutes later Papua New Guinea did finally break their deadlock – Willie Minoga setting up Castleford-bound winger Garry Lo with a lofted offload on the left wing. Rhyse Martin added the extras and suddenly their hopes were raised.
However, that didn't last long as soon Watkins' grabbed England's fifth try. A brilliant line-break from McGillvary ended with the centre racing over from 45 metres out.
With 10 minutes left Minoga got over the line but his four-pointer was denied by the video referee because of an obstruction. Straight after England went down the other end and Watkins brought up his double acrobatically, after McGillvary caught Gale's kick and set him up in the corner.
Right before full-time Hall crossed in the left wing to round out the seven-try victory.
Papua New Guinea coach Michael Marum cut a disappointing figure post-match.
"It started off in the first half when we lost our captain David Mead in that first set there," he said.
"That was the first thing that went wrong. He was a leader on the field and we missed him. Other things happened from there.
"Our edges kept missing tackles there. Our contact wasn't good enough. They just didn't turn up to play up at all. But we didn't give up, we played right until the end."
With the banana-skin averted, England now head to Auckland to tackle the Tongans at Mt Smart Stadium on November 25.
Join our new commenting forum
Join thought-provoking conversations, follow other Independent readers and see their replies