Caterham Challenge: Mike Gascoyne looks ahead to the Transat Jacques Vabre race
Stuart Alexander
Thursday 31 October 2013 19:23 Comments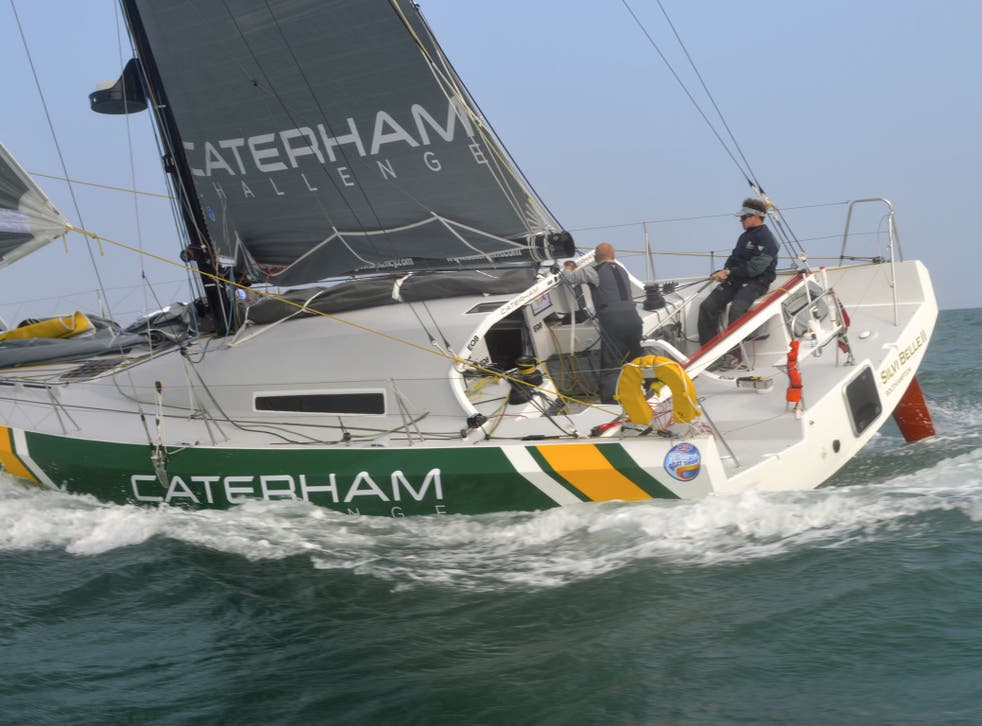 Why, if you were the boss of an F1 team, would you swap, on race day, the glitzy Yas marina that is part of Abu Dhabi formula one race track for the Bassin Paul Vatine marina in Le Havre?
That is what Mike Gascoyne, ceo of the group and chief technical officer of Caterham F1, is doing this weekend.
In Abu Dhabi it will be sunny, in Normandy another bout of the filthy stuff that is late autumn weather is forecast. In Abu Dhabi Gascoyne's machines will scream by at up to 200mph and finish, if they do finish, the 305 kilometres in about 100 minutes.
This time Gascoyne, a bulldog of a man who speaks plain English, plans to be on the grid himself, driving himself in more ways than one, and he will be happy if he averages over nine miles an hour and finishes the course in about 25 days.
His hope is that he will at least be somewhere close to Sao Paolo in time for the Brazilian grand prix; he could even make it to the circuit with a celebratory caipirinha in hand. But that is not his top priority as he waits to exit Le Havre at about 09.30 on Sunday, line up against 25 other 40-footers, and then race night and day, non-stop for 5,460 miles to Itajai on the coast of Brazil.
"I am expecting to be exhausted after just three or four hours, but you just have to stay there," he says dockside in Le Havre with his co-skipper Brian Thompson. The basin is crowded with the competing boats in the Transat Jacques Vabre, celebrating its 20 anniversary. The first, in 1993, was singlehanded; the rest, every two years, have been doublehanders.
Gascoyne, at five feet three, fits the cramped 40-foot yacht his engineering and F1 testing systems have helped to develop. Thompson is six feet five and vastly experienced. He attracted the nickname of Dangerous when racing with Mike Golding on a 60-footer precisely because he is not.
Gascoyne sees major differences between yachts and cars but says: "I think there is the same intensity and this is pushing yourself to the limit but for a lot longer time. We are much more a crew of two, rather than two singlehanders taking it in turns."
They have spent a lot of days at sea together – Gascoyne's solo trip across the Atlantic gave him qualification, and Thompson had a podium place in the TJV when partnering Golding. Together, they completed this year's Fastnet Race. They have a lot of confidence in the boat, having applied loads of non-destructive testing during the build applying lots of experience from the F1 world.
"I probably don't show on the outside how excited I feel on the inside," says Gascoyne, who manages to combine a strong measure of Corinthianism with a pugnacious determination that is 100 per cent. professional. "I am also very excited by F1 racing, but I get very, very nervous on the formation lap. I dread the car stopping on the formation lap because you feel such an idiot.
"Perhaps after 400-odd grands prix I have taught myself to look calm, but, actually… there is a very strange mixture of feelings in the paddock and at times, when I realise here we are crossing that start line in a few day I am s******* myself. Still, after the pre-race team dinner I felt very happy. But when the lights (signalling a grand prix start) go out on Sunday, in this case I am sitting on it."
Thompson is hoping for a breezy start, Gascoyne, with mountaineering in his background, backs the chutzpah approach. "If those are the conditions we will be able to put the hammer down. If that's it, so be it. We'll have to attack and push on through it."
Gascoyne admits he might not be super-quick on day one. "But I am a plodder, not a sprinter, so I will be going as quickly on day 25 as on the day I started. And Brian will be going flat out all the time. The insurers haven't turned a hair. I've done enough stupid things in my life before."
Register for free to continue reading
Registration is a free and easy way to support our truly independent journalism
By registering, you will also enjoy limited access to Premium articles, exclusive newsletters, commenting, and virtual events with our leading journalists
Already have an account? sign in
Join our new commenting forum
Join thought-provoking conversations, follow other Independent readers and see their replies