Stuart Alexander on Andrew 'Bart' Simpson tragedy: Some see these super-powerful 72-foot catamarans as death traps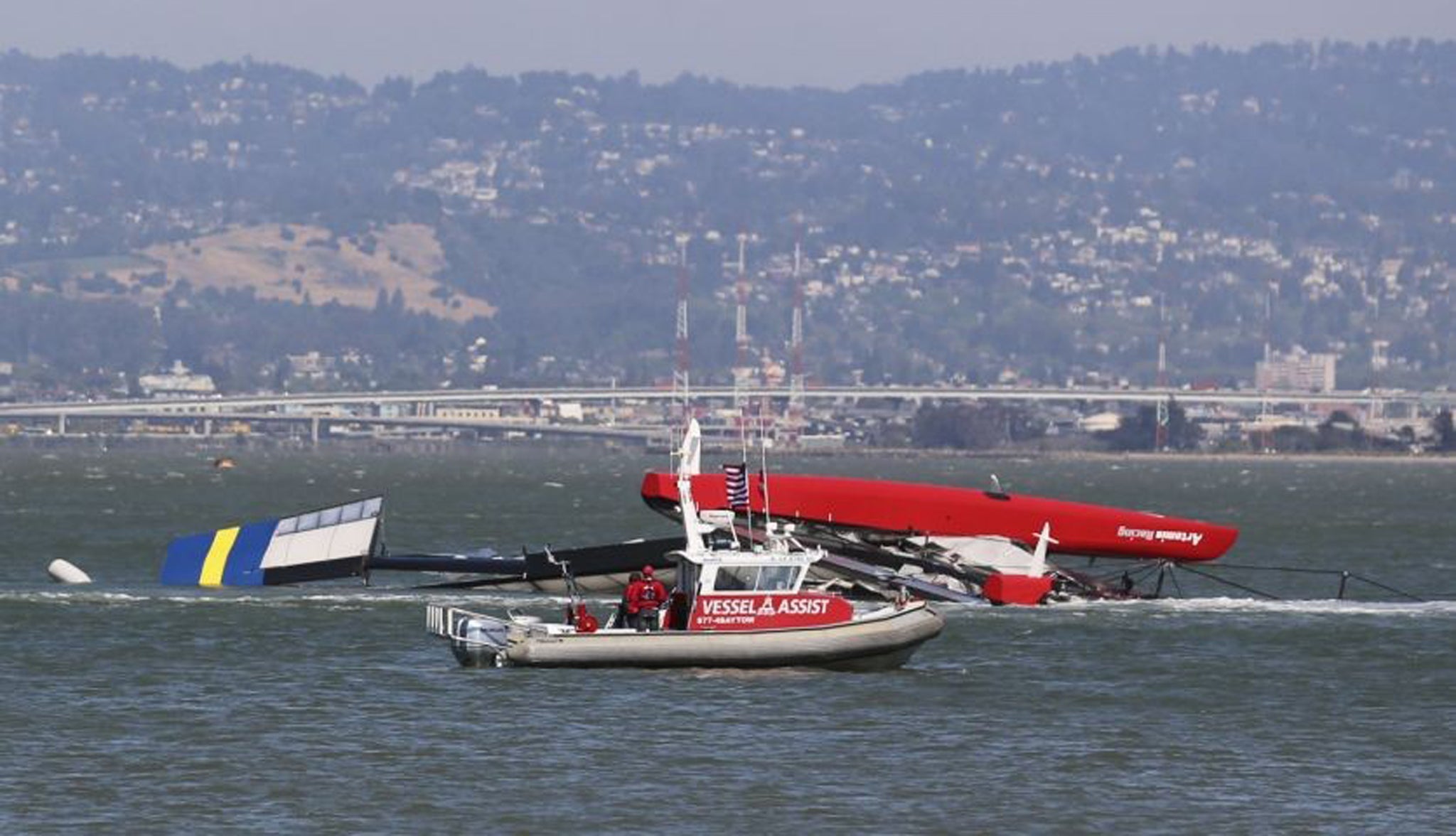 A major investigation into the cause of the catastrophic capsize which led to the death in San Francisco of British Olympian and America's Cup sailor Andrew 'Bart' Simpson will be led by the US Coastguard.
Other city and state bodies, including those concerned with the port, safety, and sport, will be joined by members of Simpson's Swedish-based Artemis team and experts brought in by the America's Cup defender and organiser, Oracle Racing USA, which is owned by computer software billionaire Larry Ellison.
A main focus will be on whether there were specific circumstances which led to the disaster or was this was an accident waiting to happen? This is the second of the new breed of super-powerful 72-foot catamarans to crash in training. Some see them as death traps.
Not only do they use a giant wing instead of conventional sails, they also lift out of the water to skim across the surface on foils. The Kiwi challengers seem to have made most progress in keeping their boat stable, but they are continually on a knife-edge.
Since the new design was stipulated by the defender, Oracle, there have been predictions of major accidents and of injury to crew members, who are themselves under huge physical pressure.
They are also at risk of injury in the event of the boat breaking up in such a way that shards of carbon fibre can hit them with life-threatening or permanently damaging force.
Full details of exactly what happened to Andrew Simpson are expected to be given at a press conference in San Francisco later today but it appears that he died as a result of being trapped under the boat when it apparently broke up.
So far, there has been no hint that the public authorities will try to stop America's Cup 34 going ahead, nor that the Swedish team would want to withdraw. A British crewman was killed in 1935 training off Southend and a Spanish crewman was killed in training prior to the 2000 America's Cup in Auckland.
But none of the challengers is keen on the choice of boat for America's Cup 34, which starts elimination races between the three challengers on 5 July ahead of the Cup Match between the winner of that series and Oracle in a best of 17 starting on 7 September. Whether either could survive a full schedule over the 14 days allocated is a matter for speculation. The boat is also very expensive to build, maintain, and campaign.
Oracle said it expected to race in anything between three and 30 knots of wind over a course that is close to the shore between the Golden Gate Bridge and the ferry terminals. Such a wide range of conditions greatly affect the handling characteristics, set-up and equipment used on the boat.
Join our commenting forum
Join thought-provoking conversations, follow other Independent readers and see their replies