Thrills and spills in America's Cup World Series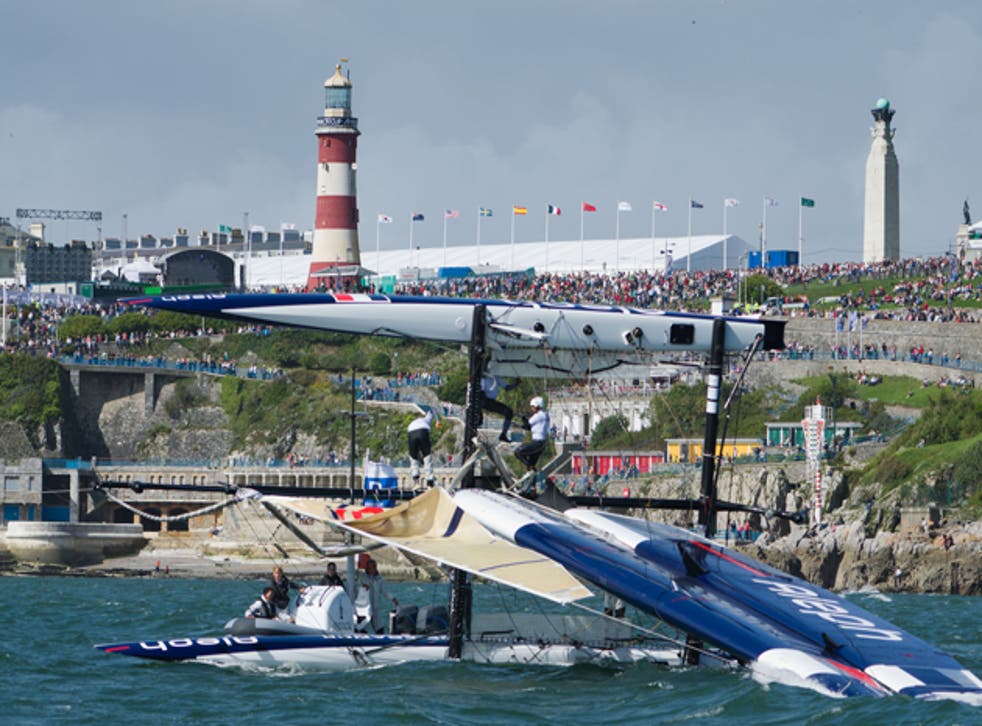 Three capsizes and a fourth of the nine boats limping home hurt provided the thrills and spills which are the selling point of the America's Cup World Series.
Plymouth Sound was in boisterous mood as the charioteers were sent out to give the holidaymakers on the Hoe plenty to ooh and aah about in the one race timed to avoid wind strengths which would have made things impossible.
The usual suspects were upfront, the San Francisco-based America's Cup holder Oracle and its most determined stalker, Emirates Team new Zealand (ETNZ).
The Swedish challenger of record for the America's Cup itself, scheduled for September 2013, was the team which retired hurt after it first fouled ETNZ and then damaged its wing sail.
Skipper Terry Hutchinson's British double Olympic gold medallist Iain Percy tactician said afterwards: "It was good having my first day on the windiest day. It was brilliant fun to do."
But there is a serious side to a series being raced in 45-foot catamarans which will be replaced by 72-foot catamarans for the Cup itself.
ETNZ boss Grant Dalton says it is important for giving the sponsors some pay back on the way to San Francisco. "From a sponsorship point of view it is totally worthwhile," he said.
But, when the serious stuff begins he adds: "There is no doubt that the Cup is far too expensive to participate. If this (the ACWS) is fulfilling someone else's ego so be it, we don't own the Cup. All we are interested in is to win the Cup.
"We can do a 72-footer programme but we are not flush and can never match either an Oracle or an Artemis programme."
First to capsize was the French team Aleph, tipping its Goldman Sachs owner Hughes Lepic into the water. Later the team was hard at work repairing the wing sail.
His compatriot Loick Peyron was fourth and commented afterwards: "This is nowhere near as scary as sailing a 60-foot trimaran on your own and flying two hulls at night."
Also in for a swim were the Valencia-based Italian team, GreenComm, and Team Korea, skippered by British double Olympic medallist Chris Draper. No-one was injured and no boats seriously damaged.
While Jimmy Spithill was taking his Oracle machine to victory, his boss, and the man who has won the America's Cup four times, Russell Coutts, had some of his long-time stalwarts like Murray Jones, Matt Mason and Simon Daubney alongside him and managed to post a third.
"We made the decision beforehand not to take any big risks and we sailed conservatively," he said, adding that Australian Darren Bundock will be helming in his place at the November regatta in San Diego.
Register for free to continue reading
Registration is a free and easy way to support our truly independent journalism
By registering, you will also enjoy limited access to Premium articles, exclusive newsletters, commenting, and virtual events with our leading journalists
Already have an account? sign in
Register for free to continue reading
Registration is a free and easy way to support our truly independent journalism
By registering, you will also enjoy limited access to Premium articles, exclusive newsletters, commenting, and virtual events with our leading journalists
Already have an account? sign in
Join our new commenting forum
Join thought-provoking conversations, follow other Independent readers and see their replies