Williams clinches Racing Tour title during Monsoon Cup
Stuart Alexander
Saturday 26 November 2011 11:47 Comments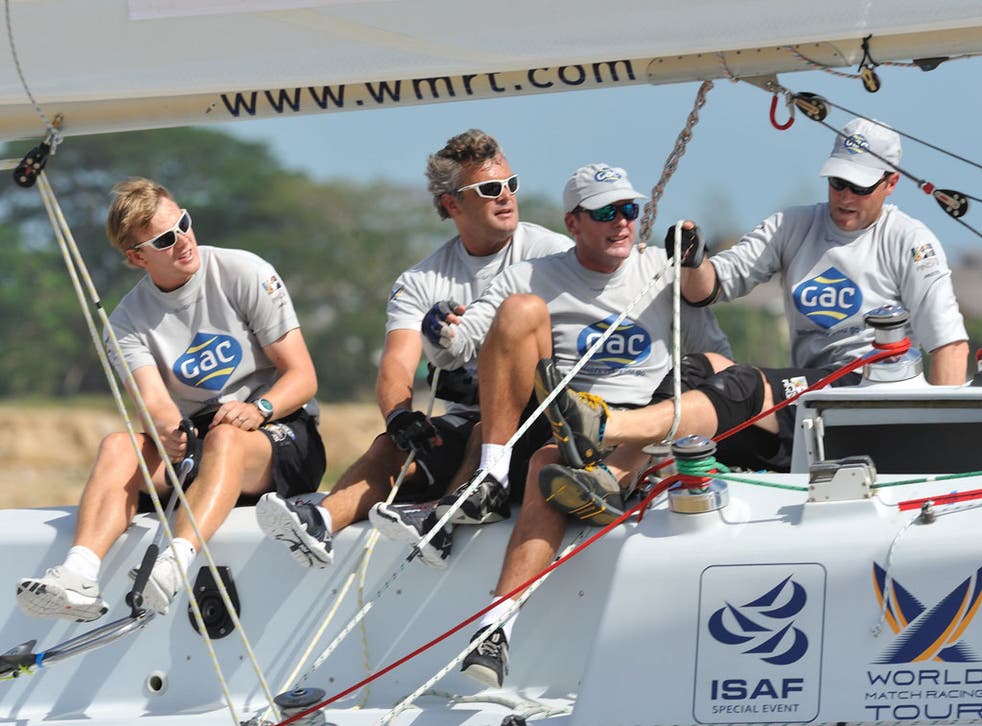 Britain has a new world sailing champion after Ian Williams knocked out his nearest rival, Italy's Francesco Bruni, in a tense quarter final of the Monsoon Cup in Kuala Terengganu.
Quarter final? That is all it took to make sure that Williams, who won the trophy in 2004, had banked enough points from the eight regattas in 2011 for a third World Match Racing Tour (WMRT) title.
He succeeds another British holder, Ben Ainslie, who also secured the prize in Malaya last year, and who is currently training in Fremantle, W. Australia, ahead of the start next week of the World Championships of Sailing.
This year's victory adds to the consecutive wins in 2007 and 2008 and was made only marginally more difficult as he had to break for nearly three hours after going 2-0 up, Bruni conceding penalties in both, in the first to three wins quarter final. The needs of live television broke the momentum and a tiny misjudgement in the delayed third race cost him a clinching point.
Williams, 34 and from Southampton, made no mistake in the fourth, including accepting the radio advice of coach Ian Barker, who won silver for Britain in Sydney, and the onboard advice of American tactician Bill Hardesty, the current world Etchells champion, to ignore the conventional and attack the right hand side of the course for the second round of 1,200 yards.
There was little time to celebrate as Williams' Team GAC Pindar immediately had to concentrate on a semi-final clash with Denmark's Jesper Radich. Williams was leading 2-1 as the evening gloom began to descend. That little matter would be settled Sunday morning.
In the other semi-final, Sweden's Johnie Berntsson knocked out the veteran Australian Peter Gilmour 3-1.
Victory, also, is expected tonight for the Spanish yacht Telefonica in the first leg of the Volvo round the world race from Alicante to Cape Town.
Skipper Iker Martinez and British-based navigator Andrew Cape have put in an almost faultless performance over the 6,500 miles. Second-placed Camper, also from Spain but with a largely Antipodean crew, pays a near 200-mile deficit price for an early routing decision but suffering even more for a long gamble south along the coast of Africa, the French entry Groupama was slipping up to 1,000 miles behind.
But her skipper Franck Cammas will still notch up 20 points whereas the other three yachts, which have all retired from leg one, will score nothing.
Two, the Chinese entry Sanya with a badly damaged bow, and Abu Dhabi's Azzam, dismasted and not having time fully to test its replacement, are on ships bound for Cape Town.
The American entry Puma, also dismasted, was expected in Tristan de Cunha overnight to await transfer to a ship and the fitting of a new mast and rigging in South Africa. The clock is against them
Register for free to continue reading
Registration is a free and easy way to support our truly independent journalism
By registering, you will also enjoy limited access to Premium articles, exclusive newsletters, commenting, and virtual events with our leading journalists
Already have an account? sign in
Join our new commenting forum
Join thought-provoking conversations, follow other Independent readers and see their replies