Bobby Lashley interview: New WWE champion is loving life at the top
Veteran performer Lashley claimed the industry's top prize on Monday by beating The Miz on Raw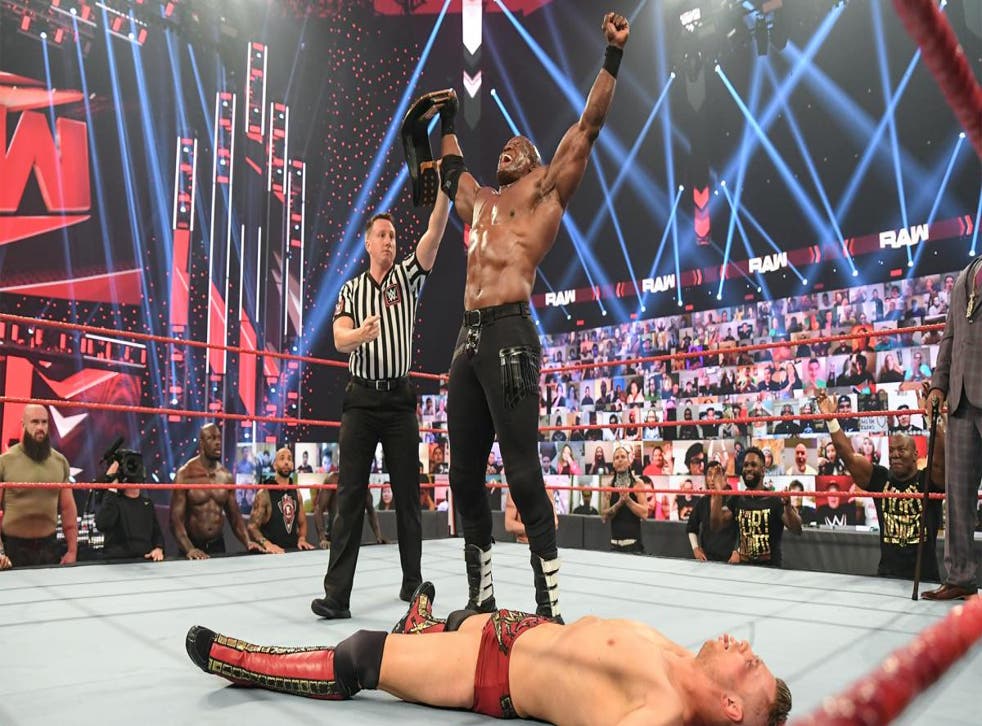 New WWE Champion Bobby Lashley is loving being on top – but tells The Independent it's especially sweet with good friends at his side.
Veteran performer Lashley claimed the industry's top prize on Monday by beating The Miz on Raw. It capped an incredible last few months not just the 44-year-old, but also those who turn out alongside him on screen each and every week. 
The Hurt Business has established itself as one of WWE's most prominent factions in recent memory, and while Lashley is rightly now viewed as the group's centrepiece now he's reigning as the company's top champ, it's fair to say he hasn't been the only one shining.
That was something Lashley was at pains to emphasise when he spoke to The Independent recently - hailing in particular the contributions of Cedric Alexander and Shelton Benjamin.
It's fair to say their inclusion has boosted their own stock, too. Benjamin is an accomplished and decorated performer in his own right, a former tag team and Intercontinental Champion. Alexander is a highly rated starlet clearly capable of great things. Yet neither had been so much as registering on the radar of WWE officials, fans and those watching on television. As members of the Hurt Business, they're now Raw's tag team champions.
Having put the group together alongside fellow WWE stalwart MVP, Lashley was right to take a moment to bask in their collective accomplishments.
"I love it," he said. "I think it's amazing. I keep going back to quotes that I live by, and one of those is that you have to believe in somebody else before they can believe in you. 
"When MVP and I put together the Hurt Business, we looked at some of the people that we knew had a huge amount of potential and just needed to be on the right platform, or be with the right group.
"If you look down that roster, you couldn't think of better people than Shelton Benjamin and Cedric. Shelton's been amazing for his entire career, and same with Cedric. Both those guys are incredible, so they just needed to be in the right group and be around the right people to realise their potential.
"That's what we did, that's the one thing that MVP and I talked about. Bringing those guys in, they were the perfect fit for it, but at the same time they are also really good friends.
"It's good to see those guys back on top where they deserve to be."
The point Lashley makes on the foursome being close both on and off screen is one the former ECW Champion understandably goes back to when speaking to other outlets on an international media conference.
It's clear though that Alexander and Benjamin tick more than just the box of being sound wrestlers or simply being good pals - it's a combination of the both that he feels has been so telling.
Recalling the discussions that led to the formation of The Hurt Business, he went on to say: "Originally when MVP came back for the Rumble, he and I just started talking and brainstorming - it was something I'd wanted to do for some time, to bring a group together.
"I talked to MVP about [being] the advisor, and then we looked at some of the best participants to put in, but not just the best wrestlers, but people we'd be close to, and I've been friends with these guys forever.
"Everything we're doing is natural because we are close and we are friends."
Whether 2021 is to be the year of Bobby Lashley, or whether this first reign as WWE Champion is a fleeting one remains to be seen.
While rumours had suggested Lashley was being primed as the bad guy due to be dethroned by Drew McIntyre at Wrestlemania in April or even knocked off at the hands of a returning Brock Lesnar, a groundswell of support has emerged for the former MMA athlete since his title win. 
Having seen the man reduced to salacious love triangle storylines in recent years - a sub-genre of WWE's varied entertainment sphere in which he was clearly less comfortable - many are happy for him to smell the roses a little longer.
Perhaps with a nod to that, he admitted: "The wrestling business has its ups and downs and everybody knows that you're not always on top; you have to scrape, beg, plead, crawl and do everything you can.
"My favourite quote is 'the harder you work, the luckier you get.' I'm not scared of hard work and I'm not afraid of hard work, so I knew luck was on its way just based on the hard work I've put in."
Watch WWE Champion Bobby Lashley on Monday Night Raw, airing each week on BT Sport. For more details visit WWE.com.
Register for free to continue reading
Registration is a free and easy way to support our truly independent journalism
By registering, you will also enjoy limited access to Premium articles, exclusive newsletters, commenting, and virtual events with our leading journalists
Already have an account? sign in
Register for free to continue reading
Registration is a free and easy way to support our truly independent journalism
By registering, you will also enjoy limited access to Premium articles, exclusive newsletters, commenting, and virtual events with our leading journalists
Already have an account? sign in
Join our new commenting forum
Join thought-provoking conversations, follow other Independent readers and see their replies