MMA: Banning Testosterone replacement therapy in UFC was long overdue
However, the change won't be welcomed by everyone, particularly the older fighters
Asher Simons
Monday 03 March 2014 16:38 Comments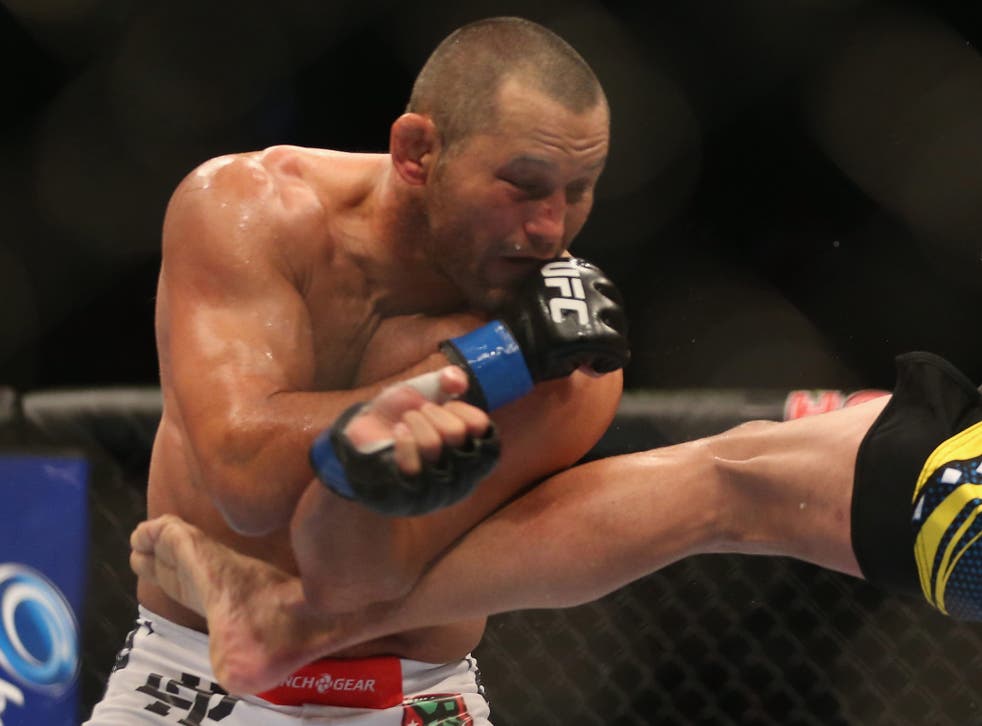 Last Thursday marked a day that so many involved in MMA have long been hoping for. Testosterone replacement therapy (TRT) was banned by the Nevada State Athletic Commission (NSAC). Hours later the UFC followed suit with its president, Dana White stating "We follow Nevada! I'm pumped! Couldn't wait for that garbage to go away".
For those that have never heard of TRT, let me explain. TRT was only legal in the case of a medical exemption given by a commission upon application. It is injections of synthetic testosterone into the body to make up for an abnormally low levels of natural testosterone. By its supporters, it is passed off as a necessary method of placing fighters on a level par. What testosterone certainly is however, is a performance enhancing drug (PED).
There are many reasons a man might possess reduced testosterone levels, but let's examine and discuss the two most common for athletes:
1. Increased age
In MMA, one thing money can't buy is experience. It is one thing to be a talented fighter and athlete, but there is a bigger advantage still in having spent time in that cage, in knowing how to deal with external pressures, in knowing how to train and cut weight. Experience can not be substituted by way of a drug. Some of the most fascinating match ups in any sport come when a young talented athlete takes on the old guard.
By awarding a TRT exemption to the more experienced, you are nullifying any advantage the young talent might have had whilst maintaining an experience differential.
Often when TRT is discussed, the first name to come to mind is Vitor Belfort. The 36-year-old seemed to be on a decline when he was submitted by Jon Jones in 2012. After dropping to Middleweight, and seemingly starting TRT therapy, his body shape change was as jaw dropping as his improved performance inside UFC's Octogon. Since that loss, Belfort has won all three of his bouts against top contenders, by brutal knockout. He earned himself a title shot against Chris Weidman (twice conqueror of Anderson Silva last year) at UFC 173 this May, however just one day after TRT was banned by the NSAC, Belfort had been replaced in the main event by Lyoto Machida. Had he pulled out or had the UFC withdrawn him? This is as of yet unknown.
2. Past steroid use
Vitor Belfort's past steroid use is well documented. With a side affect of anabolic steroids being a reduction in natural testosterone, is it possible that until this TRT ban, fighters that had a history of PED abuse were actually being rewarded?
Thursday's ruling followed a damning report published by ESPN's Outside the Lines programme in America. The findings were fascinating. It seems that although TRT exemptions were rare in MMA, the ratio of TRT users and applicants to regular athletes was far higher than in any other sport. Surprisingly, Nevada has never even received an application for a TRT exemption from a boxer. Whilst there are a few baseball players and NFL players that do use the therapy, the number is minuscule by compassion to MMA.
Dan Henderson, a UFC fan favourite and a veteran of Pride has been vocal about his disapproval of the ban. He himself undergoes TRT prior to fighting, though his career seems to be on the decline despite this. One wonders if the new ban will affect his performances still further. Dan suggests that the exemptions are granted in the case of legitimate medical deficiencies. He thinks the UFC and NSAC have taken "the easy way out". These sound like the words of an ageing fighter trying to hold on to any future hopes of success that he can muster.
Maybe now fighters such as Dan Henderson who are in their 40's will more carefully consider the dangers involved in fighting professionally at this age. As the UFC, MMA and NSAC move on to greener pastures providing a more pure product and cleaner sport, older fighters must also move on and realise when their time is up.
FOLLOW SPORTS AND MMA COLUMNIST ASHER SIMONS ON TWITTER @ashersimons
Register for free to continue reading
Registration is a free and easy way to support our truly independent journalism
By registering, you will also enjoy limited access to Premium articles, exclusive newsletters, commenting, and virtual events with our leading journalists
Already have an account? sign in
Join our new commenting forum
Join thought-provoking conversations, follow other Independent readers and see their replies