The Independent's journalism is supported by our readers. When you purchase through links on our site, we may earn commission.
How fatherhood became the driving force behind The Miz's return to WWE's pinnacle
A surprise victory over Drew McIntyre at Elimination Chamber saw Mike Mizanin return to the top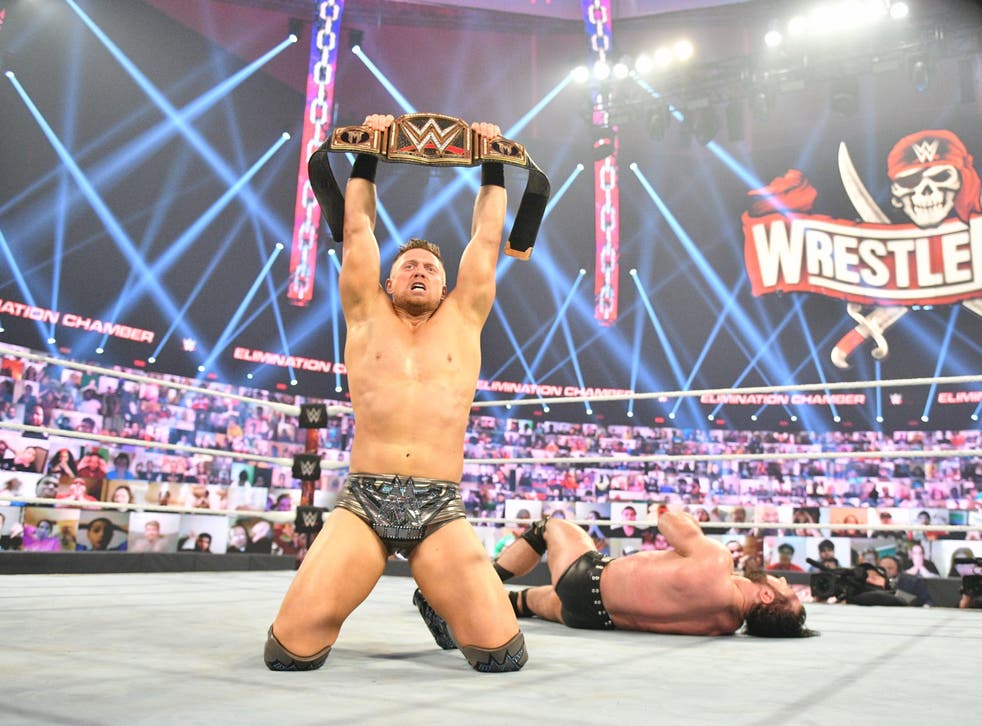 WWE Champion The Miz has spoken of the "love" of being a parent – revealing it as the driving force behind his current reign.
The 40-year-old is in his second reign as one of the company's premiere champions after a surprise victory over Drew McIntyre at Elimination Chamber last weekend.
The surprise is far from being because the real Mike Mizanin isn't talented enough to be picked to lead one of WWE's top programmes in Monday Night Raw, and more because many thought that ship had sailed – some ten years having passed since he first won the same championship.
Since then he's performed consistently for a decade, rarely missing through injury and displaying a work-rate that's the envy of many. No wonder, then, that many long-time fans were delighted to see him to get given the nod to sit on top of the mountain again.
While Miz the performer has changed plenty in ten years, the man himself has, too. The Independent joined an international media call as the champ this week as he gears himself up for a first title defence against Bobby Lashley this coming Monday.
He told journalists from all corners of the globe that his world is unrecognisable compared to 2011 – and credits much of that to his wife, fellow WWE performer Maryse, and their two children. In fact, he's so proud to be a dad-of-two, one of his first jobs was to take the coveted championship belt home for them to see.
"As soon as I became a father, life changed," he explained. "I think I speak for every parent out there when I say that the toughest job you'll ever have, being a father or a mother. When you have children, it opens a whole new part of your heart that you didn't even know you had, a whole new love you didn't know you had. I do everything for them.
"I do everything for them. The number one thing people are asking me is 'what did you do when you won the championship?' I called my wife and I said, 'did they see it?' They're three and one, they don't understand what's going on! But in my mind, all I want to do is impress them.
"I came home and I showed them the title - they have no idea what this title means and what it represents, but they got to play with it and hold it, and someday I'll get to show them the pictures of them with their Dad, with 'the guy.' My goal is always to make them proud, make my family proud. I will do whatever it takes."
In all likelihood, the apparent direction of WWE storylines makes it as certain as its possible to be in the world of Vince McMahon's empire that Miz's second reign will be a brief one, with Lashley heavily touted to take it from him if not on Monday's show then further down the line.
Yes, it's well established that professional wrestling is more intensely physical performance art tan it is genuine competition, yet away from the dramatic on-screen dramas, Miz is right to point out that the "pressures and stresses" are real – as are the demands.
So the first reign way back when clearly stands him in good stead. He's at a peak that few in his profession will reach and so there are many who can't quite grasp what's involved – a little bit, he says, like having kids.
He added: "I know from being a WWE Champion before what it takes to hold that title and what it means not only to myself but to every Superstar who is vying to become a WWE Champion.  It's not so much being a role model as much as it is being a person that says 'Ok, when you're WWE Champion, this is what it takes' - and if you're not at that level, you don't deserve to be champion.
"Everyone thinks they deserve this title, but they don't understand the pressures and stresses. Even our audiences, [as a bad guy] I can sit there and say 'You don't understand!', you won't understand.
"It's like when someone says you don't get what it's like to have kids, and you say, 'Yes I do, I got dogs, I got cats' - you don't understand until you actually have the kids. That's when you get it. So I try to make people understand what it's like to have the title, what it takes outside the ring. It means more than anything.
"Drew McIntyre was an incredible champion, Roman Reigns is an incredible champion. They deserve it and they know what it takes, and I hope that with this title I am able to take what they're doing and make it even more, as this is the most prestigious title in all of WWE."
WWE Champion Miz defends against Bobby Lashlely on Monday Night Raw next week, airing on BT Sport. Visit wwe.com for more.
Register for free to continue reading
Registration is a free and easy way to support our truly independent journalism
By registering, you will also enjoy limited access to Premium articles, exclusive newsletters, commenting, and virtual events with our leading journalists
Already have an account? sign in
Register for free to continue reading
Registration is a free and easy way to support our truly independent journalism
By registering, you will also enjoy limited access to Premium articles, exclusive newsletters, commenting, and virtual events with our leading journalists
Already have an account? sign in
Join our new commenting forum
Join thought-provoking conversations, follow other Independent readers and see their replies