Wayne Rooney slaps WWE Superstar Wade Barrett in the face during Monday Night Raw
Rooney was sitting in the crowd at Monday's live Raw show when Barrett challenged him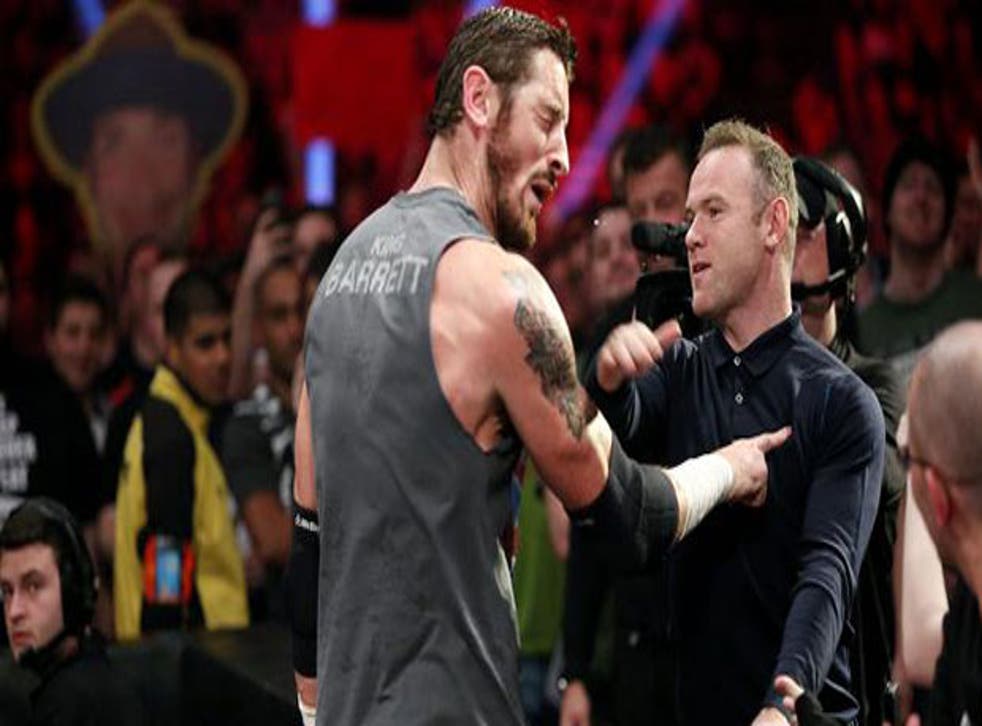 Very rarely does Wayne Rooney let his guard down, and he showed just how hot-headed he can be when he slapped a WWE Superstar across the face during a live show in Manchester.
Of course, Rooney was not looking to start a fight with British WWE Superstar Wade Barrett, but their feud has some history to it that we should probably look back on.
Rooney is a self-confessed boxing fan, but he also dabbles in the world of wrestling after becoming embroiled in a light-hearted exchange with Barrett earlier this year in an attempt to organise a match at WrestleMania 31.
Barrett, from Lancashire and a lifelong fan of Preston North End supporter, tweeted WWE chairman Vince McMahon in a bid to organise a tag-team match between Rooney and Stone Cold Steve Austin against Barrett and the former Preston striker Kevin Davies.
While the fight never happened, the confrontation between Rooney and Barrett eventually did when Monday Night Raw rolled into Manchester, and the United striker just happened to have bagged himself a front-row seat.
Barrett was ringside as Irishman Sheamus took on Swiss Superstar Cesaro as part of the WWE World Heavyweight Championship tournament.
And as Barrett approached Rooney, the 30-year-old footballer seized his chance and slapped Barrett right across the chops, much to the crowds delight.
Watch the video below…
Whether this sets Rooney up for a showdown with Barrett as WrestleMania 32 next April is unlikely though, as Rooney will be needed to take on Everton that weekend as the Premier League turns towards its business end.
Register for free to continue reading
Registration is a free and easy way to support our truly independent journalism
By registering, you will also enjoy limited access to Premium articles, exclusive newsletters, commenting, and virtual events with our leading journalists
Already have an account? sign in
Register for free to continue reading
Registration is a free and easy way to support our truly independent journalism
By registering, you will also enjoy limited access to Premium articles, exclusive newsletters, commenting, and virtual events with our leading journalists
Already have an account? sign in
Join our new commenting forum
Join thought-provoking conversations, follow other Independent readers and see their replies