Tag team special: Jimmy Uso and Luke Gallows discuss WWE's thriving tag wrestling scene
We take a detailed look at a rise of wrestling's tag scene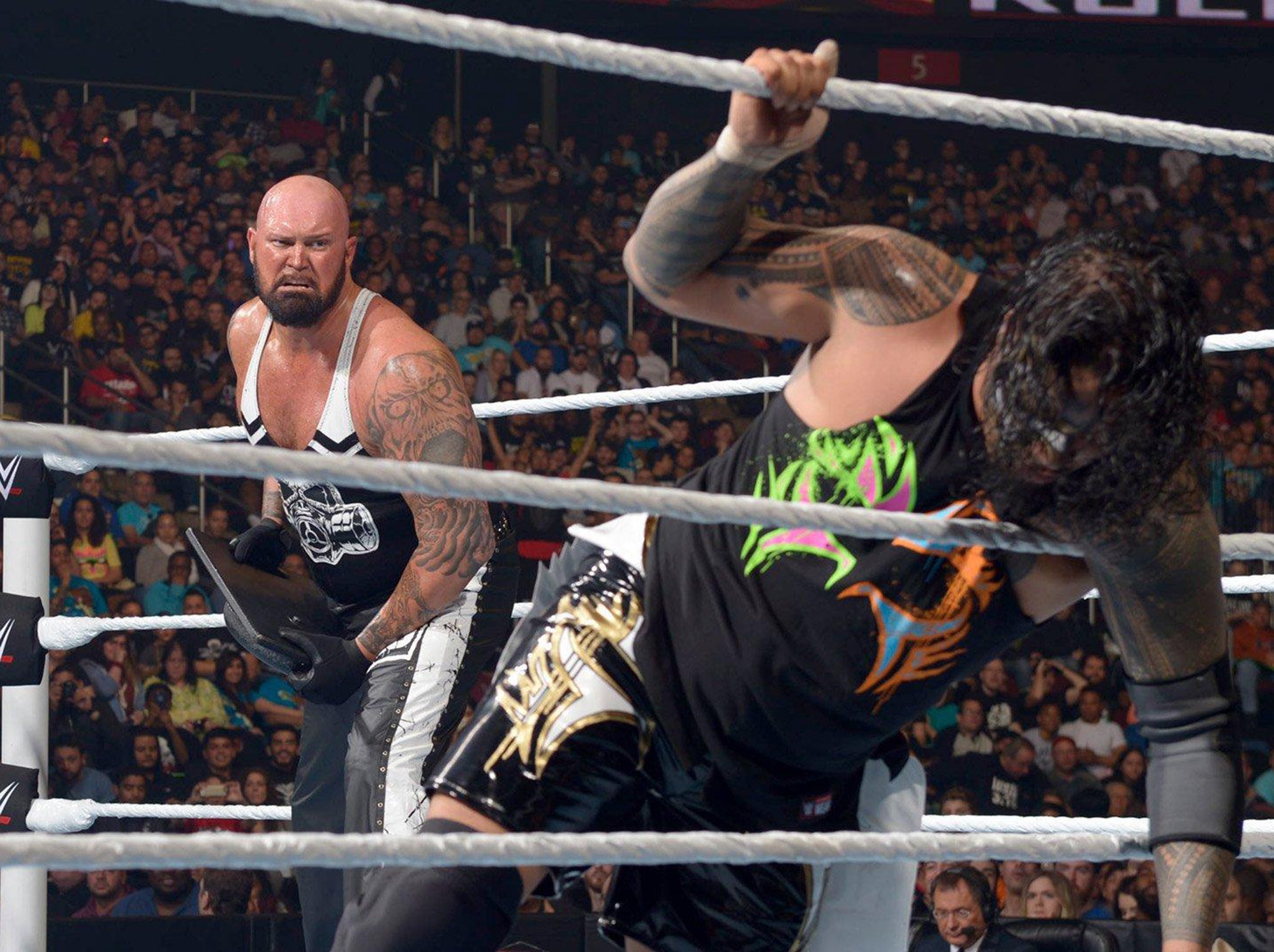 Tag team wrestling has been brought in from the shadows, according to some of WWE's top stars.
Some of the industry's biggest tag team names live long in the memory of fans, with the likes of The Legion of Doom, The Nasty Boys, The Hart Foundation, The Hardys and Edge & Christian all very fondly remembered.
And the present-day WWE product is enjoying something of a boom in its tag scene after a relative slump. After seeing singles competition dominate screens for much of the late noughties and early 2010s, some of sports entertainment's best weekly action comes in the form of tag bouts.
The Usos and Gallows & Anderson are two teams sitting near the top of the tag team picture, with the latter being former Raw tag team champions and The Usos, as reigning tag champs on Smackdown Live, are regarded as the best team of their generation.
As part of a look at the tag genre, The Independent spoke exclusively to Jimmy Uso and Luke Gallows as they looked back at the history of tag teams, their own respective fortunes and what the future holds.
Where the present day and the right here, right now is concerned, it's clear to Uso at least that the these are vibrant, thriving times for the likes of he and his brother as they continue to rule the roost both between the ropes and on the microphone when it comes to entertaining fans. There is, though, plenty more to come.
"I feel like tag team wrestling has been in the shadows for a while," the 32-year-old said.
"When my brother and I debuted in WWE, we knew that if we wanted to make a mark here we'd have to run the tag division, and last year we finally had a chance to really open up and come around to us.
"It's on fire and, right now, I still feel like tag team wrestling is growing because there are a lot of teams down in NXT that haven't come up to the main roster yet, and a lot of teams out there doing their thing in independent wrestling and people who haven't made their mark here yet or are trying to get here.
"When you're trying to be the best tag team in the world, you're looking and watching everywhere, and there's a lot of talent that haven't even been seen or had their chance."
Gallows clearly concurs on the present state of play, adding: "I think the tag scene is hotter right now than I have probably ever seen it in my entire career and this is my 16th year in the business.
"We have some of the best tag teams we've ever had in the history of WWE and you can tell that by the quality of the matches as well; I think it is at an all-time high right now.
"It's highly-entertaining stuff with great teams, some of them who've been together for a while and who are highly-seasoned – it makes for a very entertaining product."
Undoubtedly, tag team wrestling is something of a specialism. Whereas so much of wrestling's action pits sole good guy and against lone bad guy, the multi-man format sees teams competing against one another, from two-on-two to all manner of permutations.
The Usos were handed Match of the Year in 2017 by Rolling Stone Magazine for one of their many efforts against The New Day – no mean feat when you consider the stunning year had by singles competitors like AJ Styles and The Miz.
So, in their eyes, how do the styles compare?
Jimmy went on to say: "When I was growing up, the tag division was on fire and I remember watching The Hart Foundation, The LOD, The Headshrinkers - the list goes on.
"I knew the tag division was the only way The Usos would ever start to make some noise.
"Our feud with The New Day is the best rivalry and the most fun I've ever been a part of and it's really helped people see how much fun tag wrestling can be.
"My philosophy is, if you've got two guys in the ring; what's better than two guys? Four guys. The match will be way more exciting and that's how we see it and how we all talk about it."
Gallows is an accomplished veteran and someone who, uniquely, also has singles experience. He echoed those sentiments by saying: "Tag team wrestling is an art form and it is one of the purest in all of sports entertainment. I really enjoy it and I have spent a lot of my career as a tag team wrestler.
"My partner Karl and I complement each other very well; he's smaller and agile and is a great technician, and I back that up with power so it is a nice blend and I enjoy that."
The Usos are a rare species in many respects. Graduates of the old FCW developmental territory of WWE, the pair made their main roster debuts some eight years ago.
They wrestled much of their early years in the spotlight as the 'good guys', or fan favourites. In doing so they became incredibly popular, attaining championships and wining the Tag Team of the Year award on consecutive occasions in 2014 and 2015.
It was a little bit of a surprise and something of a risk, then, when on the back of a storyline that saw them paired with polarising Roman Reigns, the decision was made to turn them into heels – antagonist bad guys.
Such a switch and repackaging of characters is usually reserved for those who've failed to connect with the audience in any respect or a gimmick that has bombed out – so a far cry from the successful run the Usos had already enjoyed to that point.
But the pair have risen to the challenge and blown it out of the water – already eclipsing the accomplishments of their previous incarnation, and even managing to bring the fans back onside whilst doing it thanks to their perpetual performance levels.
For Jimmy, it was a case simply of listening to the audience. When asked about the turnaround, he revealed: "I think that was the people's call - the [fans] called that.
"When we were with Roman Reigns we were getting booed, but then the boos stayed with us. So, we were like 'why are we coming out here trying to show our heritage and trying to high-five everybody if they don't like us?' For us it was a case of 'well, we don't like you, either!"
"I think that helped us. They gave us the [heel] turn and said, 'it's your time, what do you want to do?'
"When we said what we wanted to do, we knew we had to deliver and I feel like we did deliver, and the people have got with us, which is cool. Going from something good to something better is hard to do, but while I knew we were climbing, I didn't know we'd get to where we're at now.
"From the good Usos with the face paint, we were climbing that mountain and we're at the top of the tag team division now - that's just what it is."
His confidence isn't without basis. Uso, who is married to fellow WWE superstar and whose father is Hall of Famer Rikishi, a star of the Attitude Era in wrestling from the late 1990s and early 2000s.
But while The Usos sit atop of the tag team tree at present and Gallows & Anderson regularly shine on Monday Night Raw, there are a string of tag teams waiting to come and claim the limited spots available to wrestling talent to strut their stuff.
As Uso had noted; The Undisputed Era, The Authors of Pain and the Street Profits are just three of the teams in NXT waiting for their call-ups, while the independent circuits are full of untapped talent.
Who catches the eye? Jimmy added: "It's all of them, actually - I remember being down there and just being hungry and trying to get [to the main roster]. The tag teams in NXT are making their mark, doing their thing and getting ready for us.
"I'm excited because I know after Wrestlemania there are going to be some changes, some switches, some call-ups and some let-gos - and I'm ready."
Gallows looks at the topic of the future a little differently. He and Anderson are members of the famed and popular Bullet Club – a clique of wrestlers dotted around the world, including current WWE Champion AJ Styles.
Other 'members' include Former WWE star Cody Rhodes, currently kicking up an absolute storm in Ring of Honour while the likes of Kenny Omega is one of the biggest names in New Japan.
It's no surprise that 34-year-old Gallows would relish being reunited with some of those names further down the line – stressing you need to succeed in WWE to really lay claim to greatness in the industry.
"I'd love to have Leo Tonga and Bad Luck Fale," he admitted, when pressed on the Bullet Club point. "I'd love to see the Young Bucks come over. The Bullet Club has unbelievable talent all around the world, there's no denying it.
"There's Finn Balor, AJ Styles, Karl Anderson and myself in WWE right now and the guys who are competing in other parts of the world - we would welcome them all here in WWE."
Perhaps fittingly, though, when given our last word to discuss potential future opponents for he and Anderson inside the squared-circle of WWE, Gallows had one name right at the top of his list.
"I'd love to get in the ring with The Usos again," he admitted. "When we first came to WWE we went right into a feud with them and I thought we had great matches with them.
"There are a lot of good teams [on Smackdown Live] but The Usos would be the one team I'd really want to mix it up with again right now - they are a hot act."
Luke Gallows joins his partner Karl Anderson and The Usos as part of WWE Wrestlemania in April, available on WWE Network, and on a tour of the UK and Europe in May. For full details visit wwe.com.
Join our commenting forum
Join thought-provoking conversations, follow other Independent readers and see their replies