Kofi Kingston on how being WWE champion helps to combat racism and discrimination in sports entertainment
'I take a lot of pride in being somebody that people like me can look to, and believe in themselves because they see me doing things on television that they thought they'd never see'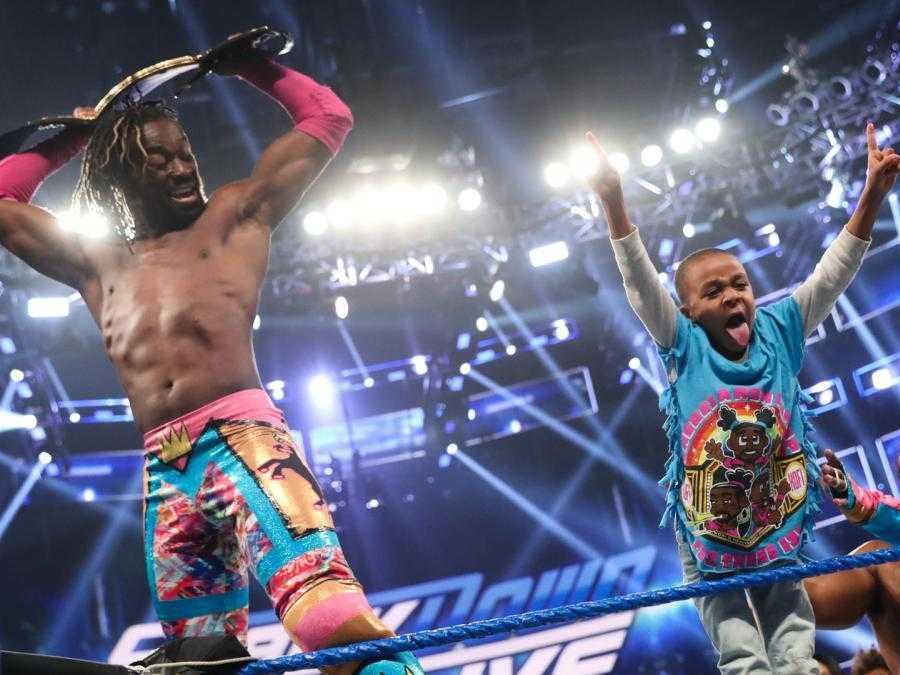 WWE champion Kofi Kingston is confident the company can lead the way in the battle against racism and discrimination in sports and entertainment.
With a spate of recent examples, discrimination remains an all-too palpable blight across many an industry.
Last weekend saw football players in England introduce a social media boycott in protest over a perceived lack of action by the game's governing bodies to combat racism.
Earlier this year, England cricket captain Joe Root hit out at West Indian star Shannon Gabriel for using a homophobic slur, while Australian rugby star Israel Folau was condemned for use of anti-gay remarks on social media.
The US-based juggernaut isn't without its own critics, with bosses forced to defend the staging of shows in Saudi Arabia in recent years without the presence of any of its female stars in favour of a broader, longer-term aim for progress in the region.
WWE: Roman Reigns returns to announce leukaemia is in remission
Show all 7
But with pressure mounting on sport and entertainment in general to do more, Kingston has insisted WWE can play its part.
Real name Kofi Sarkodie-Mensah, he has been one of sports entertainment's most prominent stars, and is its current WWE Champion.
The 37-year-old is seen as something as a trailblazer, not simply for being an African American himself, but for his candid demeanour and relentless work-rate.
The Independent spoke exclusively to Kingston and touched on WWE's role and responsibilities in battling discrimination, with a global weekly television audience of millions and another sell-out European tour on the way.
He admitted it is vital that the company's storylines and presentation offers true "representation", saying: "WWE is a huge, international entity and we are trying more and more to have more representation.
"You have people of all different backgrounds who have been in the top position; Jinder Mahal being WWE Champion and so many others.
"Obviously, myself being a person of African American descent, being on screen and having representation, it is so important.
"It is so important for people to look at the screen and see other people who look like them doing great things.
"I take a lot of pride in being somebody that people like me can look to, and believe in themselves because they see me doing things on television that they thought they'd never see.
"For me to be able to motivate people of all different ages, genders, backgrounds and body types, I really take a lot of pride [in it]."
WWE is rarely shy in pushing boundaries with the storylines shown in its programming, but has stopped short of implementing a feud based purely on race.
While understandably admitting that any such content would need to be handled with extreme care, Kingston was open to WWE crossing that line in the future in order to help present the modern-day realities of such situations.
"Personally, it just depends on how we tell the story," he went on to say.
"We tell a lot of stories and that's what makes us different from any other form of entertainment; our ability to tell stories.
"People come to WWE to have the stories told to them, so we always try and do the best job that we can.
"In being sensitive to people who may be offended, or not, we just try and do the best job we can to try and provide some sort of entertainment.
"In doing so, we provide a situation where certain people can identify with the characters on screen; I think that's one of the best things about WWE."
WWE Champion Kofi Kingston and a host of your favourite WWE Superstars will touring the UK on 8-17 May, Visit Ticketmaster and get your tickets for a show near you.
Join our commenting forum
Join thought-provoking conversations, follow other Independent readers and see their replies