Goldberg ready to snatch Raw's Universal title as WWE Fastlane builds Wrestlemania feuds
Bayley could struggle against Charlotte Flair while Braun Strowman looks to humble Roman Reigns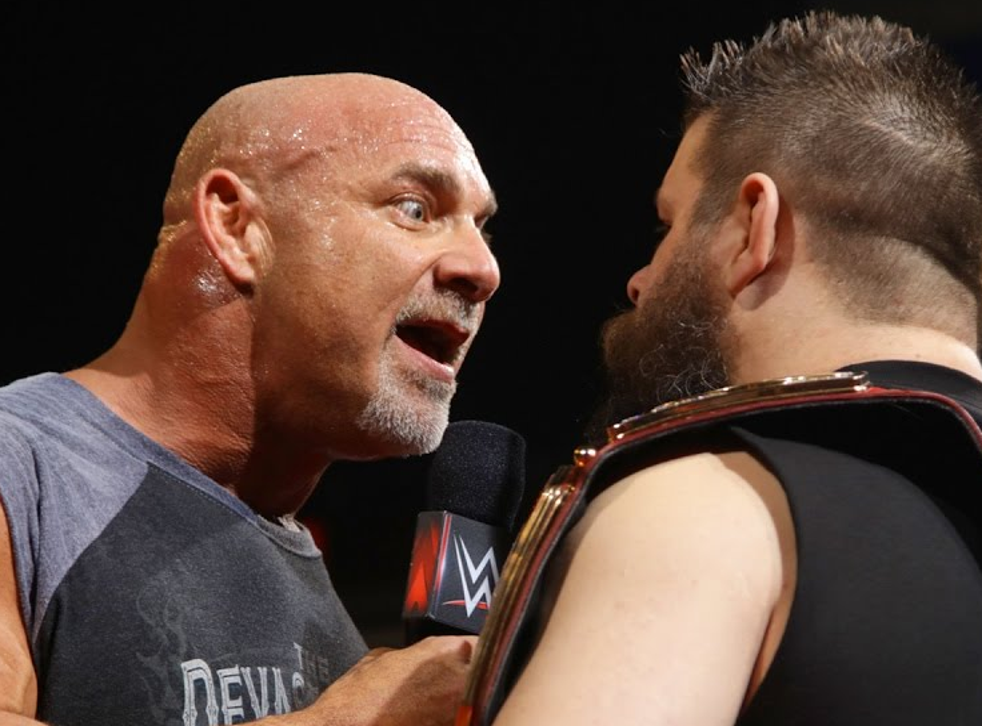 Goldberg looks favourite to reach some significant milestones at WWE's Fastlane pay per view this weekend as he edges closer to becoming Raw's Universal Champion.
The former WCW icon is set to take on present incumbent Kevin Owens for Raw's most prestigious accolade, with many expecting him to walk away with the gold and head to Wrestlemania next month as he tangles with Brock Lesnar.
Should the spear-wielding superstar manage that feat on Sunday, he'll claim a record for the longest gap between a championship run in WWE – more than 13 years having passed since he last held a title with the company.
WWE Elimination Chamber in pictures

Show all 13
His victory on Sunday appears to be academic. Lesnar has vowed the ultimate revenge on Goldberg after being humiliated by him at the Survivor Series and Royal Rumble pay per views, and there would be no better vengeance for Paul Heyman's client than to snare away newly-won championship gold.
Chris Jericho may also play a factor. The Canadian has not been seen on WWE programming since he sustained a hellish beat-down at the hands of Owens on Raw a few weeks ago – though Owens did repeat the trick at a European house show soon after.
So will Jericho cost Owens the championship, leading the two to battle it out themselves at Wrestlemania? Will Goldberg defeat KO on his own? There's a nagging feeling at the back of one's mind that while we're all factoring in ways to see the champion dethroned, Owens himself has made a career in WWE so far of proving people wrong. Against the odds, might it actually be he that stands tall at the end of Fastlane?
Elsewhere on what is WWE's last pay per view offering before Wrestlemania, The brutish Braun Strowman looks to continue his path of destruction through WWE as he battles Roman Reigns. Strowman's push over the last few months has been so heavily backed that it seems unlikely he'll go down in this one.
Another highlight comes in the form of the Raw Women's Championship bout as Champion Bayley defends against Charlotte Flair. The challenger boasts an impeccable record when it comes to pay per view matches and you would think that were she to surrender such a streak, it would be at the grand stage of 'Mania rather than the event leading up to it. Sasha Banks has had plenty to say where these two combatants are concerned and will almost certainly have an involvement – this after she'll have had a match of her own against the dominant Nia Jax. Banks has been annihilated by Jax on recent occasions and while she'll no doubt be more of a match for her this time around having recovered from injury, the powerhouse's momentum doesn't look set to end any time soon.
Samoa Joe will make his main roster pay per view debut on Sunday when he meets Sami Zayn. Joe has played the mercenary card superbly since first showing up on Raw a few weeks ago to punish Seth Rollins and I wouldn't expect anything other than to see him standing tall come the end of this match.
One highlight of the night at Fastlane sees to Brits battling it out for the Cruiserweight title as the bitter and angry Neville defends against Gentleman Jack Gallagher. From a purely patriotic point of view it is fantastic to see these two young superstars being given such a big stage on which to shine and you can put your money on them to produce in terms of match quality. So frustrated is Neville at a perceived lack of respect from the WWE Universe, losing his championship may just be enough to push him over the edge altogether.
Enzo and Cass will also compete for tag team gold as they go up against Gallows and Anderson. Recent episodes of Raw have teased some frustration building within Big Cass as he has to temper his momentum to accommodate and protect his rent-a-joke best friend Enzo. Will there come a time when Cass says enough is enough as he bids to be taken a little more seriously? Defeat in this match may just be enough to see cracks appear in the partnership of the popular duo.
All in all it will be with a sense of excitement that we finally drive through the Fastlane towards Wrestlemania and get to lock our focus on the Orlando showpiece. The question is, what incident will be thrown up on the last bump in the road before then?
Join our new commenting forum
Join thought-provoking conversations, follow other Independent readers and see their replies