Wrestler Roman Reigns announces his leukaemia is in remission with emotional statement in WWE Raw return
WWE Fastlane: Roman Reigns admits nerves have set in ahead of first match since returning from leukaemia illness
Speaking to The Independent, the WWE Superstar explains how he will not know how his body will react to competing once again ahead of his return at Fastlane
Roman Reigns may have just beaten leukaemia, but the WWE megastar admits to nerves ahead of his return to the ring.
The 33-year-old, real name, Joseph Anoaʻi, steps back between the ropes for his first match in over four months this weekend at the company's Fastlane event.
It caps a remarkable recovery one of the company's top superstars, who was forced to relinquish the Universal Championship after being diagnosed with chronic myeloid leukaemia.
But – for the second time – Reigns has beaten the odds, returning to Raw under two weeks ago to confirm the disease was in remission.
Now, his first marquee match in the thick of the action comes in the form of a tag team bout with his Shield brethren, who team up to face Baron Corbin, Drew McIntyre and Bobby Lashley.
WWE: Roman Reigns returns to announce leukaemia is in remission

Show all 7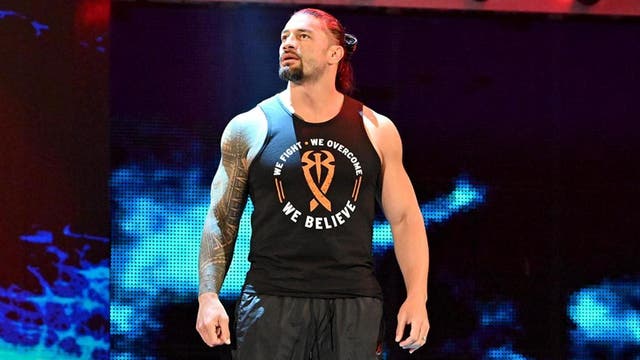 The powerhouse spoke exclusively to The Independent ahead of the event, and understandably admitted to one or two nerves about how his body will handle the return to the hard-hitting world of sports entertainment.
While confirming he's fully cleared to compete without limitations, he accepted it will take a while for his body to adapt after overcoming the gruelling battle with CML.
"I've been cleared for contact," he explained. "So, for me, that means everything as far as my vital organs and everything on the inside is good to go and is intact.
"Nothing is oversized, and that was kind of the main concern for us, as far as my activity in the ring is concerned – taking a blow to the stomach area or the spleen and having some sort of rupture.
"I have been checked out and I have been cleared for a physical role, but it just goes to speak for the WWE superstars and the schedule that we run – it's not a situation you can just jump into and roll with it.
"Whether it's a team match like we're doing, or a singles situation, there's nothing that prepares you for the ring and being in ring shape, other than just wrestling and having matches night after night.
"I'm a little nervous about how my body is going to react and where my conditioning levels are going to be, but over the next month or two, I'll be able to make some great strides just from being in the ring."
WWE is, of course, an artificial form of entertainment in so much as its results are predetermined and its characters and storylines written like any soap.
Where it differs, however, is that the toll on the bodies of the men and women who wrestle is very real – with injuries commonplace.
Reigns himself is a fairly heavy-hitting member of the roster, standing at 6ft 3in and weighing 260lbs.
It's little wonder, then, that the precarious nature of a wrestler's health remains paramount on his mind – especially ahead of his comeback.
He added: "When I had that doctor's meeting and they told me my spleen was enlarged, that's when it hit me that it only could've taken one shot to my stomach or to my side, one fall or one weird landing… you just never know sometimes.
"'I'm hoping [now] that muscle memory will take over as much as possible – I've been an athlete on a high level for a long time now, performing at some of the highest levels of competition.
"I'm kind of hoping I'll just be able to take it in my stride and bounce back, but it's not going to be easy and it's not going to feel good!
"I'm going to cut it loose and I have full faith in our medical staff, along with myself, in knowing what is smart and what is a calculated risk.
"Hopefully, along with everything else that's happened to me in this process, I'll be able to show some resiliency and hopefully get close to my absolute top level of performance."
Roman Reigns was speaking as WWE announced that its marquee Wrestlemania event is to be held in Tampa, Florida in 2020. This year's instalment takes place on 7th April at New Jersey's MetLife Stadium. For more details visit wwe.com.
Join our new commenting forum
Join thought-provoking conversations, follow other Independent readers and see their replies