WWE Raw women's champion Alexa Bliss warns Asuka she will be the one to end her unbeaten streak
The former NXT champion received a call-up to the Raw brand this year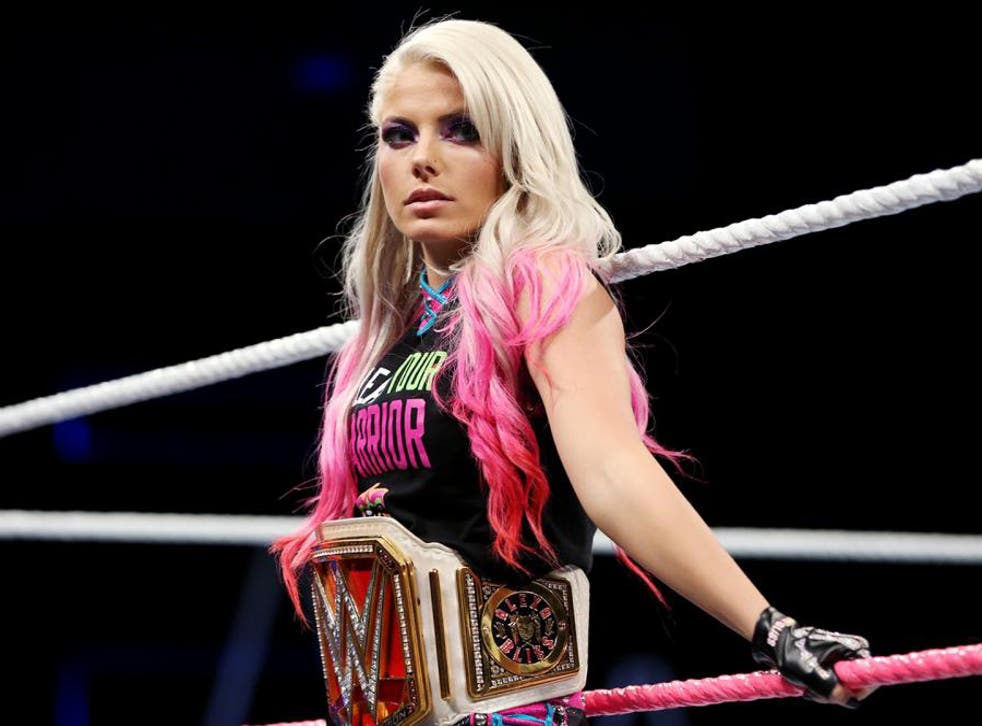 Undefeated superstar Asuka makes her WWE main roster debut at Raw's TLC pay-per-view this weekend – and Women's Champion Alexa Bliss has warned she could be the one to end her illustrious streak.
Former NXT champion Asuka has swept all before her in the company's developmental territory over the last couple of years before being forced to surrender her title recently due to injury.
She did so with an impeccable record inside the squared-circle, earning her a call-up to WWE's flagship show Monday Night Raw.
WWE SummerSlam in pictures

Show all 13
The 36-year-old makes her first appearance on pay-per-view this Sunday as she takes on Emma in a one-on-one match.
Her arrival on the roster has not gone unnoticed either – Raw Women's Champion Bliss has been keeping a close eye on the Empress of Tomorrow and fancies that she can be the one to bring her string of victories to a shuddering halt.
Bliss has her own title defence at the weekend against Mickie James but, speaking to The Independent, it's clear she has Asuka in her sights.
"I'm really excited for Asuka to come to Raw," she commented. "We're in the middle of the women's revolution and are always looking to take it to the next level.
"Asuka has a lot to offer and can help us do that. I am definitely going to watch and see what she can do. I trained with her in NXT for a year and I am really excited to see her on the main roster.
"I would love to have a pay-per-view match with her and would love for her to try and take my title away, and to be the first person to beat her and show that she's not that unbeatable."
The women's scene in WWE has boomed immeasurably over the last few years.
A first Hell in a Cell match was followed by a first Money in the Bank ladder match for the ladies, while there's also talk of a Royal Rumble coming soon, too.
Bliss was in no doubt, however; while those opportunities are fantastic for the roster in general, she'd prefer to tackle Asuka one-on-one.
"I don't feel like I want a stipulation match with her," she added. "She's this 'unbeatable' wrestler and superstar, and I wouldn't want any stipulation.
"I'd just want to get into the ring with her to see if I can be the one to end her streak."
All being well, Bliss will lead the Raw women's charge into the UK next month as part of WWE's lengthy European tour.
British crowds have long been a favourite for wrestlers and the diminutive yet explosive superstar admits she's no different.
She says her relationship with the Brits goes back some way and that she's relishing the chance to perform in front of them again.
She explained: "I love performing in front of our UK fans. When I was in NXT it was the first time I'd really wrestled in front of any UK fans, and the chants that they come up with and the songs they sing are so entertaining.
"They always make it back to the States which is really funny. It's always exciting to go and see the crowds because they're so rowdy and excited. We feed off that energy and it's always a good time."
WWE brings Raw and Smackdown Live to the UK for a multi-date tour starting in Glasgow on 1 November. For more details head to wwe.com
Register for free to continue reading
Registration is a free and easy way to support our truly independent journalism
By registering, you will also enjoy limited access to Premium articles, exclusive newsletters, commenting, and virtual events with our leading journalists
Already have an account? sign in
Register for free to continue reading
Registration is a free and easy way to support our truly independent journalism
By registering, you will also enjoy limited access to Premium articles, exclusive newsletters, commenting, and virtual events with our leading journalists
Already have an account? sign in
Join our new commenting forum
Join thought-provoking conversations, follow other Independent readers and see their replies