WWE Raw results: Chris Jericho gets a taste of what lies in store at SummerSlam
Meanwhile, John Cena overcame Cesaro as he prepares to face the Beast Incarnate Brock Lesnar and Randy Orton had a message for Roman Reigns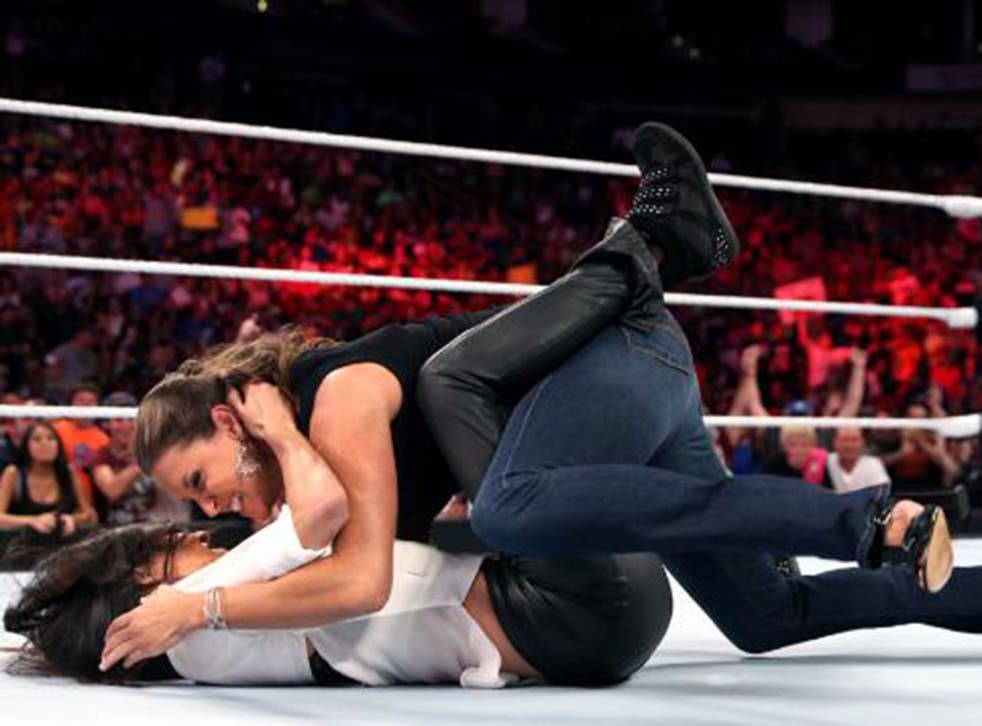 Last week we saw Stephanie McMahon get arrested after slapping Brie Bella, Brock Lesnar reappear to face John Cena at Summerslam, and a creepy discussion between Goldust and Stardust. Will it be that eventful this week? Almost definitely.
John Cena came out and addressed the WWE universe to begin with, stating that he was 'a marked man' and that he hoped he would never have to face the 'mercenary' Lesnar again. "There is a beast in my windshield and at Summerslam, I'm going to get my arse kicked!" he cried, much to the agreement, and delight, of the Texas crowd.
Paul Heyman then appeared and gave a long-winded speech that basically agreed with Cena; the WWE World Heavyweight Champion would lose, and badly. He also taunted the Undertaker, and we all know how badly that normally ends up. The return of the Deadman?
The Undertaker's personas and ring names through the years

Show all 7
"The difference between me and your monster is that I have passion, and he only has passion for himself!" replied Cena. The lights then dimmed and music played but instead of Lesnar coming out from backstage, it was Cesaro, apparently taking offence to Cena's jabs towards Heyman. He challenged the champ to a match saying that he "wasn't a proper wrestler, just a walking billboard", so there you go, our first match of the night.
Cena, although less-technically proficient than his opponent, wrestled toe-to-toe with Cesaro, surprising him with some uncharacteristic moves but nearly everything he tried was countered, forcing the match to be a stalemate throughout. The breakthrough came after Cesaro went to the top rope after hitting Cena with boot to the face, but Cena recovered quickly and delivered an Attitude Adjustment off the middle rope, giving him the victory.
Stephanie and her husband Triple H were seen talking privately backstage about the former's experience in jail, but Randy Orton interrupted them, angry after Roman Reigns cost him a title shot last week. HHH told him to take out Reigns, and he could have his chance back. Reigns was due to face Kane later that night, so what was Orton to do?
Psycho Paige was up first though, after blindsiding AJ Lee last week and beating the hell out of her. "What I did last week was deplorable", declared Paige. "I crossed the line and I promise I will never do it again". AJ skipped down to join her adversary and they had a little in-ring argument before Paige mentioned that dreaded C-word. Crazy. AJ flipped and tossed Paige out the ring, who then made a sensible hasty retreat up the ramp to the locker rooms.
Chief Operating Officer HHH and his wife came down to the ring hand-in-hand, the latter saying he was 'disgusted' with the crowd after they laughed at Stephanie's arrest last week. "It was a simple misunderstanding, Brie was asking for it, but it was a simple misunderstanding", he said. Stephanie asked Brie to come out so they could reconcile, but instead of Brie making her way into the arena, Chris Jericho did.
He started singing the song to 'Bad Boys' which obviously only angered the couple. And then when Y2J started claiming that he wanted to face Bray Wyatt 'right here, right now', Seth Rollins hit him with the Money in the Bank briefcase from behind. "You can worry about Bray Wyatt at Summerslam", said the Game. "Tonight though, you worry about Seth Rollins!"
A six-man tag-team match was first in the ring though, Curtis Axel, Ryback and the Miz vs Dolph Ziggler and Tag-team Champions, the Usos, with Big E, Kofi Kingston and Xavier Woods looking on at ringside. The match swung back and forth, but when the Miz broke up Ziggler's pinfall on Ryback, an all-in brawl ensued and Ziggler capitalised by hitting Ryback with a Zig-Zag, this time getting a successful three-count.
The shortest match of the night came when R-Truth squared off against Bo Dallas. While Dallas was parading around the ring at the start of the match, R-Truth rolled him up from behind for a pinfall, breaking Dallas' unbeaten streak. Dallas then took to the microphone to congratulate his opponent, but instead hit him with the mic and proceeded in beating R-Truth senseless, showing us a side to Bo that we haven't seen before.
We still had to wait for Reigns' and Jericho's respective matches as Rusev and Lana took to the ring, with the blonde bombshell criticising America (she had some good points if you ask me). Zeb Colter and Jack Swagger then came down to stick up for their country and Swagger forced the Russian to retreat hastily from the arena after some big hits and an attempted Patriot lock. I smell a rivalry cooking.
Damien Sandow was the next sideshow in the ring, dressed as an astronaut and stating that Houston had "a thousand problems". He was up against Adam Rose who raved down the ramp and quickly delivered a Party Foul for the win, the match only lasting a couple of seconds more than R-Truth's and Dallas'.
All the nonsense out of the way, we could finally get to the good stuff. First up, Kane vs Roman Reigns. But, as Reigns made his way through the crowd to get to the ring, he was blindsided by the Viper. The fight broke into the ring and after Reigns Superman-punched Orton, Kane chokeslammed the former Shield member. Kane then left and Orton was left to dismember the helpless Reigns, incensed after last week's events. He threw him into the steel steps on numerous occasions, DDT'd him off the barricade, and then RKO'd him not once, but twice onto the announcer's table.
Fandango and Diego came out to fill the gap between the big matches, Diego getting the win after Layla, Summer Rae and El Torito – supporting the Mexican at ringside – distracted Fandango so that Diego could roll up his opponent. Fandango was incensed but was quickly quietened after El Torito horned him in his sensitive area.
Oh look, another creepy discussion between Goldust and Stardust.
Natalya and Naomi squared off against Alicia Fox and Cameron in the Divas match of the night, the formers winning after Naomi made ex-friend and Funkadactyl Cameron tap out with an impressive submission manoeuvre.
It was now time for the night's main event as Y2J was made to fight Triple H's ally Seth Rollins, despite Jericho wanting to face off against Bray Wyatt. Y2J started off in control, using the outside of the ring as a weapon and giving Rollins no time to recover, but his opponent got back into the match after sending Jericho over the top rope and keeping him on the floor.
The experienced superstar came closest to the win after delivering a cross body into a lateral press from the top rope but Rollins kicked out at two. Then, as Y2J delivered a Codebreaker, the arena went dark and the Wyatt family appeared in the ring and promptly set about Jericho, giving the wrestler no chance to defend himself and leaving him prone on the canvas.
Stephanie McMahon ended proceedings by coming down to the ring, seemingly to apologise to Brie Bella. After whining about being arrested and her children "being scarred for life", Bella interrupted and made Stephanie get to the point. Stephanie wanted Brie to drop the charges, which she agreed to do, only if she was reinstated as a Diva.
Stephanie finally agreed, then, as the owner was walking away, Brie asked for one more thing: "I want a match at Summerslam….against you!" Her adversary had no choice but to accept, and as Stephanie looked like she was just about to break down and cry, she slapped Brie off the canvas, causing the two to brawl and having to be broken up. "You're my b****!" Stephanie cried as she was dragged away, meaning that in three weeks' time, the owner will wrestle for the first time in ten years.
Results:
John Cena DEF Cesaro
Dolph Ziggler and the Usos DEF the Miz, Ryback and Curtis Axel
R-Truth DEF Bo Dallas
Adam Rose DEF Damien Sandow
Kane NO CONTEST vs Roman Reigns
Diego DEF Fandango
Natalya and Naomi DEF Alicia Fox and Cameron
Chris Jericho DEF Seth Rollins via DQ
Join our new commenting forum
Join thought-provoking conversations, follow other Independent readers and see their replies