WWE Raw results: John Cena and Dolph Ziggler form an unlikely alliance as the Survivor Series 10-man tag begins to take shape
Ziggler was in high demand from both sides who will make up the annual match at Survivor Series, but a full-roster brawl saw Raw end in spectacular circumstances
Calum Gillon
Tuesday 28 October 2014 08:59 Comments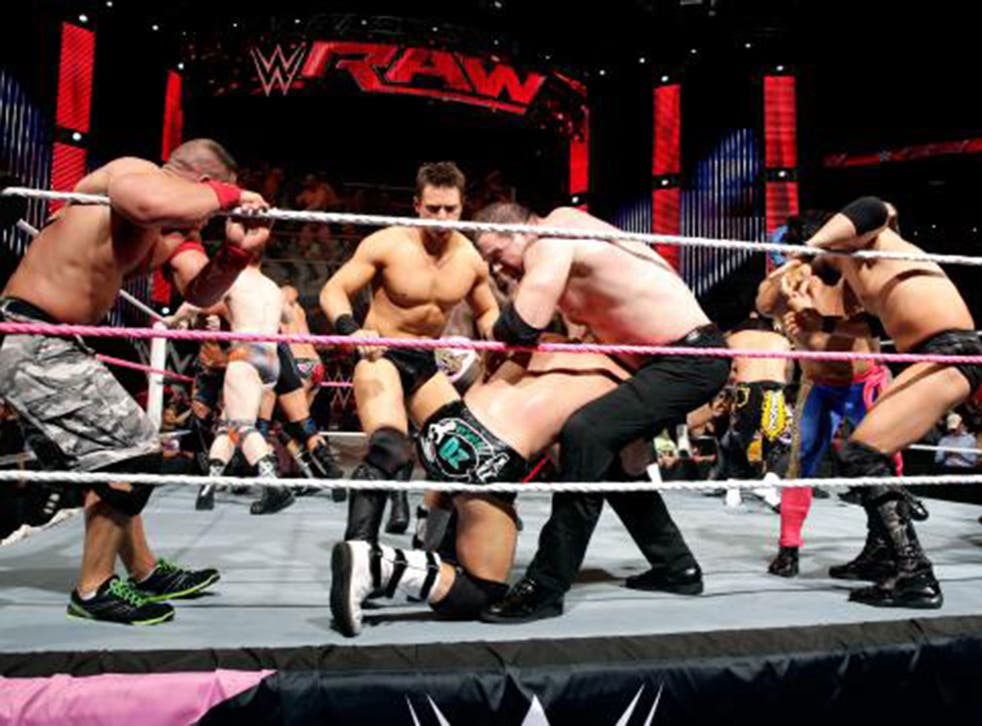 Raw kicked off with The Authority coming out to brag about their Hell in a Cell victories, all bar Randy Orton that is. After Triple H and Seth Rollins had their say, a visually angry and upset Orton came out and had his, before hitting Rollins with an RKO out of nowhere. This has been coming for a while and the repercussions are bound to be large, as was Orton's grin.
Our first match of the night was for the Tag-Team Championships but it wasn't The Usos that Gold & Stardust were facing, it was Big Show and Mark Henry. Because you know, they deserve it? The big men had the ascendancy throughout but just when it looked like the win was in sight, Henry – who hasn't seen eye to eye with his partner recently – turned heel and delivered three World's Strongest Slams to the Big Show. The Hall of Pain is once again open for business (for the 278th time in Henry's WWE career).
John Cena came out to address the WWE crowd. As per usual he was animated about a number of things, namely Seth Rollins, Brock Lesnar and Randy Orton. Stephanie McMahon came out to join him and offered him a proposition, to join The Authority. Cena responded with a typical "Hell No!" and then Stephanie's husband Triple H joined them and, because he knew Cena wouldn't join him, he issued a match for Survivor Series: Team Authority versus Team Cena.
Another tag-team match followed, The Miz & Damien Mizdow facing off against The Usos. The match swung back and forth but it was the twins that picked up the victory, pulling a fast one and switching places with each other – the fresh wrestler in for the injured one - before rolling up Miz for the win.
Bo Dallas issued an open challenge earlier in the night and it was now time to see who answered it. It was Ryback. The match lasted all of two minutes with Dallas being on the receiving end of a Spinebuster, a huge Meathook clothesline, a Military Press and a Shell Shocked, all in the space of around 20 seconds.
Cesaro was in action next, facing off against Dean Ambrose. But before the match even started, Ambrose furiously attacked Cesaro with the microphone, still incensed over Bray Wyatt's interference last night.
Our first Divas match of the night took centre stage, with Nikki Bella - who had sister and P.A Brie at ringside – against Naomi. Nikki easily got the win after hitting the Rack Attack following some forced assistance from her sister.
Earlier in the night we saw John Cena try and talk Dolph Ziggler into joining his Survivor Series team, before Kane came along and threatened the Show-Off. He then issued a match between the two and this was next. The two kept countering each other's moves and Dolph grabbed an unexpected win after countering a Chokeslam into a surprise roll-up. Rollins then attacked Ziggler from behind but Cena also appeared to help out the blonde-haired superstar.
This led us into our Main Event between Cena and Rollins. Cena took the match to his opponent but whenever the referee's back was turned, Authority henchmen Jamie Noble and Joey Mercury would attack Cena. This in turn meant that Rollins took control, with Cena only just beating the ten-count on two separate occasions.
Both men then nearly pinned the other a number of times, before hitting each other with counters. Just when it looked like Cena would get the win with the STF, Kane appeared to break it up and cause a disqualification. Ziggler then ran down to help and all hell broke loose. The entire, yes entire, RAW roster appeared and started brawling with each other, but when the dust settled it was Cena who was left standing in the middle of the ring.
Results
Gold & Stardust DEF Big Show & Mark Henry
The Usos DEF The Miz & Damien Mizdow
Ryback DEF Bo Dallas
Nikki Bella DEF Naomi
Dolph Zigger DEF Kane
John Cena DEF Seth Rollins via DQ
Register for free to continue reading
Registration is a free and easy way to support our truly independent journalism
By registering, you will also enjoy limited access to Premium articles, exclusive newsletters, commenting, and virtual events with our leading journalists
Already have an account? sign in
Join our new commenting forum
Join thought-provoking conversations, follow other Independent readers and see their replies