WWE: Seth Rollins praises Brock Lesnar just days after losing Universal Championship to former UFC star
Rollins had looked set for a long-term run with the title, only for Lesnar to win the gold back at Extreme Rules last weekend.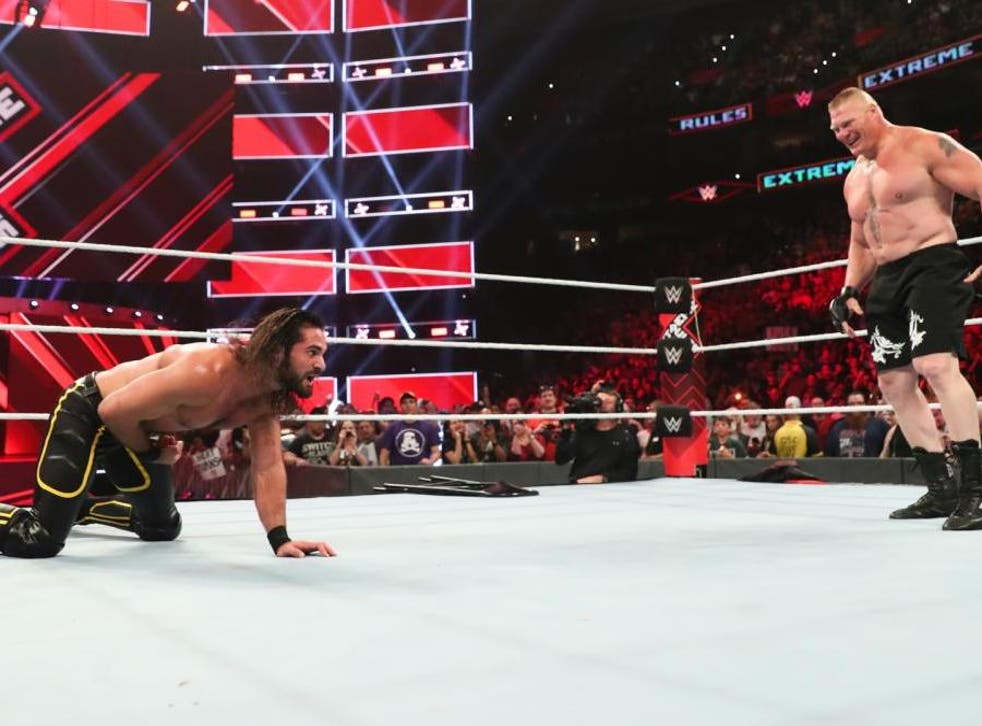 Seth Rollins has defended the skills of Brock Lesnar, just days after losing his Universal Championship to the former UFC star.
Rollins had downed Lesnar back at Wrestlemania earlier this year to claim the top championship on WWE's Monday Night Raw brand.
The former Shield member had looked set for a long-term run with the title, only for Lesnar to win the gold back at Extreme Rules last weekend.
The call to have the 42-year-old topple Rollins and win the championship once again has been criticised in some quarters, with some fans frustrated that Lesnar, who only appears sporadically for WWE throughout the year, is again on top.
Rollins, 33, however, had some words of praise for the former amateur wrestling great.
He spoke exclusively to The Independent this week ahead of the Raw Union next week that's set to feature the likes of Hulk Hogan and 'Stone Cold' Steve Austin.
He admitted to sharing some of those frustrations, but stuck up for Lesnar amid suggestions from some critics that The Beast falls short when it comes to actually competing inside the wrestling ring.
"Say what you like about him as a human being and as a champion, and I've said all of those things in that way.
"But he is an ultra-competitor, and when the lights are the brightest, he turns it on.
"He goes, and he can go. For a guy who has been through what he's been through in his life; from his teenage years and collegiate wrestling, his WWE schedule and UFC schedule, he's a competitor.
"The dude is a fighter and he brings it, every single time, trust me - I've been in there and I know what those suplexes and knees feel like.
"It's no joke - when he wants to go, he can go."
Rollins also pleaded patience with fans who were unhappy with Lesnar's most recent victory.
The pair are set to clash once again this summer in a high-profile bout at Summerslam, typically WWE's second biggest show of the year.
He's confident that the bigger, overall picture where their feud is concerned will be worth waiting for.
He added: "If you look at the totality of the story, from Royal Rumble in January to Summerlam in August, between Brock and myself, you might come to appreciate it a little bit more.
"In 2019, everybody is always looking for whatever is next and what's new, and all that stuff.
"At the end of the day, if you look at our encounters, we've never really had a wrestling match.
"Wrestlemania was short, Super Show-Down was short; these aren't really matches.
"We know each other well enough at this point and we're both prepared... Summerslam is going to look, as a match, I think a lot different to the interactions we've had up to this point.
"I am looking forward to it and I think, if you're a fan, if you look at that and the totality of the story, you might appreciate it a little bit more."
Seth Rollins and Brock Lesnar are joined by WWE legends at Raw Reunion on Monday, 22nd July 2019. Raw airs live on Sky Sports, with more information available at wwe.com
Register for free to continue reading
Registration is a free and easy way to support our truly independent journalism
By registering, you will also enjoy limited access to Premium articles, exclusive newsletters, commenting, and virtual events with our leading journalists
Already have an account? sign in
Register for free to continue reading
Registration is a free and easy way to support our truly independent journalism
By registering, you will also enjoy limited access to Premium articles, exclusive newsletters, commenting, and virtual events with our leading journalists
Already have an account? sign in
Join our new commenting forum
Join thought-provoking conversations, follow other Independent readers and see their replies