WWE SummerSlam 2014 results: Brock Lesnar destroys John Cena while Stephanie McMahon steals the show
PPV saw lumberjack and flag matches, top rope Samoan drops and three title changes
Christopher Hooton
Tuesday 19 August 2014 10:37 Comments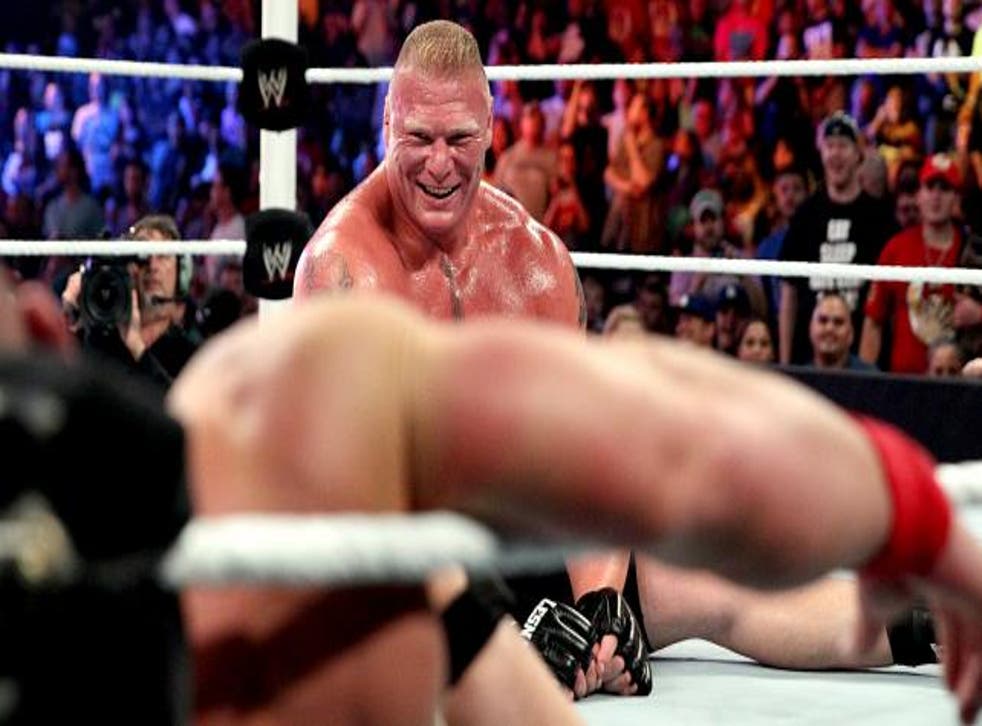 WWE's second biggest PPV of the year, SummerSlam 2014 took place at the Staples Center in Los Angeles last night, seeing John Cena attempt to defend his WWE World Heavyweight Championship title against the might of Brock Lesnar, here we breakdown the results.
At a glance
Rob Van Dam defeated Cesaro (singles match)
Dolph Ziggler defeated The Miz (c) (singles match for the WWE Intercontinental Championship)
Paige defeated AJ Lee (c) (singles match for the WWE Divas Championship)
Rusev (with Lana) defeated Jack Swagger (with Zeb Colter) by knockout (flag match)
Seth Rollins defeated Dean Ambrose (Lumberjack match)
Bray Wyatt defeated Chris Jericho (singles match; Erick Rowan and Luke Harper were banned from ringside)
Stephanie McMahon defeated Brie Bella (singles match)
Roman Reigns defeated Randy Orton (singles match)
Brock Lesnar (with Paul Heyman) defeated John Cena (c) (singles match for the WWE World Heavyweight Championship)
In full
1. Cesaro continues to be held back in the WWE, being beaten by aging talent in a pre-show match when it once looked like he was headed for the main events. RVD hit a Five-Star Frog Splash for the win. Best spot was Cesaro doing his own version of Rolling Thunder, ending with a foot stomp to the belly.
2. Ziggler finally got a boost, winning the Intercontinental Championship after nailing The Miz with a Zig Zag. No huge highlights though The Miz covering his face to avoid getting hit kept the crowd and commentators entertained.
3. Moments after hitting a suicide dive to the outside, AJ countered Paige's Paige Turner into her Black Widow submission, only for Paige to then counter this into a RamPaige DDT before pinning her to become a two-time Divas Champion. Earlier in the match Paige skipped to the ring like AJ, with AJ getting her revenge by pulling Paige's hair extensions out.
4. A flag match, which appeared to just be a regular match but with, well, flags, saw Rusev apply the Accolade hold causing Swagger to pass out. The referee stopped the match and Rusev scored some sort of patriotic triumph but no-one was that into it.
5. Lumberjack matches are usually a bit dry, but this one earned a 'this is awesome!' chant thanks to the whole thing turning into a massive brawl which broke out after Kane intervened. Rollins emerged from the scuffle with the victory after hitting Ambrose with his Money In The Bank briefcase, which seems to be made from solid lead.
6. With the Wyatt family banned from ringside, Jericho managed to get Bray in the Walls of Jericho, but Wyatt escaped and triumphed after nailing him with two Sister Abigails (one of them into the ringside barricade).
7. A surprisingly strong match saw Stephanie McMahon pin Brie with the Pedigree after Nikki Bella turned on her sister. Triple H beat on the referee as Stephanie was about to tap.
8. Roman Reigns and Randy Orton struggled to follow Stephanie McMahon (seriously!) but put in a decent match with Roman sweeping Randy's feet out from under him as he went for the punt. He then hit a massive spear for the pin. A top rope Samoan drop was a highlight, but Reigns ex-Shield members topped him at the PPV (worryingly, given how hard he's being pushed).
9. An unsettlingly purple Brock Lesnar beat John Cena after hitting him with 16 RELEASE GERMAN SUPLEXES (there were calls for the referee to stop the damn match). He had to really, given that he ended The Streak, which was something he referenced in the match – Lesnar sitting up after Cena hit him with an AA, mocking The Undertaker.
Lesnar was on top for most of the match, and though Cena threatened to turn the tide with an STF, Lesnar easily wriggled out and F5ed the hell out of Cena.
As WWE Champion, we're now living in a world where Lesnar will be wrestling more regularly than once or twice a year. Paul Heyman previously had this to say on the matter:
"I don't know if any of those critics are privy to an agreement Brock Lesnar may or may not have with WWE.. So I don't understand how anybody can credibly say this is what Brock Lesnar's schedule is going to be when he becomes the WWE champion.
"Second, I think the WWE championship is the defended too often and lost some of the prestige because of the beast of monthly pay-per-views. The champion having to defend on every single pay-per-view, let alone at every single arena, has taken away from the special event that is when a champion defends the title."
Register for free to continue reading
Registration is a free and easy way to support our truly independent journalism
By registering, you will also enjoy limited access to Premium articles, exclusive newsletters, commenting, and virtual events with our leading journalists
Already have an account? sign in
Join our new commenting forum
Join thought-provoking conversations, follow other Independent readers and see their replies