WWE SummerSlam: Fans question if Brock Lesnar went off-script with 'deliberate elbow' to Randy Orton's head
Video footage appears to show Lesnar aiming two deliberate elbows at Orton's head which led to an open gash that required 10 staples
Jack de Menezes
Monday 22 August 2016 12:12 Comments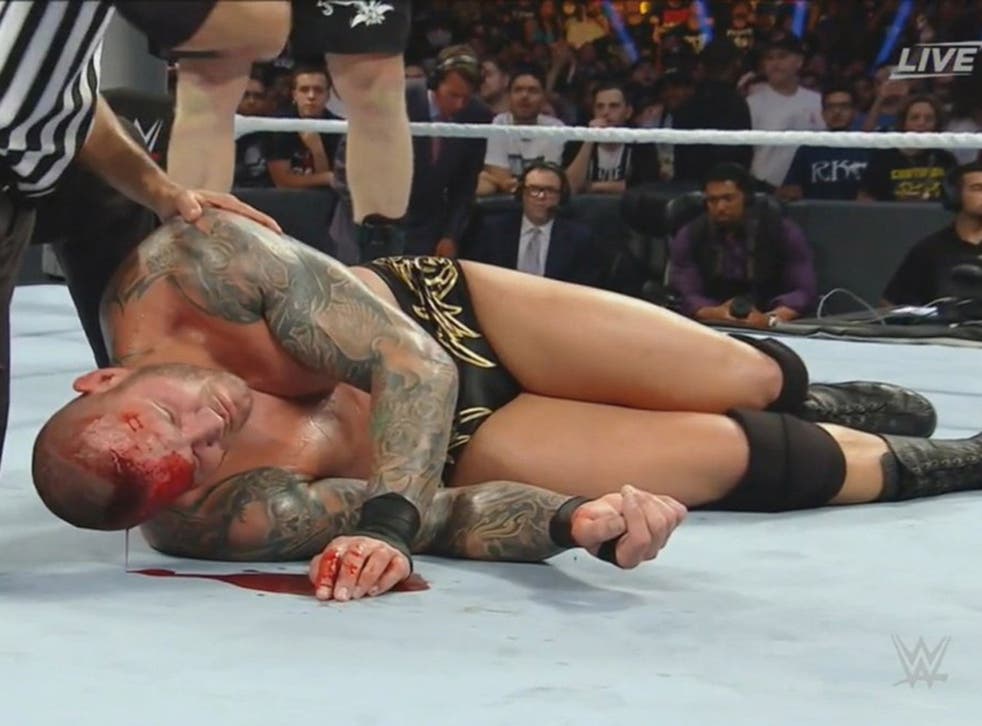 The bloody ending to WWE SummerSlam has raised questions over whether Brock Lesnar intentionally hurt opponent Randy Orton after a gash to his head ended the fight earlier than planned.
A wild match between Lesnar and Orton was abandoned when Orton's head was split open following a series of vicious punches elbows from Lesnar, leading to him requiring 10 staples to close the cut. While open wounds are not uncommon in the WWE, the use of blood has been severely cut down in recent years, while the concern surrounding head injuries has increased significantly due to a number of serious concussions.
The match was stopped by the referee with Lesnar, standing tall over Orton, awarded the victory, though he continued to hit Orton while he lay on the floor with the canvas turning red as blood poured from his forehead.
WWE SummerSlam in pictures

Show all 13
A WWE statement read: "WWE.com has learned that Randy Orton has received 10 staples to close a laceration on his forehead following the brutal assault by Brock Lesnar that resulted in a TKO at SummerSlam."
WWE 2K17 - Brock Lesnar Trailer
After the match was stopped, two medics attempted to treat Orton amid Lesnar's persistent attack, and Smackdown's general manager Shane McMahon ran down to the ring to stop the vicious beating – he received an F-5 from Lesnar for his efforts.
While the ending appeared to be all in part of whichever storyline WWE is taking with Lesnar and Orton's feud, there are some who are questioning whether Lesnar intentionally hurt Orton following an earlier 'bump', and others who believe Lesnar may have gone off-script altogether.
MMA writer Chamatkar Sandhu identified one moment in which Lesnar appeared to target Orton with a deliberate elbow to the head (0:12 of the vide below) when he mounted him – something that even the UFC has outlawed –
There were also suggestions that Orton's previous reference to Lesnar's failed drug test during his recent stint with the UFC may have triggered intentions from Lesnar to teach him a lesson. Following Lesnar's appearance at UFC 200 where he defeated Mark Hunt in a heavyweight contest, Lesnar failed two drugs tests, with the United States Anti-Doping Agency informing the UFC that Lesnar failed two in-competition tests in the lead up to UFC 200.
WWE have not released any further statements surrounding the events of SummerSlam, and it is likely that the incident will be addressed on Monday Night Raw.
Register for free to continue reading
Registration is a free and easy way to support our truly independent journalism
By registering, you will also enjoy limited access to Premium articles, exclusive newsletters, commenting, and virtual events with our leading journalists
Already have an account? sign in
Join our new commenting forum
Join thought-provoking conversations, follow other Independent readers and see their replies