The Independent's journalism is supported by our readers. When you purchase through links on our site, we may earn commission.
The Undertaker talks retirement, two dream opponents and WWE's future with UFC
EXCLUSIVE INTERVIEW: Speaking to The Independent, Mark Calaway opens up about life after WWE, and the stars he would have 'loved' to face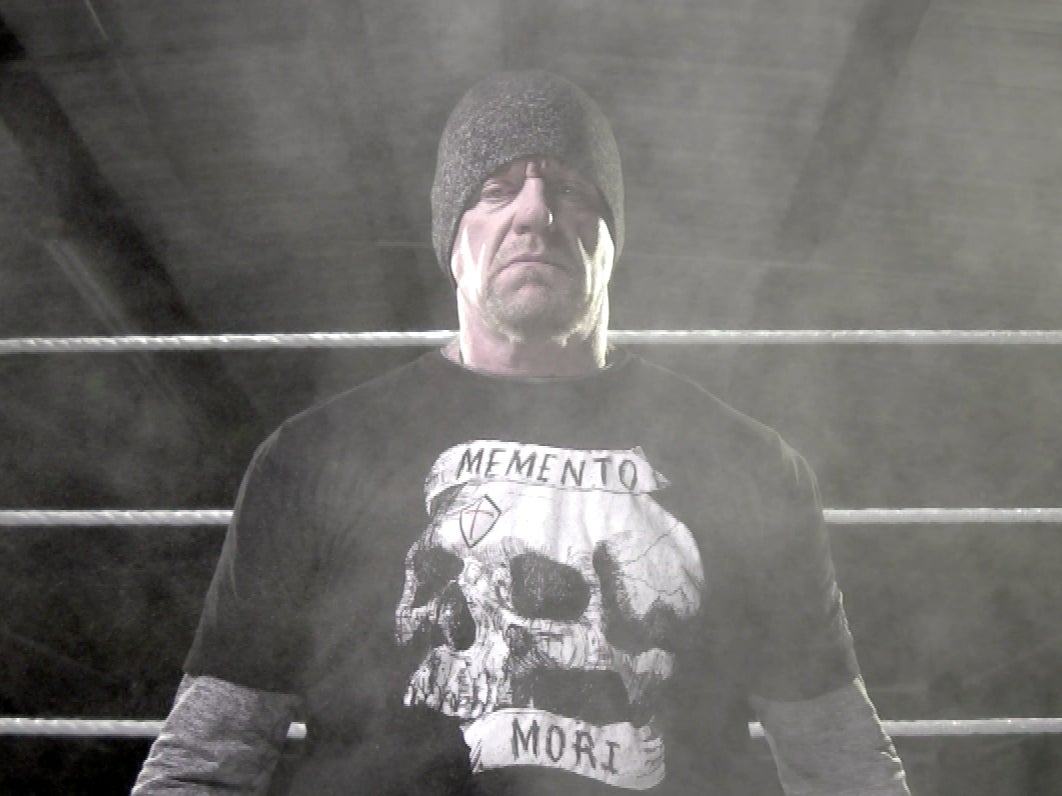 There are very few names in WWE more recognisable than The Undertaker.
In an incredible professional wrestling career that spanned 30 years, "The Deadman" not only achieved it all in the ring, but transcended popular culture too.
He went toe-to-toe with icons of past and present, hooked generations of children and teenagers on the WWE product and, perhaps most impressively, won 21 straight matches at WrestleMania, performing to the highest level on the grandest stage of them all.
But now, all of that is in the past. The Undertaker retired in 2020, leaving behind Mark Calaway, the man that portrayed the iconic character for three decades.
So, how exactly is the mere mortal dealing with life away from WWE?
"I've got to the point now where if I'm home, I'm fine. It's when I do show up at a WWE event I get that 'I should be getting ready' feeling," The Undertaker told The Independent.
"At WrestleMania 39, I was there and I had my family and friends up in a suite watching the show and I kind of found myself rocking in my chair like, 'oh, my gosh, I should be down there'. So in those instances, it's there. It's still in my heart and it's in my brain."
If anyone was to deserve an incredible send-off in front of 80,000 fans at WrestleMania, it's The Undertaker. Unfortunately, though, that's not how it worked out.
He retired three years ago, in the middle of the Covid-19 pandemic. There was no audience to bow to one final time. Instead, The Undertaker went out doing what he did best - burying AJ Styles alive in a rather unique "Boneyard Match" before riding his motorcycle off into the distance.
In the years following his retirement, WWE fans have been obsessed with the idea that he could return for one final send-off, to perform at one final WrestleMania. While The Undertaker admitted that the industry has "evolved" since his heyday, he did name two current stars that he would like to face.
"I would love to be healthy enough to have a match now with Roman Reigns," he said.
"When we worked at [WrestleMania 33], I was on my last legs. And he wasn't he wasn't nearly the performer that he is now.
"And then another guy that I would love to have worked with would be Seth Rollins. He's just an incredible in-ring talent. And now he's got this really flamboyant character, which would have been a really interesting contrast between the doom and gloom of The Undertaker and his over-the-top character."
Calaway's praise for Reigns is certainly justified. Much like The Undertaker two decades ago, Roman's character has reached a height that very few will ever experience. In May, he surpassed 1,000 days as WWE Universal Champion.
Only four men - Bruno Sammartino, Bob Backlund, Hulk Hogan and Pedro Morales - have held WWE gold for longer. That feat alone is enough to put Reigns in the conversation to be known as the greatest of all time, according to The Undertaker.
"He's doing a phenomenal job. His character, his talent and everything has grown exponentially through this run. It's arguably one of the greatest runs ever. I like it because it's such an old school move, to have the title that long," Calaway said.
"He's got to be in the conversation. But do you put him in the same boat as Stone Cold Steve Austin, or Hulk Hogan? I don't know. Everything's so subjective when it comes to that.
"Reigns has the claim to fame now. He's the man. I mean, it's not even close, really. He's had the title for a thousand days. Business is incredible. He picks his own schedule. He's got a claim, he's got an argument. I'm really proud of him for how he's come. It really has been impressive."
It isn't just in the ring that the business is evolving, with stars like Reigns reaching similar heights to that of The Undertaker. Things are changing behind the scenes too, with the UFC's parent company, Endeavour, purchasing WWE in a merger that will create a "$21 billion live sports and entertainment powerhouse".
Calaway is a known fan of MMA, and expects both UFC and WWE to grow as a result of the new deal.
"It's going to make both companies stronger. I really don't think they need too much interaction because they're such different entities. Maybe some of those [UFC] guys can learn to do a proper promo and really build some good fights," he joked.
"Both companies will continue to grow. You may see a few more fighters in the WWE audience and a few more wrestlers in their audience. But I don't really envision too much crossover."
WWE and UFC have rubbed shoulders for years, with a number of MMA stars - including Brock Lesnar and Ronda Rousey - swapping the Octagon for the Squared Circle. Asked if there are any other UFC fighters that could make the switch to wrestling one day, The Undertaker had just one name in mind.
"It's pretty easy to figure out, that would have to be Conor McGregor. He has WWE written all over him. He would be the ultimate heel and that would be kind of fun."
Tickets for UNDERTAKER 1 deadMAN SHOW are available on presale this Wednesday, 31 May at 10 a.m. BST exclusively to O2 customers and WWE fans who sign up at https://www.wwe.com/undertaker-uk-tour-2023.
General tickets are available next Friday, June 2 at 10 a.m. BST from AEGpresents.co.uk.
Join our commenting forum
Join thought-provoking conversations, follow other Independent readers and see their replies