WWE icon William Regal on earning respect and staying British at heart
Interview: Wolverhampton-born 52-year-old plays a key role both on and off-screen at WWE NXT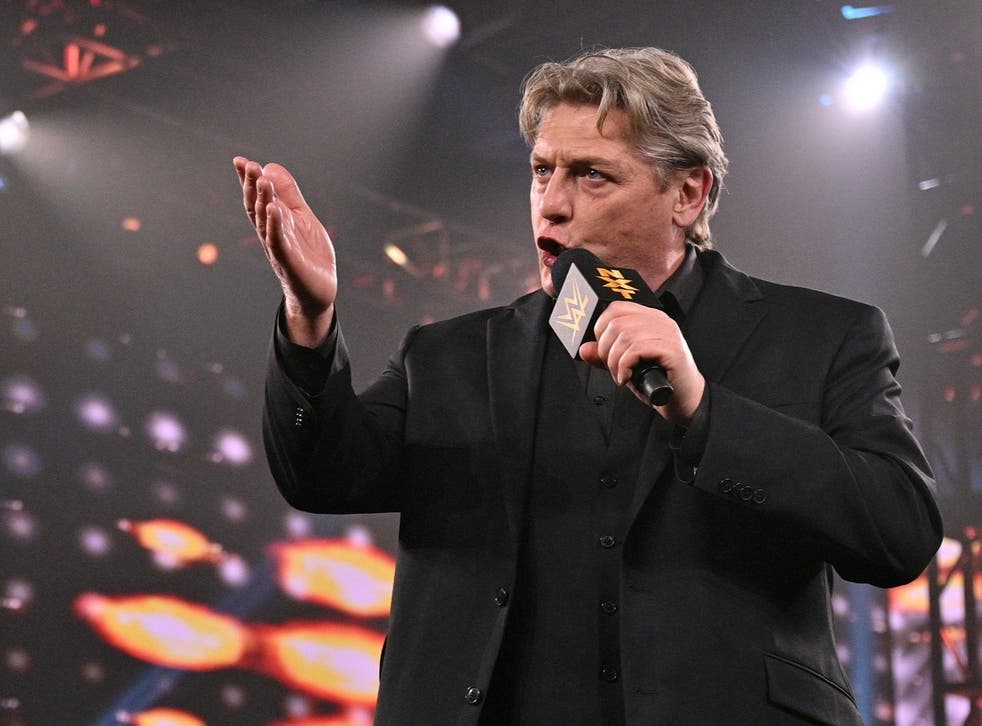 Despite reaching cult hero status in the UK, WWE mainstay William Regal says the thought he's so highly respected makes him "cringe".
The 52-year-old is one of the most influential figures in the company's NXT brand, the arm of the sports entertainment giant largely seen as responsible for developing the next generation of talent.
It's a role many feel he's more than perfect for. He first joined WWE in 1998 and, barring a fleeting return to WCW, he's been there ever since as a wrestler, on-screen authority figure and mentor. 
One thing has stayed constant for the Wolverhampton-born icon, whose real name is Darren Matthews, and that's the adoration he receives when he's back on home soil. He blew the roof off the Manchester Arena in 2004 when fans thought he'd captured the tag team championships and got a similar response when he actually did win the Intercontinental title four years later.
Those reactions were clearly the envy of many of his fellow performers but, speaking exclusively to The Independent, Regal has opened up on just how he's achieved such longevity and endearment – admitting that as much as things might have changed when he moved to the United States, much at heart stayed the same.
READ MORE:
He explained: "When I came to America, the person who brought me here wanted me to be a British-style wrestler because of other British wrestlers who'd been here in the past, and it wasn't quite clicking.
"It wasn't because I couldn't do the wrestling, but you can only do that style with people of the same skill level, so I became a Carry On character, and that's what it was based on – 'Carry On Wrestling'.
"I always thought that people in America would hate it, but that anyone who watched it in the UK would be: 'Wink wink, we're in on the gag with you.'
"By the time I'd got to WWE, by that point it had been four years, and everything was still under that kind of [style]. People used to say: 'How do people go so mad for you when you come to England?' And I never used to tell them, but it was because people were in on the ride with me, and got that I wasn't really what I was playing, and it was all little bits of comedy characters and British things.
"Any time I used to go out and get these reactions, it was a nice thing [because] who am I? I've never beat anybody, I'm nobody, right? But I used to get these reactions in Britain because I brought people along with me. 
"It was nice when I used to get those – people had just figured out that I was one of them."
While Regal relied on the combination of the comedic influences of his youth and an undeniably gritty style in the ring to rack up an impressive career as an active wrestler, the man we now see on screen couldn't be more different.
When he's not busy training and guiding the stars of NXT – who perform to global audiences each week – he still appears himself as the show's General Manager. A brooding headmaster sort, he's not the kind of man the likes of Adam Cole and Johnny Gargano enjoy getting on the wrong side of, but the sheer perfection with which he carries out the role has only earned him more plaudits – and that's without mentioning the incredible influence he's had on the performers of the current generation.
Such praise, it seems, does not sit well with the man whose modesty is as crippling as it is honest when he says: "I find that the whole respect thing just makes me cringe a bit. 
"The only reason I'm here is because I was born in the right year and because the right people and the right wrestlers treated me very well. I know I wouldn't be here without them.
"Once I got to about 17 and they realised I wasn't going anywhere no matter how much they tried to run me off, the people like Johnny Saint, Pete Roberts, Terry Rudge – and guys who are really proper, professional people – really took me in and treated me so well.
"I don't go out of my way to get any kind of respect, I don't  try to do that – I just am what I am because they were like that with me, so I'm like that with everybody else and I'll help anyone who wants to try this.
"You don't just get respect… it's just the way you act and you can't force it on anybody,  so I don't even like the word. I don't get up in the morning and think: 'I'm going to make people respect me today!' I just go out there and be polite, it's not an unnatural thing to just be me, and I've always been like that. 
"Just being normal has got me where I've got."
William Regal and the stars of NXT present NXT Takeover: Stand and Deliver, a two-night spectacular airing in the UK over April 7th and 8th, airing in the UK on WWE Network and BT Sport. 
Register for free to continue reading
Registration is a free and easy way to support our truly independent journalism
By registering, you will also enjoy limited access to Premium articles, exclusive newsletters, commenting, and virtual events with our leading journalists
Already have an account? sign in
Register for free to continue reading
Registration is a free and easy way to support our truly independent journalism
By registering, you will also enjoy limited access to Premium articles, exclusive newsletters, commenting, and virtual events with our leading journalists
Already have an account? sign in
Join our new commenting forum
Join thought-provoking conversations, follow other Independent readers and see their replies