Wrestler Roman Reigns announces his leukaemia is in remission with emotional statement in WWE Raw return
WWE Wrestlemania 35 results: Kofi Kingston and Daniel Bryan battle as Triple H and Batista go to war
The wrestling extravaganza delivered on entertainment with more than 80,000 in attendance at MetLife Stadium in New York
Kofi Kingston clinched a fairytale victory at Wrestlemania by winning the WWE Championship.
A WWE veteran, Kingston was battling in his first WWE title match in his eleven-year stint with the company.
Against Bryan he had come against the perfect villain and one of wrestling's finest workers – perfect ingredients for a master-class of a match that had a huge crowd in New Jersey well and truly hooked.
Kingston's Trouble in Paradise earned him the decisive three count and a thunderous reaction, before his family and friends joined him in the ring for celebrations that were richly deserved.
The much-anticipated main event for both of WWE's Women's Championships certainly delivered. Becky Lynch, Charlotte Flair and Ronda Rousey traded massive blows right from the off, Rousey in particular taking a nasty fall to the back and shoulders after landing awkwardly on the ring apron.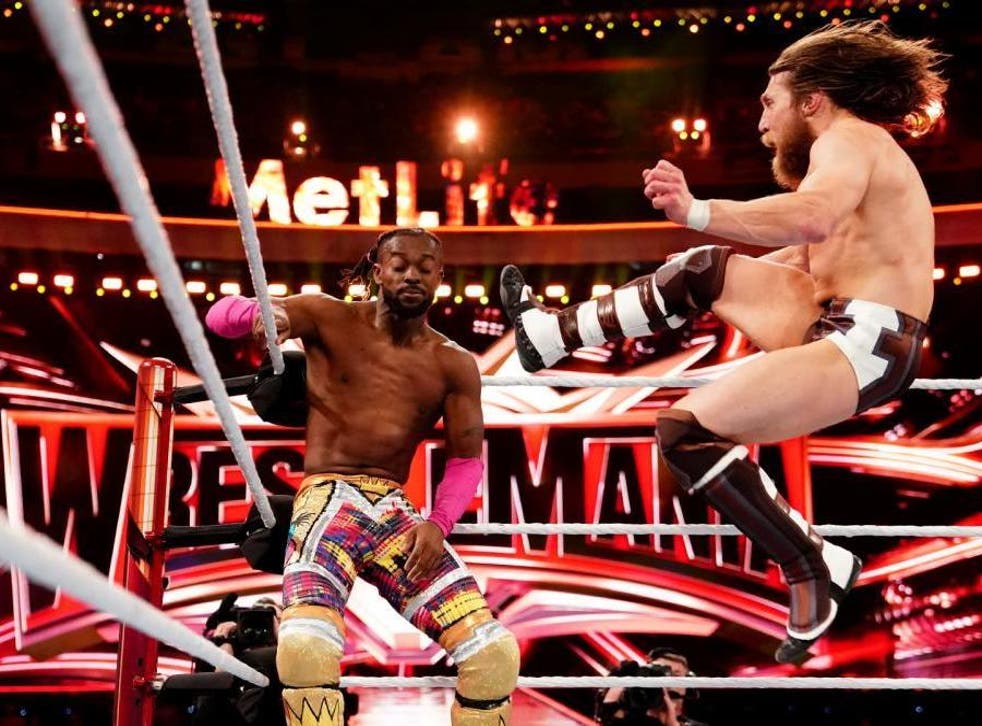 All three ended the night with massive whelps and bruising on their bodies after what looked a legitimately brutal outing, Lynch eventually clinching the victory by the narrowest of margins as she rolled up Rousey, reversing a Piper's Pit attempt.
There was an almighty shock to start the night as Seth Rollins dethroned Brock Lesnar and claim the Universal Championship. Lesnar had dished out a punishing assault before the bell had actually sounded, but was caught completely unaware as Rollins somehow gathered his bearings to rally and fight back.
In the end, a trifecta of kerb stomps were enough to leave The Beast beaten – Rollins celebrating with his newly-won crown as Lesnar was left to contemplate his reported return to UFC.
Two of WWE's veterans locked horns for a solid meeting as AJ Styles met Randy Orton. The two had put together a great programme in the weeks leading up to Wrestlemania, and the match to cap it off didn't disappoint – Styles kicked out of Orton's RKO before eventually pinning him following a Phenomenal Forearm.
Triple H kept his alive his in-ring career with a brutal, battering win over Batista.
Their match was No Holds Barred and wasted no time in getting messy, Triple H trying to break Batista's fingers before yanking out a nose piercing while the Guardians of the Galaxy star was pinned to the floor.
Batista was also sent crashing through an announce table, but The Game didn't have it all his own way, and ate a set of steel steps and plenty of other punishment to boot, not least a giant Batista Bomb.
At the last, Ric Flair gained a modicum of revenge for Batista's attack on him several weeks ago, supplying Triple H with a sledgehammer that the cerebral assassin used to finally see off his challenger.
The Usos kept hold of their Smackdown tag team championships with victory in a thrilling fatal four-way match that saw the likes of Ricochet and Aleister Black shine, while Shane McMahon and The Miz wowed the 80,000 crowd with their own Falls Count Anywhere match; the former gaining the win despite a dramatic 15ft fall that saw the pair come crashing down from a camera gantry after battling across the arena.
Roman Reigns claimed another big success on his route back to the top of WWE after his dramatic battle with illness; he far from had it all his own way against Drew McIntyre, but recovered enough to land a telling spear and send the Scot crashing to the mat for the victory.
Kurt Angle's legendary career came to an end at Wrestlemania. He'd already announced his retirement ahead of his bout with Baron Corbin, but there was still shock in the crowd in seeing him exit with a losing effort – Corbin sealing a swift-enough victory after Angle missed a moonsault from the top rope.
Fin Balor, wrestling through is Demon persona, kept up an impressive undefeated streak as he reclaimed the Intercontinental championship from Bobby Lashley thanks to a hefty powerbomb and a Coup de Grace.
Australian duo The Iiconics picked up a big win in New Jersey as they won the Women's Tag Team Championships in an exciting fatal four-way, while Samoa Joe needed barely more than seconds to see off the challenge of Rey Mysterio and retain the United States Championship.
Gold also changed hands on the Kick Off show at Wrestlemania; Curt Hawkins ended his 269-match losing streak as he and his partner, Zack Ryder, claimed the Raw tag team championships from The Revival.
Braun Strowman and Carmella claimed wins in the respective battle royal matches in some of the evening's preliminary bouts, while Tony Nese upset Buddy Murphy for the Cruiserweight championship.
WWE Wrestlemania quick results
Kofi Kingston DEF. Daniel Bryan – New WWE Champion
Becky Lynch DEF. Ronda Rousey & Charlotte Flair – New Raw & Smackdown Women's Champion
Seth Rollins DEF. Brock Lesnar – New Universal Champion
AJ Styles DEF. Randy Orton
The Usos DEF. Aleister Black & Ricochet, Shinsuke Nakamura & Rusev and The Bar.
Shane McMahon DEF. The Miz
Baron Corbin DEF. Kurt Angle
Triple H DEF. Batista
Fin Balor DEF. Bobby Lashley – New Intercontinental Champion
Roman Reigns DEF. Drew McIntyre
United States Champion Samoa Joe DEF. Rey Mysterio
The Iiconics DEF. Bayley & Sasha Banks; Tamina & Nia Jax and Beth Phoenix & Natalya – New WWE Women's Tag Team Championships
Kick Off Show
Carmella won the Women's Battle Royal
Braun Strowman won the Andre the Giant Memorial Battle Royal
Curt Hawkins & Zack Ryder DEF. The Revival – New Raw tag team champions
Tony Nese DEF. Buddy Murphy – New Cruiserweight Champion.
Join our new commenting forum
Join thought-provoking conversations, follow other Independent readers and see their replies