Zahra Lari: Woman becomes first to take part in international figure skating competition wearing a headscarf
The 22-year-old took up figure skating 10 years ago after being inspired by Disney film 'Ice Princess'
Jack de Menezes
Wednesday 29 November 2017 08:54 Comments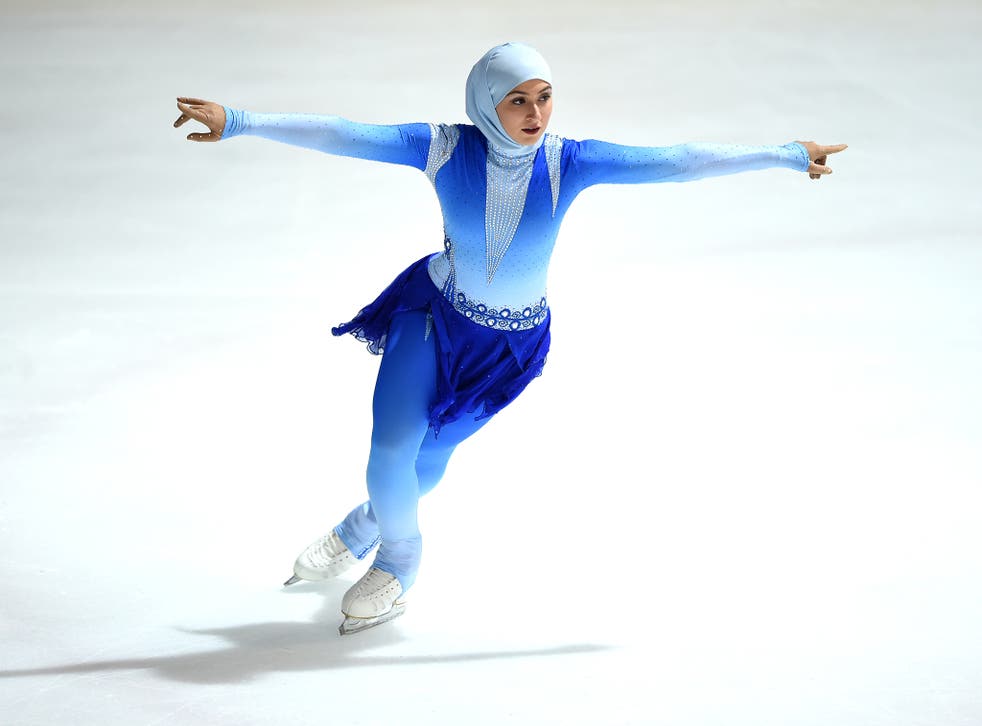 A 22-year-old figure skater, who was the first woman to compete internationally wearing a headscarf after being inspired to take up the sport professionally by watching a Disney film, has helped the United Arab Emirates become the first Arab state to join the International Skating Union [ISU] despite the near-complete absence of snow and ice in the Persian Gulf..
Zahra Lari, from the United Arab Emirates, has been figure skating for 10 years after first taking to the ice while she was still at school, squeezing in sessions before and after her classes by waking up at 04:30 in the morning.
Her father took her to train at Abu Dhabi's only ice rink, located in the Zayed Sports City, but immediately discovered the difficulties of being a young Emirati woman who had to skate in front of men, which can cause its problems in a conservative Muslim country.
"I began skating when I was 12 years old, after watching the Disney movie 'Ice Princess'," Lari told CNN. "My father felt that it went too much against our normal traditions and culture for a girl to compete in sports."
With figure skating often seeing competitors wear tight and revealing outfits, Lari's father did not approve of her entering competitions, and this prevented her from joining others on the ice as the was growing up through her teenage years.
"As a family, we went to competitions only to cheer for my friends that were competing," she added. But Lari's father soon gave in to his daughter's wishes due to the happiness that the sport brought her, and now the UAE has become the first Arab state to join the ISU thanks to Lari's exploits.
"Now he is my biggest supporter," Lari added of her father, having taken measures to ensure that she maintains her family's traditions while competing. Instead of wearing see-through fabrics such as Lycra, Lari dons opaque cloth to make up her outfit, along with thick leggings that cover up her legs.
However, it is her headscarf that attracts the most attention, having become the first skater to compete while wearing one at the European Cup in Canazei, Italy, back in 2012. Such was the controversy, the judges deducted her a point for an outfit violation.
"I really don't have any negative feelings towards this ruling," says Lari. "The judges at that time had never seen someone compete with it so they really didn't know how to score me.
"The head of the ISU development at that time, requested to see me while I was in Hungary. He wanted to see the scarf and understand how safe it was on the ice."
She subsequently campaigned for a change to the regulations, and at the Nebelhorn Trophy in Germany, officials were told not to consider the headscarf a violation to the strict regulations on skating attire. However, this has not been a permanent change, with the ISU confirming that "assessment of the rule and whether it needs to be more specific for the future is ongoing".
Lari missed out on qualification for next year's Winter Olympics in South Korea, although at 22 years old she still has time on her hands to achieve her ultimate dream.
"My goals go beyond being the first person to represent the UAE at a Winter Olympics," she added. "I want to compete at the Four Continents Figure Skating Championships and the World Championships. These competitions are my current goal."
Register for free to continue reading
Registration is a free and easy way to support our truly independent journalism
By registering, you will also enjoy limited access to Premium articles, exclusive newsletters, commenting, and virtual events with our leading journalists
Already have an account? sign in
Join our new commenting forum
Join thought-provoking conversations, follow other Independent readers and see their replies