The belly putter debate
A ban on the controversial club looms and with it a costly legal row. Graham Otway hears the arguments splitting the sport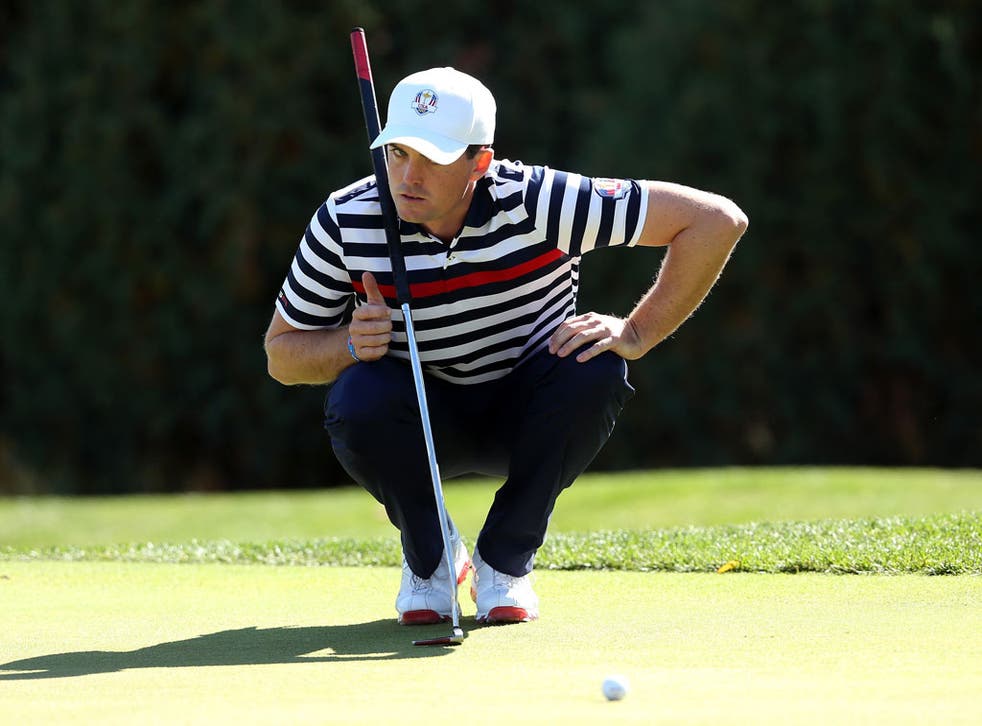 For the belly putter
When the American Ryder Cup star Keegan Bradley announced in China this week that he would be prepared to take legal action if the putter ban by the governing bodies of world golf, the US Golf Association and the Royal and Ancient, was added to the rulebook he started a debate that could run and run. It could be imposed before Christmas and within 48 hours of Bradley's declaration there was a queue of players willing to stand alongside him.
He is certainly guaranteed support from Carl Pettersson, the Swede who is based full-time on the America Tour, and whose story is typical of the players Bradley wants to see protected
"I have used the belly putter for 16 years, since I was a junior, and if they did ban it I feel I would be 16 years behind everyone else who is practising with a short putter," said the 35-year-old Pettersson, who in April won the Heritage tournament on the US Tour.
"So I don't want to see this ban happen. This change will not affect everybody like it did a few years ago when they changed the groove rule that affected everybody.
"Also we should be seen to be growing the game. There are a lot of amateurs out there who would probably quit if they bring in the ban.
"I just see it as a small issue in golf that is pointless because the long putter has been around 30 to 40 years. If they are going to ban the long putters, why not ban the new golf balls that are going 300 miles and drivers that send the ball up in the air and make them go miles?
"Yes, we can take it further and I don't think it's fair as it doesn't affect everybody. I will support legal action as it affects my career and everyone else's career who uses the putter."
Pettersson may have grown up using the long putters but Australian Adam Scott had long since joined the professional ranks when he switched from the traditional short handle to the longer variety and just cannot understand what all the fuss is about.
After using his long-handled equipment to shoot a seven under par 65 to take a share of the lead at the HSBC Champions in China yesterday, Scott said: "What are their criteria for banning anchored putting, or whatever you want to call it? No one has given me a good reason yet.
"I've played at a high level with both styles of putting. The reason I keep using the long putter is because I find it a little easier than putting with a short putter. If you look at the stats this year they don't say I am putting much better than I did with the short one. But I enjoy playing with the long one.
"And I don't think it's clear-cut whether the long putter is better on short putts or better on long putts when you balance them off. You have to read the green and hit the ball at the right speed. Putting is still a learnt skill no matter what way you do it. For me the long one has just been better the last couple of years."
Against the belly putter
Tiger Woods has been in discussion with Peter Dawson, the chief executive of the R & A at St Andrews, for several years urging the head of golf's oldest rulemakers to ban the putters.
Supporters of the outlaw movement say the long-handled or belly putters, which can be firmly pivoted against parts of the body such as the stomach or chin, take away the large element of nerves from which many golfers at every level of the game have suffered throughout time using a two handed grip on a short putter.
Since he watched Keegan Bradley in August 2011 become the first player to win a major using a long putter when he took the USPGA title, Woods has spoken out against them on several occasions. Asked about a ban, he said in August: "I believe it should be across the board. I think it should be a global rules change."
That was a summary of a more expansive view he gave at Pebble Beach in February. "I've never been a fan of it," Woods said. "I believe [golf is] the art of controlling the body and club and swinging the pendulum motion. I believe that's how it should be played. I'm a traditionalist when it comes to that.
"I've talked to Peter about this, for a number of years, and gone back and forth on how we could word it. My idea was to have it so that the putter would be equal to or less than the shortest club in your bag. And I think with that we'd be able to get away from any type of belly anchoring. You can still anchor the putter like Bernhard Langer did against the form. But that's still the art of swinging the club too, at the same time.
"But I think you can get away from the belly or the long putter by that type of wording, whether they do it or not. And Peter's looked into it for a number of years, trying to get it to work, and you actually measure everybody's sand wedge and putter before you go out and play, that's another thing too."
Padraig Harrington gave his thoughts after Ernie Els' performance in winning the Open at Lytham in July, saying: "Clearly, in the rules, if somebody invented the belly putter tomorrow, it would not pass. There's no way they would let it through.
"The only reason it got through is the people that used it 20 years ago were coming to the end of their careers and people were sympathetic and didn't want to finish Bernhard Langer's career by telling him, 'You can't hold it like this, you can't attach it to your arm'."
Both players appeared to have the support of the R&A rules director, David Rickman, when he was asked why the putters were being looked at. He said:" The method of stroke is absolutely fundamental to the game, and we already say you can't push, scrape or spoon in the rules. Golf is not croquet, you can't putt in a croquet style. We've got a long history of being specific about what we mean by a golf stroke.
"The consideration going forward is: does the anchoring of the club or the gripping of the hand somehow contravene or violate that basic principle?"
Join our new commenting forum
Join thought-provoking conversations, follow other Independent readers and see their replies