British Masters 2015: Lee Westwood admits golf 'doesn't mean as much to me now as it did five years ago'
Briton says he took his eye off the ball during his recent split from his wife. However, he has now moved back across the Atlantic to be near his children and tells Kevin Garside that hard work and a settled personal life will see him climb the rankings 
Kevin Garside
Thursday 08 October 2015 00:05 Comments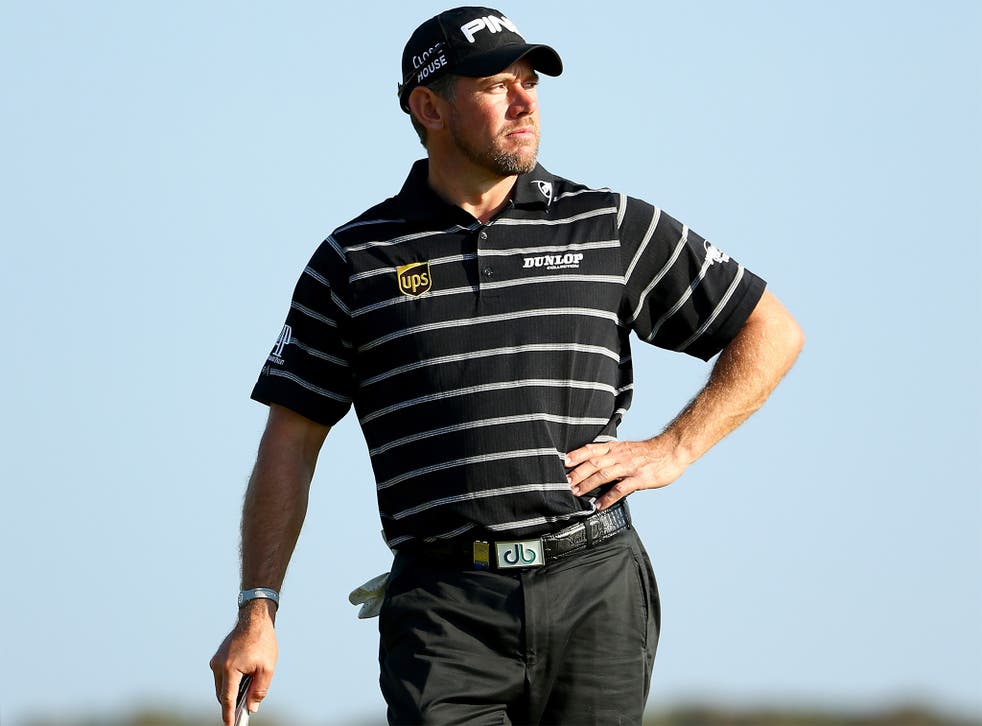 The American dream never quite materialised for Lee Westwood. The lure of year-round sunshine and the idealised conditions of the Florida winter were not in play when life inside the palazzo turned sour.
Westwood is still negotiating the fallout from his marriage break-up, a set of circumstances which were unforeseen when he set sail for a new life in the United States three years ago and which yield no winners. With his estranged wife Laurae and two children back in Britain, Westwood has formally quit the PGA Tour to play as full a part in the lives of his kids as his profession will allow.
"I've always had [other] priorities in life, always said that golf is not my main priority. Obviously the kids are. I won't lie, golf doesn't mean as much to me now as it did five, 10 years ago," Westwood says, reflecting on his fate ahead of the British Masters, which returns to Woburn after an absence from the European Tour schedule of seven years.
Westwood was fourth in the world when he departed for the United States at the back end of 2012. Today he has acquired another digit, sitting 44th and in danger of dropping out of the all-important top 50, the portal through which the game's elite gain automatic entry into the majors, World Golf Championships (WGC) events and marquee tournaments in America.
"I don't see any reason why, when I kind of get my ducks in a row and can focus on golf again, I can't climb the rankings. I'm prepared to work hard," he says. "I'm in pretty good shape. I've got 42-year-old niggles but my back is still good, and my knees and hips and shoulders are all good. It's just down to hard work, really.
"Unfortunately this year I've not really been able to put time into it, so it's no surprise that the game has suffered a little bit. We know how mental the game of golf is as well. Mentally I've had a lot going on which has affected me in the head."
Westwood is confronting a trauma that afflicts 42 per cent of marriages in Britain and Wales. The difference is he is managing the consequences on a golf course and in front of a camera. As a son of Worksop he is helped by a Stoic attitude that precludes dwelling on twists and turns which cannot be undone. There are no regrets after 16 years of marriage, rather a matter-of-fact acceptance of his lot and a forthright, chest-out stride into the future.
"Living in the States didn't really move in the direction I wanted it to move [professionally], but obviously that's not the reason I'm doing all this. I'm doing it from a personal point of view, but at the same time, playing on the European Tour, I'll still come back and play some of the tournaments I played over the last few years living in the States.
"I have dropped a lot in the world rankings this year, so I need to address that and play well and get myself in the top 50 so I'm in all the events over in the States. There's no sort of magic wand you can ever wave. You just have to go back to basics, work hard on the drills on the range that make you hit it straight and close."
Westwood knows all about rebuilding a career, having fallen from fifth in the world rankings in 2000 following 25 tournament wins in his twenties to 261 in 2002. Ironically the decline set in during 2001 after the birth of his first child, Sam. The steep climb back began under the guidance of Sir Nick Faldo's former mentor David Leadbetter and continued with Pete Cowen.
The major his talent promised has not materialised but the wins continued, reaching a total of 42 around the world and making Westwood the highest earner in the history of the European Tour with prize money north of £25m. At his peak in 2011, Westwood reached the world No 1 ranking, a position he held for a total of 23 weeks in two spells.
Four years on, he no longer expects to challenge the hegemony of golf's new vanguard, Jordan Spieth, Jason Day and Rory McIlroy, week on week, but there ought to be enough left in those beautiful irons once his domestic clock is reset to land the significant blows.
There is succour to be had in returning to familiar settings. He was reminded of that last week at the Dunhill Links, a favourite among European Tour players, not only for the ripe purse it offers – one of the biggest on tour – but the pleasure of playing the three classics of Angus and Fife: Carnoustie, Kingsbarns and, of course, St Andrews.
"I haven't played the Dunhill for two or three years. I missed it. I was discussing last week how nice it felt to be back, especially when the course is like tropical, as it was last week," he says. "There are events on my schedule that haven't been on there for two or three years. It will be nice to go back to supporting those."
Beginning this week at a tournament he won in 2007, smoking Ian Poulter by five strokes, and lost to Gonzalo Fernandez-Castano the following year in a play-off. Though he was one under after three rounds last week, Westwood did not make the cut on the final day at St Andrews. His form has been necessarily patchy but grouped here alongside Jamie Donaldson, with whom he shared a profitable partnership at the Ryder Cup at Gleneagles, he might yet excel among friends.
"It's a prestigious title and one that's been around the European Tour for a long time. I remember watching it on the Beeb when it was back-to-back with the PGA Championship at Wentworth and watching Tony Johnstone, Christy O'Connor and Seve [Ballesteros] up there. It's been played here and at the Belfry and all over Britain, so it's nice to see it back."
Register for free to continue reading
Registration is a free and easy way to support our truly independent journalism
By registering, you will also enjoy limited access to Premium articles, exclusive newsletters, commenting, and virtual events with our leading journalists
Already have an account? sign in
Join our new commenting forum
Join thought-provoking conversations, follow other Independent readers and see their replies