Brooks Koepka makes Ryder Cup statement with US PGA Championship success
LIV Golf's Koepka moved up to second in the US Ryder cup rankings.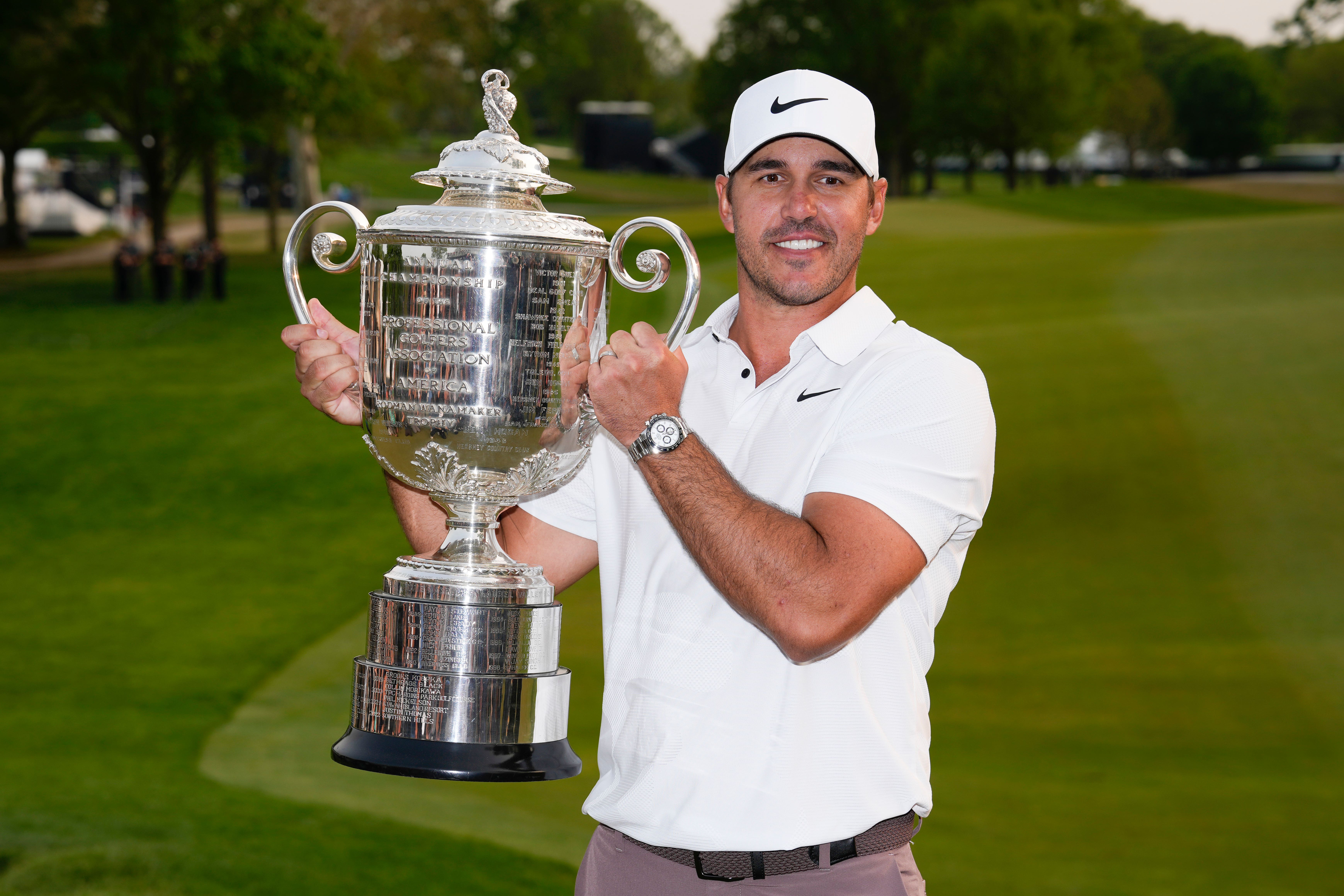 On the eve of the US PGA Championship, Brooks Koepka was asked about the possibility of being selected for the Ryder Cup.
US team captain Zach Johnson had dismissed Koepka's runner up finish in the Masters as "one good week" and claimed he could not accurately assess the form of LIV players in their own events.
Knowing that performing well in majors was effectively his only chance of impressing Johnson enough to earn one of his six wild cards, Koepka had a simple solution.
"If you go second, first, first, first, it would be kind of tough not to (get a) pick, right? If you go handle business, I feel like I should be fine," Koepka said.
It sounded an ambitious goal but not any more after Koepka claimed his fifth major title and third US PGA Championship at Oak Hill, holding off a determined Viktor Hovland and a charging Scottie Scheffler to win by two shots.
There may be no need for a wild card now. Koepka has jumped from 22nd to second in the Ryder Cup standings, with the top six qualifying automatically and Johnson selecting six wild cards.
And his place on the team, despite playing on the Saudi-funded LIV circuit, was immediately welcomed by one of the men he had just beaten into second place.
"I want to win the Ryder Cup. I don't care about tours or anything like that," Scheffler said.
"It's something we talked about when we finished (at Whistling Straits) a year and a half ago. We want to beat those guys in Europe. It's been a long time since we've beat them.
"Whoever the best 12 guys are that make a complete team, it's different than individual tournaments. We want a team of guys that are going over there together to bring the cup back home, and that's all I really care about."
Koepka is just the 20th man in history to have won five or more majors, matching the totals of Seve Ballesteros, Peter Thomson, Byron Nelson, JH Taylor and James Braid, the latter pair each winning five Open titles before 1913.
"It's crazy," the 33-year-old said. "I try not to think of it right now. I mean, I do care about it. It's just tough to really grasp the situation kind of while you're still in it, I think.
"Probably when I'm retired and I can look back with Jena (his wife) and my son and kind of reflect on all that stuff, that will be truly special, but right now I'm trying to collect as many of these things as I can. We'll see how it goes."
The chances of Koepka again becoming a dominant force in majors – he won four in eight starts at his peak – looked exceedingly slim as he suffered a number of career-threatening injuries.
He rushed back from surgery after shattering his kneecap in order to compete in the 2021 Masters, but missed the cut and did so again 12 months later, revealing this year at Augusta that had prompted him to try to punch out the back window of his car in frustration.
Koepka also admitted his decision to join LIV would have been harder if he had been fully fit at the time, while confessing on the Netflix documentary 'Full Swing' that he would "pay back every dollar I ever made" to regain the feeling of winning a major for another hour.
"It's very hard to explain," the former world number one said. "I mean, it was a lot worse than I let on to you guys, let on to everybody. I think maybe only five, six people really know the extent of it, all the pain.
"There's a lot of times where I just couldn't even bend my knee. The swelling didn't go down until maybe a couple months ago, so that's almost, what, two years? It's been a long road.
"But look, that's who I am. I'm open and honest. I know I seem like this big, bad, tough guy on the golf course that doesn't smile, doesn't do anything, but if you catch me off the golf course, I'll let you know what's going on."
Asked if he considered retiring when at his lowest ebb, Koepka said: "I don't know if I considered retiring, but I knew if I couldn't play the way I wanted to play then I was definitely going to give it up.
"I mean, the thought definitely kind of crossed my mind."