Bubba Watson changes from joker into the 'model father'
Birth of second child has altered world No 2's perspective ahead of the Masters
Kevin Garside
Tuesday 03 March 2015 23:14 Comments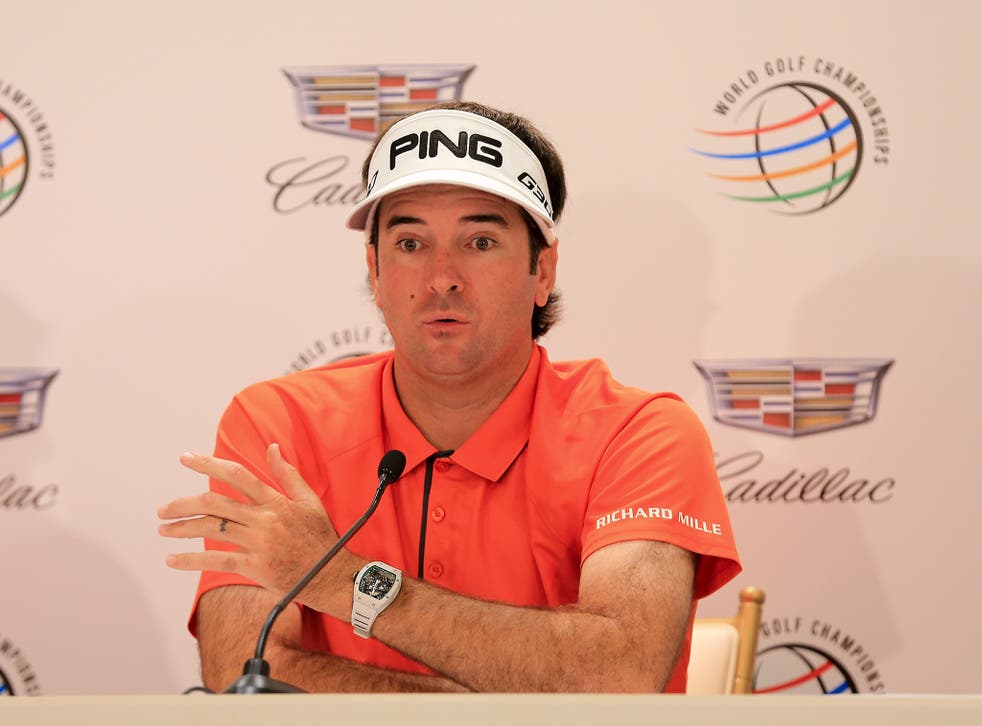 Bubba "I've got issues" Watson isn't the first father to have his world re-ordered when the baby comes home. By the time the second arrives, what remains of the boy within is all but totalled, replaced by a well-adjusted, mature human being.
Well almost. Watson might not admit to being that, yet there is little doubt the arrival of a daughter, Dakota, four months ago, has further accelerated a process begun with the adoption of Caleb, in 2012, of mining consistency from what is a unique talent.
Watson has a first, two seconds and a 10th in four of his last five starts. In the other he finished 11th. He arrives at the WGC-Cadillac Championship in Miami as the second best golfer on the planet behind Rory McIlroy, and in a month's time returns to Augusta to defend a Masters crown he won for the second time last year.
Were it not for the prodigious plunder of McIlroy filling the space once owned by Tiger Woods, we might be talking Bubba time. Both Masters titles came after finishing runner-up here, the first three years ago, just days after the adoption of his first child. Dakota's arrival in November came days after he won the WGC-HSBC Champions in Shanghai. You can see where this is heading.
"Golf is golf. It's a sport. If I'm defined just as a golfer, that means off the golf course I'm not a very fun person to be around," he said. "I want my kids to see me as their role model. My dad was my role model. I learned a lot from my dad and my mom. And so my attitude changed. If you've noticed, over the last six months – because of social media, because of commentary – I needed to change as a person, how I act, how I appear on TV.
"My son, my daughter is going to see that at some point, and so I've got to change who I am. Who cares if I win every tournament or if I lose every tournament? It's about who I am as a person; what do I want my kids to see? And so for me, by doing that, by calming down, by changing my focus, taking my focus away from golf and putting my focus on my family, my wife, my kids – what the most important things are in my life – my golf has gotten better.
"And maybe that's because I don't care as much or I don't let the bad shots bother me as much, because I realise it's just golf. At the end of the day, my son, my wife, doesn't care what I shoot, my daughter doesn't care what I shoot. When they grow up they'll see me as dad, not a golfer."
These are welcome developments in a golfer whose goofy persona is not appreciated as much on tour as it is by the public. When the "issues" are troubling him Watson can appear sullen and un-cooperative, or worse, borderline stupid. His Parisian reflections after missing the cut at the French Open on his first visit four years ago positioned Watson as Bubba the oafish bore.
As well as complaining about the course and the failure of marshals to enforce security protocols on tee boxes, Watson infamously tried to downgrade the status of the French capital. "I don't know the names of all the things, the big tower, Eiffel Tower, an arch (Arc de Triomphe), whatever I rode around in a circle," he said. "And then what's that – it starts with an 'L' – Louvre, something like that. One of those."
Thankfully fatherhood appears to have sharpened his appreciation of others. He is no longer at the centre of his own universe. Other things remain unchanged, however, and for that he deserves our gratitude. Watson continues to eschew the entourage. There is no coaching guru offering tips on how to improve, no technical back-up squad deconstructing his swing.
Watson has never been coached. For him it's about straightening his head out: that's the inside, not the position at address. In this there is much that other golfers might learn. They are unlikely ever to unleash through the ball the forces that Watson is able to muster with his long levers, swivel hips and immense shoulder turn, but, as contradictory as it sounds, in mind management he is way ahead.
"For me, it's not about ability. It's never been about ability. It's about my mind. If I get my mind in the right place, there's not a shot I can't hit. There's not a golf course that can beat me. It's about the right focus, the right energy level. It's all that wrapped into one.
"When you step on that hole, is the bad swing the reason the ball went in the water in the trees? Is the bad swing because of the swing, or is it because of your mental issues; and are all of mine mental issues? The reason why we miss a four-footer or three-footer is probably not because of the stroke. When you're at this level, you can stroke it pretty well. So when you dig down deep at our level, is it really the physical game or is it more the mental?
"So that's where for me, personally, once I sign my scorecard, I'm done with it. If I shoot 80, if I shoot over par, I'm done. The next day is a new day, so I don't think about it any more. That's one of the good things that I have going for me is that I don't let bad rounds linger."
So there you have it, Bubba's golfing manual. Grip it and rip it, circa 2015. His new approach comes under scrutiny tomorrow when he is grouped with McIlroy and the world No 3, Henrik Stenson.
Not so long ago the game was preoccupied with identifying the talisman to replace Tiger. Now it is seeking a man to challenge the hegemony of McIlroy. That would be Watson raising his hand.
Register for free to continue reading
Registration is a free and easy way to support our truly independent journalism
By registering, you will also enjoy limited access to Premium articles, exclusive newsletters, commenting, and virtual events with our leading journalists
Already have an account? sign in
Join our new commenting forum
Join thought-provoking conversations, follow other Independent readers and see their replies