Casey finally on the mend after painful time on and off course
England's 'forgotten man' shows signs of form after a slump down rankings caused by bizarre toe injury.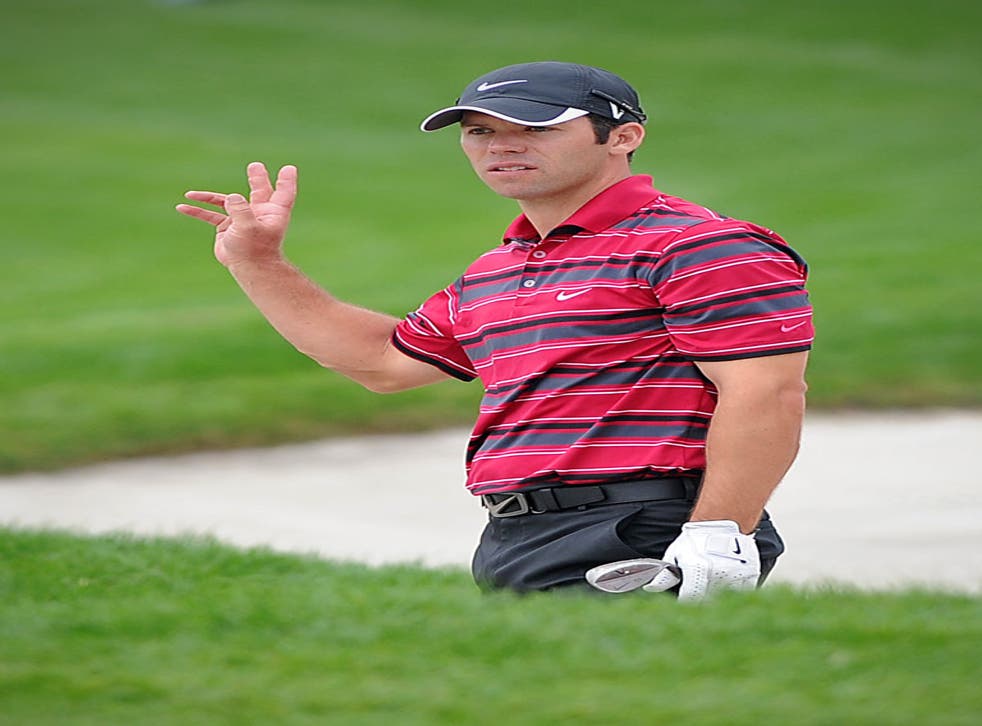 Paul Casey is in the world's top 25, has won twice already in a season during which his winnings have added up to more than £1m – and he is calling himself "The Forgotten Man". Welcome to the absurd embarrassment of riches which is English golf.
Casey was honest enough to accept the sobriquet after two rounds at the HSBC WGC Champions which has jogged the memory of this undoubted talent. But then, where he was at the start of 2011 and where he is now demands he confronts a campaign of frustration. He has gone from world No 7 to world No 22, with fellow Britons in Luke Donald and Lee Westwood pulling away at the top of the rankings. To think, just over two years ago, he was the world No 3 with Donald and Westwood outside the top 10. If someone is rising when you are falling, it always makes the descent seem a bigger nose-pincher.
"I might be only just outside the world's top 20 and, yeah, I've won twice," said Casey here yesterday, after a 66 left him on eight-under, three off Freddie Jacobson's lead. "But it shadows in comparison to what Luke's done –compared to him, I feel way, way down there. So referring to me as 'The Forgotten Man' of English golf is absolutely fine because I haven't played the golf I'm capable of, the sort of golf to put myself in the headlines with the likes of Luke."
As close as he is to Donald, his direct contemporary with whom he won the World Cup in 2004, Casey wouldn't be human – and certainly not a professional golfer – if he didn't look at the friend on top of the world and think "why not me?" However, there are reasons with which to console himself, not least the injury which has blighted his game since May. When his toe began to throb, a year which was heralded with such promise tumbled so significantly he finished outside the top 125 of the PGA Tour and therefore lost his card. Peering back, Casey can hardly credit it.
"My expectations were huge in January," said the 34-year-old. "I won [The Volvo Golf Champions] in Bahrain, my second event, and the thing was I didn't feel I played my best golf. But I ground it out and I won a tournament against a bloody good field. I was ecstatic with that, telling myself, 'I've just won and there's so much room for improvement here'. Yeah, I was thinking majors, I always do. But this time around it seemed more attainable than ever. And then it all went sour."
It went infected, or at least that's what he suspected. If only it were so simple. "At first I thought the pain and swelling was caused by a bite, a spider bite, then I thought it might be arthritis, then I thought I'd broke something, then I was even tested for gout," said Casey. "I didn't find out for sure until August. But if I'd known in May the path I was going down with that injury I would have stopped right there and then and fixed it straight away. I'm angry at myself for that. For not knowing."
Instead, he limped on, with inappropriate strapping and an unsuitable plate in his shoe. He could be forgiven his ignorance, however. "I'd never heard of 'turf toe' – I had to Google it. When it was confirmed I had it, I said, 'No way, that happens to American footballers and rugby players – I'm a golfer'. But there are two ways of getting it. Through a massive trauma which overextends your toe, like someone landing on you. Or just repetitive bad movement on that toe, bashing it, repetitive abuse."
By now, Casey's campaign was a collection of mediocrity, discomfort and as he put it "stress". He needed rest, he probably still does. "Yeah, if I didn't play for two months it would be absolutely fine," he said. "Playing doesn't really help it – but I want to play. It's catch-22. It's getting better slowly; right now it's about 75 to 80 per cent. There were times during the summer when I struggled to walk the golf course. I couldn't walk up some of the banks of the tees."
The limp has all but gone, yet the ache refuses to take its leave completely; he struggled in Wednesday's pro-am. Thursday's 70 was encouraging, the second round was invigorating. "The golf I played today is the golf I remember playing," said Casey, who actually won on the Korean Tour last month. "That's the best round I've had in a long time."
In truth, it had only been a fleeting absence, but Casey was back where he belonged on a big-time leader board, including Keegan Bradley, two behind the Swedish pacesetter, and other heavyweights lurking such as Westwood, one off Casey. The intent gleamed in Casey's eyes. "Ryder Cup points have already started; there's a lot to play for, this is a WGC event," he said." The season's not over yet ... although I kind of feel I'm working towards next year already."
The Ryder Cup is an obvious goal in 2012, particularly after his bitter experience last year. Despite being the world No 7 he was overlooked as a wild card. "I have no problems with that decision, but what I'm still frustrated about was that when the picks were announced at Gleneagles, four of us in contention were still on the golf course at the Barclays in America," he said. "That was rubbish. It wasn't fair on any of us – me, Padraig [Harrington], Justin [Rose] or Luke. I'm on the [Tournament Players'] committee and will bring it up. But, for me personally, I want to have sewn up my place before Gleneagles."
That scenario is 10 months away, but even this far out he is prepared to speculate on whether he would be prepared to travel to Scotland to secure his berth. "I'll have to see, but the Ryder Cup is a big, big goal of mine. I want to get back on the team – simple as," he said. "I'm not giving up on the PGA Tour, I read that I was somewhere but that is bull. I will be able to play in most events over there on my conditional status. But I may well play more on the European Tour. I'm definitely defending the Volvo Golf Champions in January, will play Abu Dhabi and if I'm playing well I'll keep going."
After six months during which most steps have distressed, his yearning to run is eminently understandable. Can there be such a thing as lost time when you are six years off 40 and happen to be a multimillionaire? When Casey looks at Donald he suspects there is. "I know the golf I'm capable of," he said with total certainty. "I know I'm capable of winning majors." Here's one contender Britain should not forget.
Register for free to continue reading
Registration is a free and easy way to support our truly independent journalism
By registering, you will also enjoy limited access to Premium articles, exclusive newsletters, commenting, and virtual events with our leading journalists
Already have an account? sign in
Register for free to continue reading
Registration is a free and easy way to support our truly independent journalism
By registering, you will also enjoy limited access to Premium articles, exclusive newsletters, commenting, and virtual events with our leading journalists
Already have an account? sign in
Join our new commenting forum
Join thought-provoking conversations, follow other Independent readers and see their replies