Coming soon to a cinema near you: Seve Ballesteros - The Movie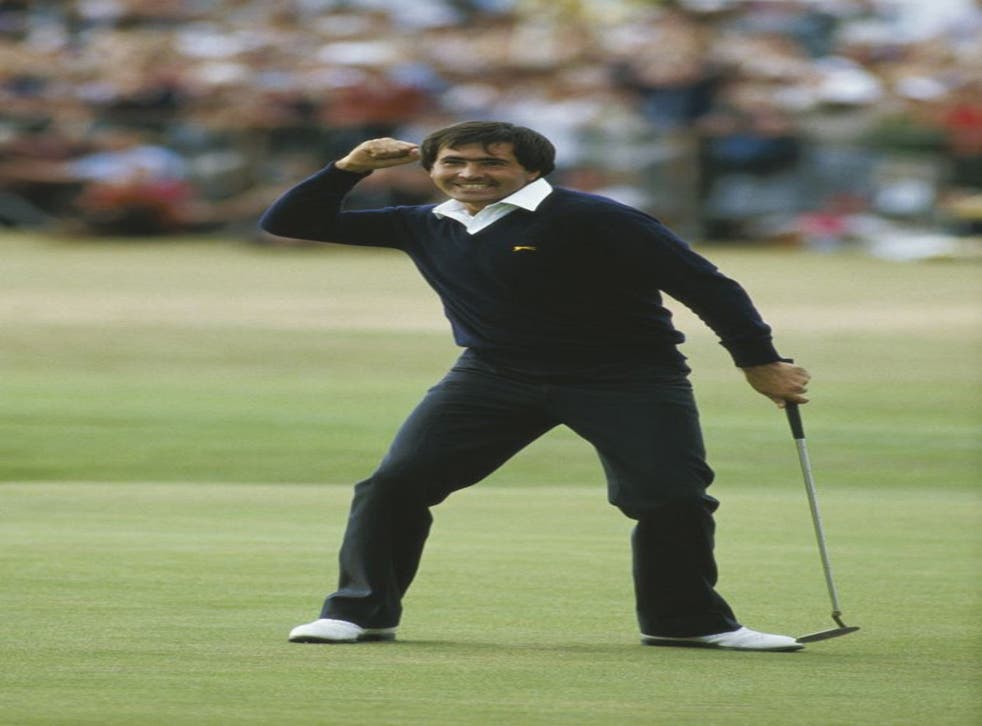 He was the fist-pumping Spanish golfing prodigy and Ryder Cup hero.
Fans know him as one of the game's greatest ever escape artists: a player who put himself in trouble and then delighted in getting out of it.
He could play wonder shots out of car parks and from behind trees.
Now, Seve Ballesteros's story is to be told on film by Stephen Evans, the award-winning British producer of The Madness of King George and The Wings of the Dove.
The production, to be titled Seve, will concentrate on the formative years of the golfing maestro, who died this summer aged 54.
"We're dealing essentially with his youth from the age of 16 to 19," Evans said. "Unless you understand his youth, you'll never understand Ballesteros and you'll never give him the sympathy that he merits."
The £5 million movie, which will be made through Evans's Renaissance Films and put together as a UK-Spanish co-production, will tell the story of the golfer's childhood and early life.
It will culminate in his astonishing performance at the 1976 British Open at Royal Birkdale, where the then unknown led after three rounds and finished second. A first version of the screenplay has been completed.
Evans describes Seve as a Cinema Paradiso-style drama set in the world of golf. "He came from a very proud background, an impoverished background, and he ended up marrying into the richest, (most) wealthy business, aristocratic family in Spain," the producer explained.
He and his team are currently looking for young Spanish actors to play the star as a child and a teenager.
They also plan to use archive footage of Ballesteros in his pomp. The film will be shot primarily in Spanish.
Legend has it that he started playing golf with a pebble on the beach and a three-iron borrowed from his brother Manuel, who also became a professional golfer. "If you understand his background, you'll understand his fights and arguments with officialdom," Evans said.
"This guy came from nowhere and fought against a level of odds I find bizarre. He had one of the most fascinating childhoods I have ever come across. It is almost straight out of Charles Dickens."
Seve will highlight Ballesteros's battles with authority. "Ballesteros was Spain's ultimate matador," Evans said. "He did it through golf. No-one wanted him to play golf. He wasn't allowed to play golf but he insisted on doing it."
If he manages to cast two young actors to play in lead role in the coming weeks, the movie should go into production next year.
However, Evans will not consult directly with the Ballesteros family.
"You just get on with it," he said. "I hope and believe what I am saying about this very proud farmer-herdman's family, the Ballesteroses, I think they will welcome it.
"Obviously, they can't control it because that would be ridiculous – some eulogy that would make everyone fall asleep."
The producer is a former scratch golfer himself. "I won the county championship, the British universities and all that rubbish," he said.
"Most people would say I was a very good golfer but I knew I didn't have the genius to play golf (professionally)."
Register for free to continue reading
Registration is a free and easy way to support our truly independent journalism
By registering, you will also enjoy limited access to Premium articles, exclusive newsletters, commenting, and virtual events with our leading journalists
Already have an account? sign in
Register for free to continue reading
Registration is a free and easy way to support our truly independent journalism
By registering, you will also enjoy limited access to Premium articles, exclusive newsletters, commenting, and virtual events with our leading journalists
Already have an account? sign in
Join our new commenting forum
Join thought-provoking conversations, follow other Independent readers and see their replies